I'm not sure hoew many times Odin has died in The War Of The Realms so far. But the revealed cover to issue 6 seems to have had quite an effect and sent advance preorders for the finale shooting up the chart. Recent issues of the event has seen the Venom symbiote, now separated from Eddie Brock, fighting alongside the War Avengers in Europe, only to be defeated by Malekth, the Dark Elf.
Seeing the same scene, with differet dialonge in both Strikeforce: The War Avengers and also in War Of The Realms #2.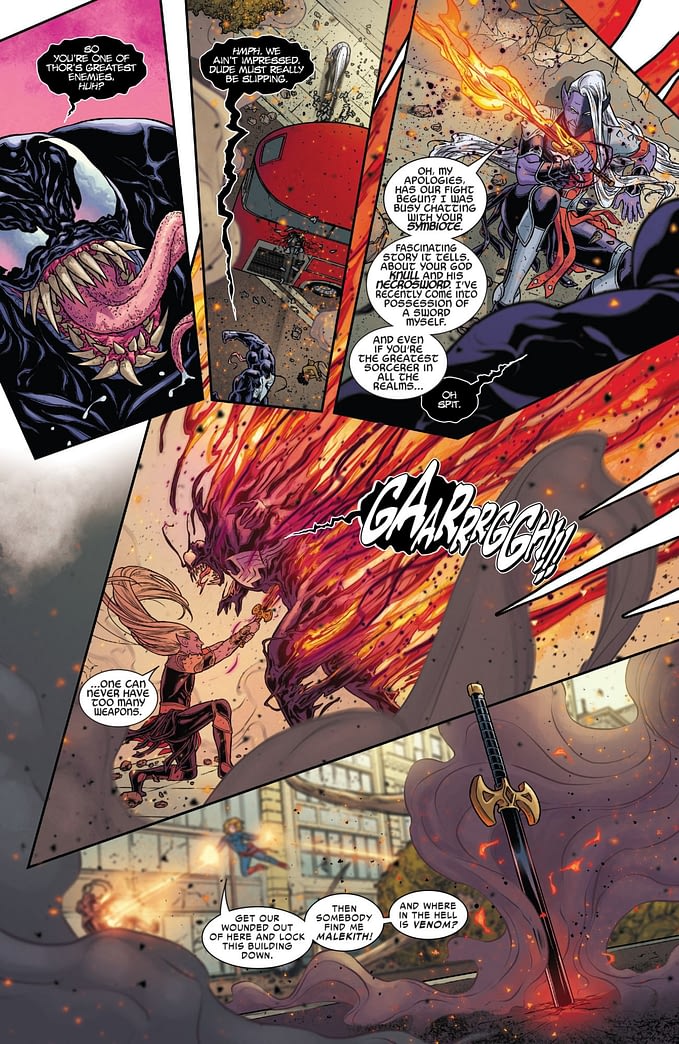 And War Of The Realms #4 gives us an inkling  of what happened to the symbiote version of Venom.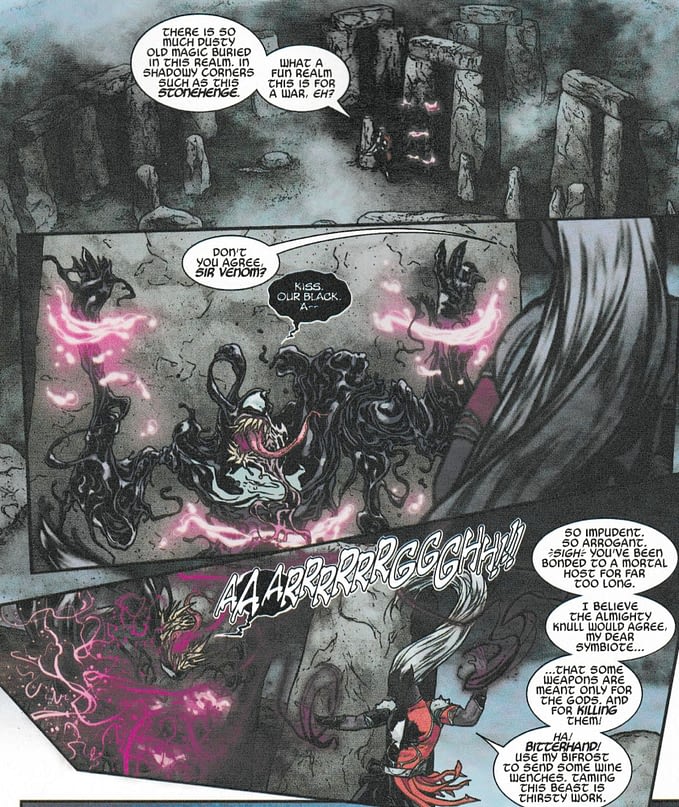 With Venom's historical relationship to Asgardian weapon, the Necrosword bound to come up. Formed of the first symbiote, whirled by Knull, All-Black, the Necrosword is also the weapon Gorr the God Butcher used to slay his victims in Jason Aaron and Esad Ribic's Thor: God of Thunder series. With Jason Aaron writing War Of The Realms and Donny Cates tying Venom and the Necrosword together, connective tissue this is bound to be a thing in upcoming issues…
With the cover to The War Of The Realms #6 by Arthur Adams now revealed…. with Malekith using Venom both as symbiote but to be part of the Black Knight's Ebony Blade as his own version of the All-Black Necrosword, a weapon that can slay gods. And potentially about to decapitate Odin. Unless he can be stopped by three Thors from across time – Young Thor, Thor and Old God Thor… or Captain America on a Pegasus.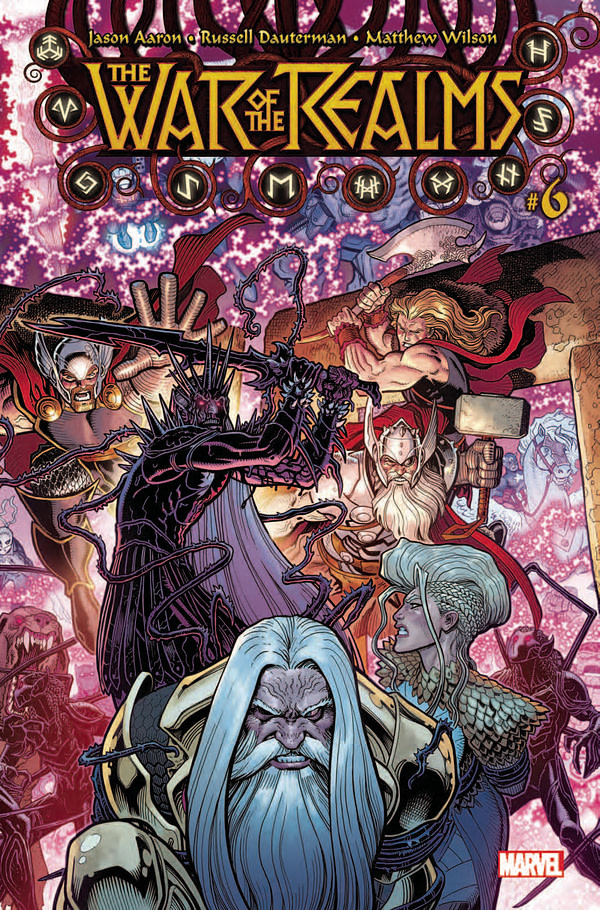 It's that kind of comic.But where will it end? And how many Thors will be left? Have all three disappeared?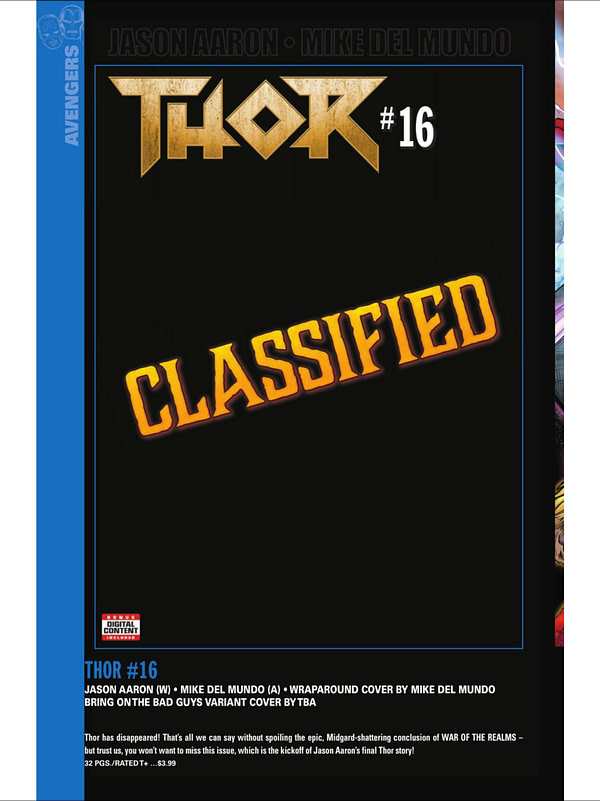 Here are the other covers for #6 – and the covers of #5, out on Wednesday, to follow…
WAR OF REALMS #5 (OF 6) WR
(W) Jason Aaron (A) Russell Dauterman (CA) Arthur Adams
MIDGARD'S LAST STAND
Malekith's army gets a whole new crop of recruits – the dead! As Midgard transforms under the rule of Malekith and his allies, the dead rise up to form a new Niffleheim! The Black Panther calls in every hero on his roster to fight for Earth, from Spider-Man and the Spiders of Hel to Ghost Rider and Balder the Brave. But if there's any hope for the Ten Realms, it'll come from the skies…
Rated T+  In Shops: Jun 05, 2019 SRP: $4.99
WAR OF REALMS #6 (OF 6) WR
(W) Jason Aaron (A) Russell Dauterman (CA) Arthur Adams
THE WORLD'S SHATTERING CONCLUSION OF WAR OF THE REALMS!
The tides begin to turn as unexpected allies appear in a twist that will shake the heavens! Malekith's allies are faltering at last before the might of all Earth's heroes, but the Dark Elf King has one final trick – and it's got a VENOMOUS bite! Out of options, the God of Thunder makes a sacrifice that will leave him forever changed. But will it be enough? And what heroes may fall in his wake? Midgard's fate is sealed as Jason Aaron's years-long saga comes to its epic conclusion!
Rated T+In Shops: Jun 26, 2019 SRP: $5.99