Three Unpublished Issues of Jimmy Palmiotti & Dan Panosian's Punisher
Dan Panosian has shared the cover of an unpublished Punisher comic book drawn by him and written by Jimmy Palmiotti.
---
Dan Panosian tweeted the following image, saying "A long, long time ago I drew 3 issues of a #Punisher series written by @jpalmiotti … It has yet to see print… :(" He added "There's been a great deal of rebranding the character and it probably doesn't fit with the new protocol. Sometimes it happens. Just part of the business I suppose." Currently, The Punisher is without his traditional skull, or guns, and has become the leader of The Hand, in return for the resurrection of his wife.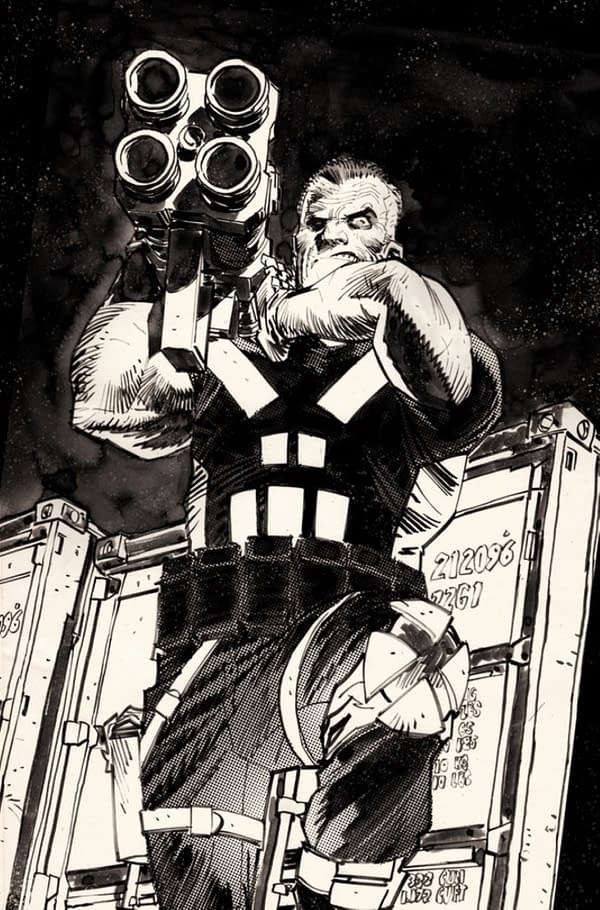 Jimmy Palmiotti added "It is one of the craziest PUNISHER stories ever written. I can say this because I have read them all." Chris Burnham suggested "I guarantee you Marvel has forgotten! Give him an eyepatch and a different t-shirt and pretend it's brand new!"
Join the club, I guess. The Punisher vs. Barracuda by Ed Brisson and Declan Shalvey had four issues of its five-issue series completed, intending to bring the Marvel MAX character Barracuda into mainstream Marvel Comics continuity, finished in 2020 and solicited, but not a single one was published. Here's what would have been for that as well.
THE PUNISHER VS BARRACUDA #1 (of 5)
ED BRISSON (W) • DECLAN SHALVEY (A) • Cover by RYAN STEGMAN
VARIANT COVER BY GABRIELE DELL'OTTO
VARIANT COVER BY DECLAN SHALVEY
VARIANT COVER BY Daniel ACUÑA
THE BADDEST OF THE BAD ENTERS THE MARVEL U!
Barracuda, terror of the legendary PUNISHER MAX run, makes his Marvel Universe debut in this prestige miniseries from creators Ed Brisson and Declan Shalvey! While Frank Castle closes the case on a mob hitman hiding out in the Deep South, a brutal jailbreak in Miami catches his eye. But one of the escaped prisoners is the man known only as Barracuda, the most sadistic and dangerous of killers in a gangland filled with extremely dangerous and sadistic killers. Lock the doors and prep the morgues; war is coming to Miami!
32 PGS./Rated Parental Advisory …$3.99
PUNISHER VS. BARRACUDA #2 (OF 5)
ED BRISSON (W) • DECLAN SHALVEY (A)
Cover by RYAN STEGMAN
Variant Cover by DECLAN SHALVEY
VARIANT COVER BY JOHN TYLER CHRISTOPHER
OOOH, BARRACUDA!
• On the run and out for vengeance, Barracuda finds new henchmen: the white supremacists who tried to kill him. That should go well.
• Punisher is on Barracuda's trail of carnage, leaving a few bodies of his own in his wake.
• With the Miami mafia looking to kill them both, the bullets are flying fast and furious!
32 PGS./Parental Advisory …$3.99
PUNISHER VS. BARRACUDA #3 (OF 5)
ED BRISSON (W) • DECLAN SHALVEY (A)
Cover by RYAN STEGMAN
Variant Cover by DECLAN SHALVEY
VARIANT COVER BY DAVE JOHNSON
GATOR BAIT!
• Punisher brings hell to the Miami Mafia, but they already have more than enough to worry about.
• Barracuda is armed to the teeth and has forced a crew of angry backwoods bigots to help him in his mission of vengeance, but he still feels like something is missing. What could it be?
• Just when you thought it was safe to go back into the swamp…meet Trixie, a fun-loving Florida gal with a heck of a smile.
32 PGS./Parental Advisory …$3.99