Today the MCM London Comic Con took place in bright, glorious, baking sunshine.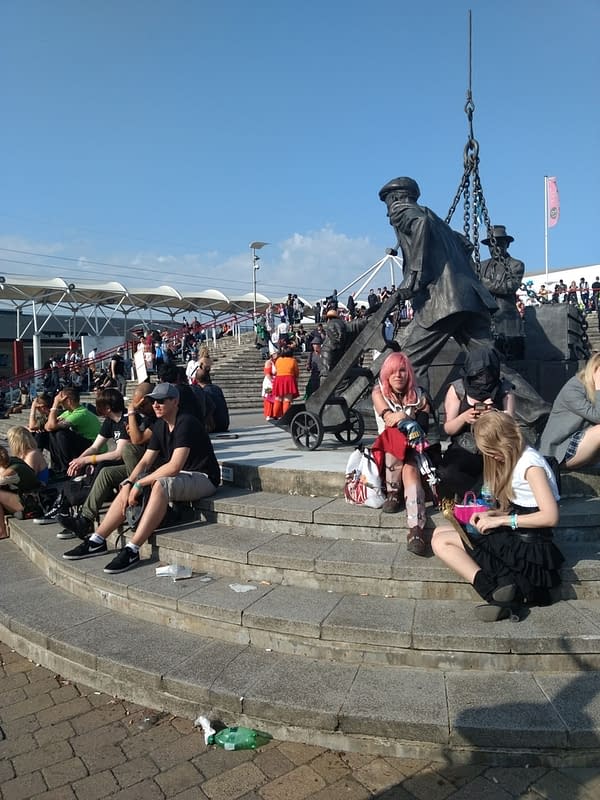 Really, it was beautiful. Everyone out on the grass, dancing to the music, smoking a variety of substances and chilling to the brilliant vibes of the show.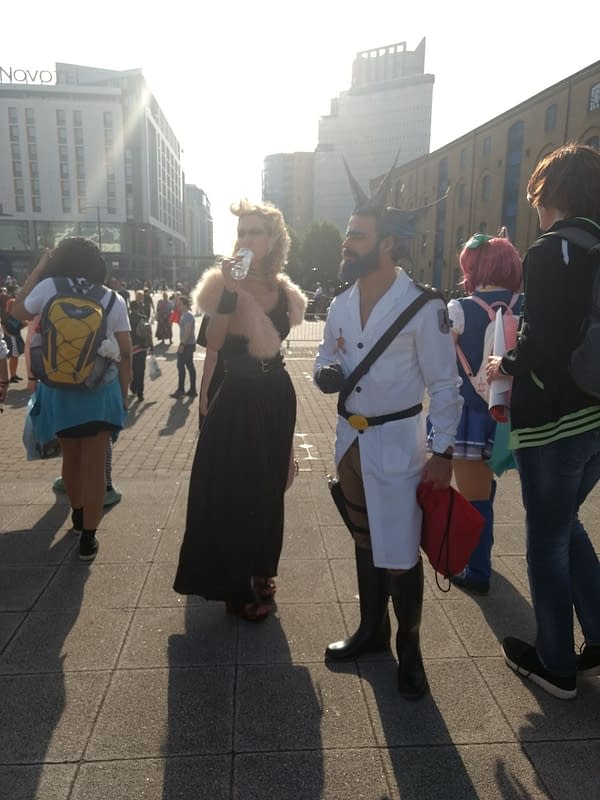 But as the night descended along the Thames, the sky grew purple. And then it began to flash.
I'm not hallucinating, right? There's been some crazy lightning happening in London for the past hour!

— Mary Safro @ LDN MCM 148 (@cryoclaire242) May 26, 2018
Lightning. Thunder. No rain.
There is a proper lightning storm outside. I love it! ⚡⚡⚡ pic.twitter.com/OW5FmH3av8

— Namer Merli @ MCM London Comic Con (@AmetDj) May 26, 2018
They saved that for later.
Agreed its captivating… the 15 minute walk in the rain… not so much

— Mitesh Lamba (@darklamba) May 26, 2018
The saddest of rain gifs: pic.twitter.com/Jwnsx7qwTE

— Ellie – Blogging for Dopamine @ MCM London (@elliempatten) May 26, 2018
The lightning turned London's sky into a rave party, and when the rain finally came, it just added to the madness as people made their way home from the show…
Watching the lightning as we leave London is so pretty :3 🌩🌩🌩🌩 also here's a picture of steampunk R2D2 from MCM pic.twitter.com/uYkhuqBQI7

— Sarah Hall⚡ (@Snuugglyypuufff) May 26, 2018
…or holed up in hotels to watch nature do her thing.
Watching it from the hotel room right now! Glad I'm not on one of those planes coming in…

— Lucy Hounsom @ MCM London (@silvanhistorian) May 26, 2018
Oh, and then the hail came. Massive golfballs hitting MCM right now. Four seasons in one day…
We just escalated from total silence to hail stones the size of golf balls smashing against the window, thunder, the heaviest rain I've seen in my life and car alarms going off in the space of about 20 seconds

— Beth @ MCM London (@mugifanclub) May 26, 2018
There are a lot of bedraggled cosplayers out there tonight. Possibly some bruised ones too. Stay safe, everyone — if there is a tomorrow to be safe in.
And now who is going to confess to summoning the Old Ones?
Enjoyed this article? Share it!