Nezt weekend, The Comic Bug in Manhattan Beach, California is to host a table read performance of the unmade Superman movie, Superman Lives, which was written by Kevin Smith and would have been directed by Tim Burton and star Nicolas Cage as Superman and Chris Rock as Jimmy Olson.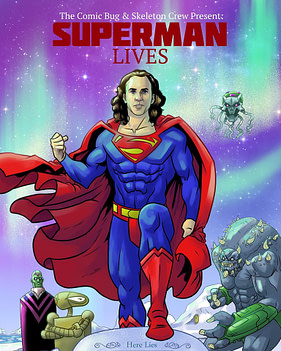 This event is FREE for all to attend on Saturday July 13th at 7pm, and the first 100 people get this commemorative poster by Ralph Miranda for free.
Based loosely on the Death and Return of Superman storyline, Brainiac employs the services of Doomsday to bring about the Man of Steel's demise. Featuring the witty banter we've come to expect from Kevin Smith, this table read promises to be more entertaining than Man of Steel, Batman V. Superman and Justice League combined!

Brought to you by the fine folks at Skeleton Crew Productions (Secret Santa) and Cattywampus Productions (12 Sided Die) and featuring a spectacular cast of actors and amazing sound design by Thirsty Crowes Chris Saunders. This event is FREE for everyone and the first 100 people will get an exclusive SUPERMAN LIVES! poster by artist Ralph Miranda. Up, up and away!
The cast and crew list is below – and includes former Bleeding Cooler Dan Wickline. Let them know you're coming…
Adam Marcus — Director/Narrator
Gib Gerard — Superman/Clark Kent
Tracy Drolet — Lois Lane
Curtis Fortier — Jimmy Olson
Scott Koblish — Brainiac
Bob Arce — L-Ron
Nigel Lawes — Lex Luthor
Sassan Safari — The Eradicator
Will Dixon — Batman, Jor-el, Perry White
Debra Sullivan — Cat Grant, Governor Caitlin Bree, Alien #1, Misty, Woman
Rafael Navarro — Host, Shuster, Council Voice, Delegate #1, Engineer, Police #1
Dan Wickline — Alien #2, V.O., Boy (Brodie — Governor's son), Deadshot, General Darris, Chief (Fire Chief)
Chris Saunders — Music and Sound effects
Mike Wellman — banished to the Phantom Zone