As Bleeding Cool mentioned at New York Comic Con, Titan Comics is publishing a new Assassin's Creed: Origins to accompany the upcoming game.
Today we learn it's written by Anne Toole, Egyptologist and videogame writer for Assassin's Creed Origins and Horizon Zero Dawn.
Not only will that bring it as close to the game as possible, but also Titan Comics and Ubisoft have arranged for DLC content to made available with each issue of the comic book, making copies potentially very desirable indeed.
It's not the only game-related title starting for Titan in January 2018 either, it's joined with a new series based on Warhammmer 40K Deathwatch too.
Here's a look at Titan Comics' January 2018 solicitations with Doctor Who, Sherlock, Robotech and much more… including a new warrior series Atlas And Axis…
WARHAMMER 40000 DEATHWATCH #1
(W) ØRJAN Svendsen (A) Aaron Dembski Bowden (CA) ØRJAN Svendsen
The best of the best and the most dangerous space marines from every chapter are called to the Deathwatch! They alone have the strength of mind and body to wield alien weapons and battle the enemy across the universe, manning the wall to defend humanity from the Xenos that would destroy them. When a tide of savage Orks sweeps across the galaxy, a Deathwatch squad is dispatched to stem the flow… Whatever the cost! (STL067850)
32pgs, FC SRP: $3.99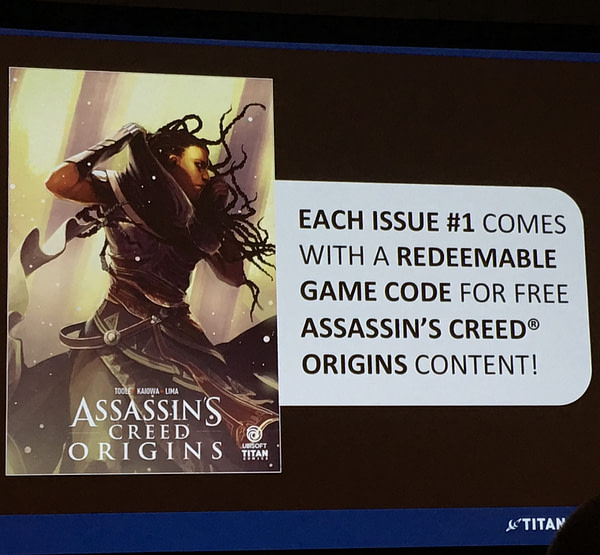 ASSASSINS CREED ORIGINS #1
(W) Anne Toole (A) PJ Kaiowa (CA) Stephanie Hans
Written by Anne Toole, Egyptologist and videogame writer for Assassin's Creed Origins and Horizon Zero Dawn!
Cover A by superstar artist Stephanie Hans (The Wicked + The Divine, Angela: Queen of Hel, Generations: Phoenix and Jean Grey)!
Direct tie-in to the brand-new videogame, Assassin's Creed Origins!
Comic promoted on the official Assassin's Creed social media channels!
Over 13 million fans! (STL067805)
32pgs, FC SRP: $3.99
ATLAS AND AXIS (STATIX) #1 (OF 4)
(W/A) Pau (CA) Roman Dirge
When roaming warriors Atlas and Axis return home to find that their village has been destroyed by Viking raiders, they set off on a perilous journey across land and sea to save their friends! (STL067833)
56pgs, FC (1 of 4) SRP: $5.99
DOCTOR WHO 11TH SAPLING HC VOL 03 BRANCHES
(W) Nick Abadzis (A) Giorgia Sposito & Various
The stunning finale to the epic Sapling story! Can the Sapling's future be saved? Collects Doctor Who: The Eleventh Doctor Year Three #9 and #11-13! (STL068101)
HC, 7×10, 112pgs, FC SRP: $22.99
DOCTOR WHO 12TH TIME TRIALS TP VOL 01 TERROR BENEATH
(W) George Mann (A) Mariano Laclaustra, Warren Pleece
Can the Doctor and Hattie get to the bottom of a cosmological horror before it devours them –And wipes the town off the map? Collects Doctor Who: The Twelfth Doctor Year Three #1-4 (STL068103)
SC, 7×10, 112pgs, FC SRP: $16.99 DOCTOR WHO GHOST STORIES TP
(W) George Mann (A) Ivan Rodriguez
When we last saw Grant and Lucy, they were settling down together and Grant's superheroic costume was being stored away. But that wasn't the end of the story! Don't miss the brand-new superheroic adventures of the Twelfth Doctor, Grant and Lucy, as they soar from the rooftops of New York City to the far corners of the Universe! (STL068100)
SC, 7×10, 112pgs, FC SRP: $16.99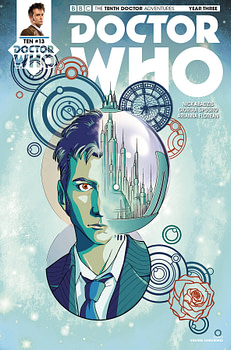 DOCTOR WHO 10TH YEAR THREE #13
(W) Nick Abadzis (A) Giorgia Sposito, Arianna Florean (CA) Iolanda Zanfardino
The penultimate episode of the stunning Year Three sees the Doctor forced to justify his meddling in time — with Gabby and Cindy's lives on the line! (STL067854)
32pgs, FC SRP: $3.99 DOCTOR WHO 12TH YEAR THREE #12
(W) Richard Dinnick (A) Pasquale Qualano (CA) Mariano Laclaustra
The Hosts with the most and the Angels you never want to meet in a darkened spaceship corridor collide in an unforgettable epic — featuring the twelfth doctor and bill in an all-new adventure! (STL067857)
32pgs, FC SRP: $3.99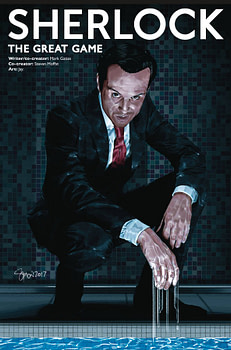 SHERLOCK GREAT GAME #6 (OF 6)
(W) Mark Gatiss, Steven Moffat (A) Jay (CA) Simon Myers
Manga adaptation of the hit TV show starring worldwide superstars Benedict Cumberbatch (Doctor Strange) and Martin Freeman (The Hobbit)! (STL068178)
32pgs, FC (6 of 6) SRP: $4.99 TORCHWOOD TP VOL 03 THE CULLING
(W) John Barrowman, Carol Barrowman (A) Neil Edwards
Written by Captain Jack Himself – John Barrowman – and Carole Barrowman, with art by Neil Edwards (Doctor Who, Justice League)! Doctor Who spin-off Torchwood is back! The official continuation of the saga! (STL068408)
SC, 7×10, 112pgs, FC SRP: $16.99 RIVERS OF LONDON CRY FOX #3
(W) Andrew Cartmel, Ben Aaronovitch (A) Lee Sullivan, Luis Guerrero (CA) Steve White
The bookstore smash-hit returns for a brand-new story, picking up the threads from the most recent bestselling Rivers of London novel, The Hanging Tree! (STL068154)
32pgs, FC SRP: $3.99
NOV171940
PENNY DREADFUL TP VOL 02 BEAUTEOUS EVIL
(W) Chris King (A) Jesus Hervas
Continues the story directly after the shocking events of Penny Dreadful's season three finale! (STL068146)
SC, 7×10, 112pgs, FC SRP: $16.99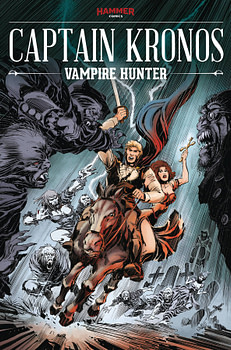 CAPTAIN KRONOS VAMPIRE HUNTER TP
(W) Dan Abnett (A) Tom Mandrake
In the depths of Eastern Europe, the legendary vampire hunter, Captain Kronos and his two assistants, Grost and Carla, are called upon to help rid a town of its vampire plague. However, beneath the surface of the beleaguered town a malevolent force far more evil and deadly is awakening and it might just be the match of Kronos… (STL067836)
SC, 7×10, 112pgs, FC SRP: $16.99 ROBOTECH #6
(W) Brian Wood, Simon Furman (A) Marco Turini (CA) Giannis Milonogiannis
Legendary Transformers scribe Simon Furman joins Writer Brian Wood (DMZ) to chronicle the ongoing adventures of the SDF-1! The second arc of the sell-out, fan-favorite series! (STL068155)
32pgs, FC SRP: $3.99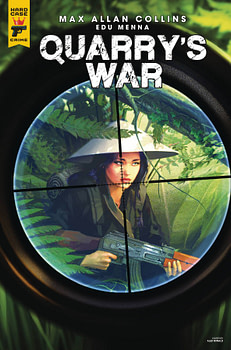 QUARRYS WAR #3
(W) Max Allan Collins (A) Edu Menna (CA) Alex Ronald
When his latest contract turns out to be an old acquaintance from his military days, the fresh faced hit man finds himself battling against his own conscience as secrets from the past begin the reveal themselves. Written by reknowned comic writer and author of the Quarry Hard Case Crime novels, Max Allen Collins (Road to Perdition, Batman, Action Comics Weeky) and illustrated by Szymon Kudranski (Batman: Streets of Gotham, Spider-Man, Spawn). (STL068147)
32pgs, FC SRP: $3.99 MINKY WOODCOCK GIRL WHO HANDCUFFED HOUDINI #3
(W/A/CA) Cynthia Von Buhler
Unappreciated at her father's detective agency, the fabulous, rabbit-loving Minky Woodcock straps on her gumshoes in order to uncover a magical mystery involving the world-famous escape artist, Harry Houdini.
Created by acclaimed artist, author, director, and playwright Cynthia Von Buhler (Speakeasy Dollhouse, Evelyn Evelyn, Emily and The Strangers)! (STL068129)
32pgs, FC SRP: $3.99 MILLENNIUM GIRL WHO KICKED THE HORNETS NEST #2
(W) Stieg Larsson, Runberg (A) Jose Homs (CA) Claudia SG Iannicello
The Millennium Saga Continues! Lisbeth Salander is in critical condition, and facing trial for a triple murder, and the only one who can save her is her friend, journalist Mikael Blomkvist! (STL068402)
64pgs, FC SRP: $5.99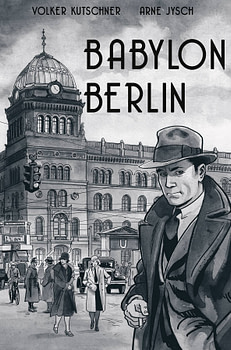 HELP I AM BEING HELD PRISONER MMPB (MR)
(W) Donald E Westlake
It isn't easy going to jail for being a practical joker. Of course, this particular joke left 20 cars wrecked on the highway and two politicians' careers in tatters – so jail is where Harold Künt landed. Now he's just trying to keep a low profile in the Big House. He wants no part of his fellow inmates' plan to use an escape tunnel to rob two banks. But it's too late: he's in it up to his neck. And that neck may just wind up in a noose… (STL070058)
MATURE THEMES
SC, 5×8, 256pgs, B&W SRP: $9.95
BABYLON BERLIN HC
(W) Fabien Nury (A) Thierry Robin, Lorien Aureyre
Set in the 1920s, at the birth of the Weimar Republic amid great economic and political difficulties. This is a tale of corruption, trafficking and scandal. Following an unfortunate incident of manslaughter and at a moment of radical change in Germany, detective inspector Gereon Roth moves to Berlin. He stumbles into an ever-growning criminal investigation into a pornographic sex ring, discovering that he can trust no one, not even the police. Perfect for fans of political Satire, world history and crime thrillers! A graphic novel adaption of the book that inspired this Fall's hit TV show! Available on Netflix! (STL070059)
HC, 7×10, 216pgs, FC SRP: $24.99
DEATH OF STALIN (STATIX) SC
(W) Fabien Nury (A) Thierry Robin
When the leader of the Soviet Union, Joseph Stalin, has a stroke, the political gears begin to turn, plunging the super-state into darkness, uncertainty and near civil war! Brand new TPB cover featuring the stars of the critically-acclaimed movie adaption! (STL070060)
SC, 7×10, 120pgs, FC SRP: $19.99
DEATH TO THE TSAR (STATIX) HC
(W) Fabien Nury (A) YJL, Lorien Aureyre
From the creative team behind the critically-acclaimed Death of Stalin comes another political dark comedy! Moscow, September 17th, 1904. A crowd brandishing sticks, stones and rotten vegetables, gathers in front of Moscow's Governor's palace. They're not happy. (STL070063)
HC, 120pgs, FC SRP: $24.99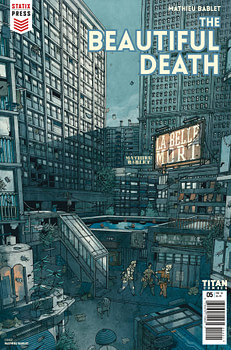 THE BEAUTIFUL DEATH (STATIX) #5 (OF 5)
(W/A/CA) Mathieu Bablet
The apocalypse has been and gone. The age of humanity is at an end. Horrifying insectile aliens from the depths of infinite space are now masters of the Earth! What does resistance mean, when there's nothing left to fight for? That's what Wayne, Jeremiah and Scham, the only survivors of the devastating invasion, struggle with day after day – Seeking a new purpose, a glimpse of a worthwhile future, to justify their futile presence in a ruined world. They pick through the remains of humancivilisation, keeping out of reach of the bugs, none of them suspect that they are part of a much larger plan, one that involves another, unknown survivor… (STL068334)
32pgs, FC (5 of 5) SRP: $3.99
NOV171965
UNDER (STATIX) #2 (OF 2)
(W) Christophe Bec (A) Stefano Raffaele, Christian Favrelle
Some people bury their secrets underground. In Megalopolis, the dirt flows into the sewers. LT Wilson Jericho, disgraced from his position above ground and now an officer in the sewer police, thinks he knows everything there is to know about what lies beneath. But scientist Sandra Yeatman is determined to discover the truth behind the legends, and something is threatening to crawl out and rip the city apart… (STL068409)
64pgs, FC (2 of 2) SRP: $5.99 DR RADAR (STATIX) TP
(W) Noel Simsolo (A) Bezian
Paris 1920. A gentleman detective plays a deadly game with a criminal mastermind, Doctor Radar, while investigating a series of horrific deaths! An atmospheric masterpiece perfect for fans of pulp noir and deadly criminal masterminds! (STL068109)
SC, 7×10, 64pgs, FC SRP: $16.99
HERCULES WRATH O/T HEAVENS (STATIX) TP
(W) Jean-David Morvan (A) Looky
As war rages across the Galactic Frontier, one half-man, half-god super-soldier faces his greatest enemy — His own demons — In a bid for truth and redemption! (STL068128)
SC, 7×10, 112pgs, FC SRP: $19.99 WONDERFUL WORLD OF TANK GIRL #4
(W) Alan Martin (A/CA) Brett Parsons
The final in a series of four stand-alone stories! An old friend turns up, presenting Tank Girl with a problem that can only be solved by taking a dive, deep into the rabbit-hole of her own subconscious! Prepare to freak out, man! (STL068410)
32pgs, FC SRP: $3.99 DAN DARE #4
(W) Peter Milligan (A/CA) Alberto Fouche
The classic British hero returns for brand-new adventures, written by Peter Milligan with art by Alberto Fouche! Featuring cover by superstar artist Christian Ward (ODY-C, Black Bolt)! For the first time in human history,the Sol system is at peace and Dan Dare, pilot of the future, is bored out of his mind – and praying for something to break the monotony of peace. When an unknown alien vessel of biblical proportions arrives in the solar system and obliterates a moon of Saturn in a show of strength, Dare finds himself thrust back into a new adventure that threatens not just Earth — but all life in the entire universe! (STL067838)
32pgs, FC SRP: $3.99 DAN DARE EARTH STEALERS HC
(W) Frank Hampson, Frank Bellamy (A) Don Harley, Bruce Cornwell
This collections contains 2 stories – The Earth Stealers and Platinum Planet! The Continuing of one of science fictions most enduring hero, Dan Dare, Pilot of the Future! Dan Dare and Digby awaken, after an unknown number of years, from deep-space hibernation to find themselves lost and adrift in an unknown region and orbiting a mysterious planet! (STL067847)
HC, 7×10, 160pgs, FC SRP: $34.99 FIGHTING AMERICAN #4
(W) Gordon Rennie (A) Duke Mighten (CA) Francisco Rodriguez De la Fuente
Direct continuation of Simon and Kirby's classic series! Fighting American returns! Written by Gordon Rennie with artwork by Duke Mighten! When the 1950s heroes find themselves trapped in the modern world, how will they handle what society has become, and what dangers will they face? With modern-day villains to contend with, enemies from their past pursuing them, and a whole new world to come to terms with, what daring adventures could Fighting American and Speed-Boy find themselves in now? (STL068124)
32pgs, FC SRP: $3.99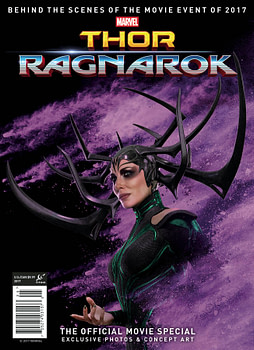 THOR RAGNAROK OFF COLL ED NEWSSTAND ED
Marvel Studios Thor Ragnarok the Official Collector's Edition in a unique behind-the-scenes, visual celebration exploring Marvel Studios' latest blockbuster movie. Presenting unseen behind the scenes photos from the movie sets, stunning concept art, and secrets from the set, with star interviews including Chris Hemsworth, Tom Hiddleston, Cate Blanchett and Mark Ruffalo. This deluxe collector's edition is a must-have for all fans of everything Marvel! (STL069103) NOTE: Not available in the U.K. (May Purchase from U.K. Vendor)
100pgs, FC SRP: $9.99
NOV171977
THOR RAGNAROK OFF COLL ED PX ED
Marvel Studios Thor Ragnarok the Official Collector's Edition in a unique behind-the-scenes, visual celebration exploring Marvel Studios' latest blockbuster movie. Presenting unseen behind the scenes photos from the movie sets, stunning concept art, and secrets from the set, with star interviews including Chris Hemsworth, Tom Hiddleston, Cate Blanchett and Mark Ruffalo. This deluxe collector's edition is a must-have for all fans of everything Marvel! (STL069121) NOTE: Not available in the U.K. (May Purchase from U.K. Vendor)
100pgs, FC SRP: $9.99
NOV171978
THOR RAGNAROK OFF COLL ED HC
Marvel Studios Thor Ragnarok the Official Collector's Edition in a unique behind-the-scenes, visual celebration exploring Marvel Studios' latest blockbuster movie. Presenting unseen behind the scenes photos from the movie sets, stunning concept art, and secrets from the set, with star interviews including Chris Hemsworth, Tom Hiddleston, Cate Blanchett and Mark Ruffalo. This deluxe collector's edition is a must-have for all fans of everything Marvel! (STL069122) NOTE: Not available in the U.K. (May Purchase from U.K. Vendor)
HC, 100pgs, FC SRP: $19.99