"Tom King Hates Jamie Rich" – The Latest on Sanctuary Announced Tomorrow?
At the DC in DC panel earlier in the year, "The Aftermath: Battle & Trauma in Comics," writer Tom King revealed a new upcoming project called Sanctuary about a place where DC heroes can go to deal with the trauma resulting from the violence they're a part of on a regular basis. A Crisis Centre.
"It's gonna be DC-wide, all the superheroes, and it's gonna be a place where these superheroes who are living violent lives every single day — Batman gets in a fight every single night, five times a night. We're creating a place superheroes can go that mimics the good work people are doing for veterans around the world where they can have a space where they can actually admit that this violence has had consequences for them and has affected them mentally, so that your greatest heroes, who are inspiring our children, can say proudly: yes, I've had some mental difficulties, and yes, working with people has helped me through them. And we don't hide behind that."
We have seen mentions since. In Batman by Tom King and Mikel Janin, dealing with a Poison Ivy who had taken over the world.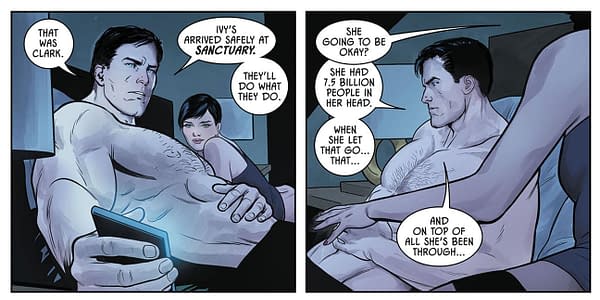 Booster Gold had an episode in a subsequent issue by Tom King and Tony S. Daniel.
And we soon worked out that this…
…was Sanctuary. A new series starring Booster Gold and Harley Quinn — possibly in her role as Dr. Harleen Quinzel of psychiatry. But the references have now escaped from the Tom King books with last week's Deathstroke written by Christopher Priest featuring this scene with the Human Dynamo.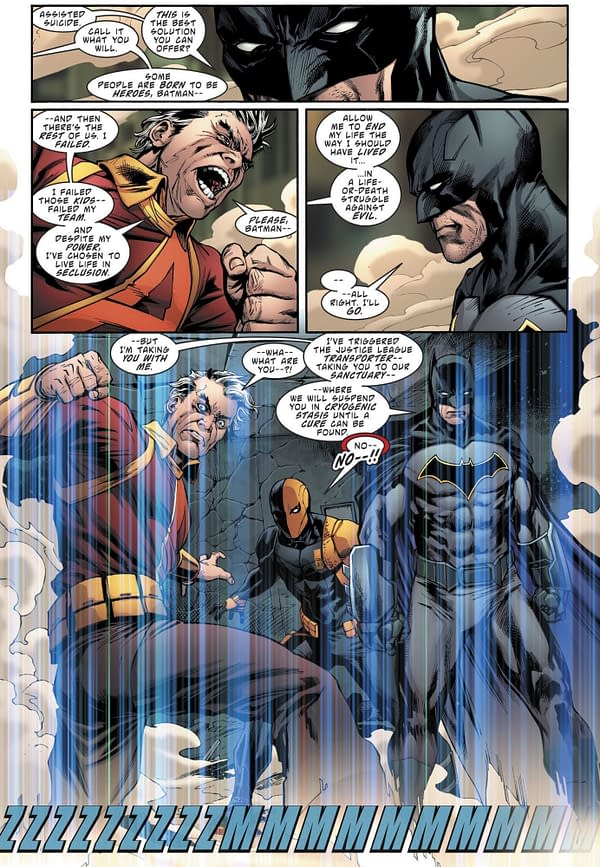 So this Sanctuary has cryogenic stasis tubes by the sound of it. So… not just talking therapy then?
We expect to learn more about Sanctuary — or Crisis Center — tomorrow. After watching his panel at MegaCon Orlando, of course.
Where he had to make a joke about Jamie Rich not getting Eisner nominated for Mister Miracle though everyone else did because he sucks. Followed by "Bleeding Cool – Tom King hates Jamie Rich".
Happy to oblige. Also we never saw you throw signed Batwedding invitations into the audience every time you swore. It's fine. Superb panel though, including his emergence into comics through the iFanboy boards and how he wants to work with all the artists he met there. Three things from there?
He has his big DC Comics event announced tomorrow, June 12th, which will probably be Sanctuary, another DC Comics book with Andy Kubert (which I guess could be Sanctuary instead) and a TV show with a big Hollywood star.
He's doing something with KGBeast — a man who cut off his hand to fight Batman and who Batman left locked in a sewer to die.
And his simple truth for writing Batman? Batman loves Catwoman.