Top 500 Graphic Novel and Trade Paperbacks Ordered by Comic Stores in December 2017, as the Liquidation Lists Hit
Here are the Top 500 ordered trade paperbacks and graphic novels for December 2017 by North American comic book stores through Diamond Comic Distributors, and made available by them, too.
Notably, the top book, Saga Vol. 8, sold four times more than the second best-seller, Batman: The War of Jokes and Riddles.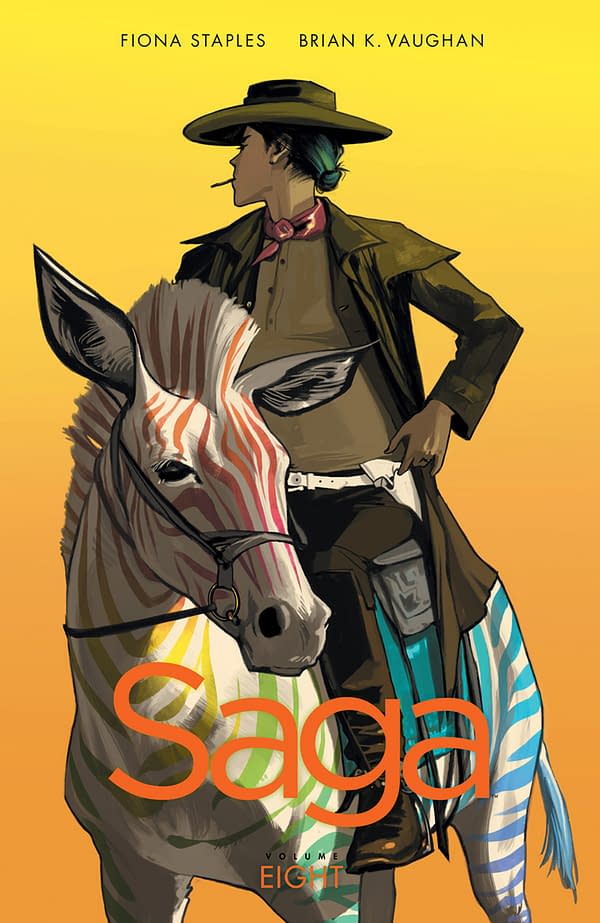 Also of note is the impact of those liquidation lists we have been talking about of late, some from DC Comics but mostly from Marvel, so that Green Lantern: Secret Origin TPB pops in at #37 in terms of copies ordered, but only 165th in terms of money spent to buy them, with Gotham by Midnight Vol. 1 getting a similar boost placing 39th and 177th respectively, while the new book Babyteeth Vol. 1 at the same $14.99 cover price with no discount gets 36th and 58th.
This behaviour continues through the chart, with Thor Epic Collection: War of Pantheon placing 64th and 263rd despite having a higher price point of $34.99, or the $17.99 Superior Carnage placing at 74th and 725th, or X-Men: Fall of Mutants at a higher $34.99 placing 78th and 285th, or the Iron Man Epic Collection: The Enemy Within at 90th and 302nd, or Brian Michael Bendis's New Avengers Vol. 1 at 124th and 673rd, or Fury MAX Vol 1 at 134th and 719th, or, get this, Ultimate Comics: Wolverine: Legacies at 156th place for numbers ordered, but (breathe in) 1359th for money spent by retailers to get the comics. Or the Tron TPB being at 186th and at 2743rd. Which means by the time to get to the end of the list, you have Runaways Vol. 9 as the 488th most ordered title, but on dollars spent by retailers, the 4671st. And no, that's not a typo.
See what else you can find…
1
1
22.39
OCT170715
SAGA TP VOL 08 (MR)
$14.99
IMAGE COMICS
2
4
6.63
SEP170400
BATMAN TP VOL 04 THE WAR OF JOKES & RIDDLES
$19.99
DC COMICS
3
9
4.25
AUG171044
STAR WARS TP VOL 06 OUT AMONG THE STARS
$19.99
MARVEL COMICS
4
15
3.81
SEP170399
BATMAN DETECTIVE TP VOL 04 DEUS EX MACHINA
$16.99
DC COMICS
5
13
3.57
AUG170013
BLACK HAMMER TP VOL 02 THE EVENT
$19.99
DARK HORSE COMICS
6
7
3.42
SEP170405
JUSTICE LEAGUE VS SUICIDE SQUAD TP
$24.99
DC COMICS
7
18
3.41
SEP170681-M
SHIRTLESS BEAR-FIGHTER TP (MR)
$16.99
IMAGE COMICS
8
19
3.38
AUG170634
DEADLY CLASS TP VOL 06 (MR)
$16.99
IMAGE COMICS
9
25
3.18
OCT171003
VENOMVERSE TP
$15.99
MARVEL COMICS
10
14
3.10
SEP171801
RICK AND MORTY TP VOL 06 (MR)
$19.99
ONI PRESS INC.
11
21
2.76
JUN170048
LADY KILLER TP VOL 02
$17.99
DARK HORSE COMICS
12
28
2.74
SEP170995
MS MARVEL TP VOL 08 MECCA
$17.99
MARVEL COMICS
13
29
2.72
SEP171007
PETER PARKER SPECTACULAR SPIDER-MAN TP VOL 01 INTO TWILIGHT
$17.99
MARVEL COMICS
14
30
2.66
OCT170620
BITCH PLANET TRIPLE FEATURE TP VOL 01 (MR)
$16.99
IMAGE COMICS
15
34
2.64
SEP171004
DEFENDERS TP VOL 01 DIAMONDS ARE FOREVER
$15.99
MARVEL COMICS
16
22
2.63
FEB140265-M
WATCHMEN TP
$19.99
DC COMICS
17
32
2.59
SEP170407
TRINITY TP VOL 01 BETTER TOGETHER
$16.99
DC COMICS
18
24
2.57
SEP170403
GREEN ARROW TP VOL 04 THE RISE OF STAR CITY
$19.99
DC COMICS
19
38
2.52
SEP170406
SUICIDE SQUAD TP VOL 04 EARTHLINGS ON FIRE
$14.99
DC COMICS
20
45
2.40
SEP170404
GREEN LANTERNS TP VOL 04 THE FIRST RINGS
$14.99
DC COMICS
21
37
2.38
AUG171358
LUMBERJANES TP VOL 07
$14.99
BOOM! STUDIOS
22
44
2.13
SEP170401
BATGIRL AND THE BIRDS OF PREY TP VOL 02 SOURCE CODE
$16.99
DC COMICS
23
23
2.11
JUL110745
INFINITY GAUNTLET TP
$24.99
MARVEL COMICS
24
98
2.03
AUG120491
SAGA TP VOL 01 (MR)
$9.99
IMAGE COMICS
25
59
2.03
SEP171001
CABLE TP VOL 01 CONQUEST
$15.99
MARVEL COMICS
26
46
2.02
SEP170998
BLACK BOLT TP VOL 01 HARD TIME
$17.99
MARVEL COMICS
27
49
2.01
SEP170415
INJUSTICE GROUND ZERO TP VOL 01
$16.99
DC COMICS
28
17
1.99
SEP170650-M
I HATE FAIRYLAND DLX HC VOL 01 (MR)
$29.99
IMAGE COMICS
29
27
1.98
SEP170418
JUSTICE LEAGUE POWER RANGERS HC
$24.99
DC COMICS
30
51
1.97
AUG170346
WONDER WOMAN THE TRUE AMAZON TP
$16.99
DC COMICS
31
2
1.96
JUN170377
JACK KIRBYS FOURTH WORLD OMNIBUS HC
$150.00
DC COMICS
32
50
1.91
OCT171007
THANOS TP VOL 02 GOD QUARRY
$17.99
MARVEL COMICS
33
76
1.87
SEP170430
TEEN TITANS GO TP VOL 04 SMELLS LIKE TEEN SPIRIT
$12.99
DC COMICS
34
43
1.87
JUN170380-M
BATMAN FLASH THE BUTTON DELUXE ED HC
$19.99
DC COMICS
35
42
1.84
SEP170410
BATMAN ARKHAM JOKERS DAUGHTER TP
$19.99
DC COMICS
36
58
1.78
OCT171087
BABYTEETH TP VOL 01
$14.99
AFTERSHOCK COMICS
37
165
1.77
JAN110337
GREEN LANTERN SECRET ORIGIN TP NEW ED
$14.99
DC COMICS
38
47
1.76
SEP170409
BATMAN AND ROBIN ADVENTURES TP VOL 02
$19.99
DC COMICS
39
177
1.72
MAY150238
GOTHAM BY MIDNIGHT TP VOL 01 WE DO NOT SLEEP
$14.99
DC COMICS
40
107
1.71
OCT170517
STAR WARS ROGUE ONE GN
$9.99
IDW PUBLISHING
41
57
1.65
SEP170997
CHAMPIONS TP VOL 02 FREELANCER LIFESTYLE
$19.99
MARVEL COMICS
42
127
1.64
APR160803
MONSTRESS TP VOL 01 (MR)
$9.99
IMAGE COMICS
43
75
1.63
SEP171000
UNBELIEVABLE GWENPOOL TP VOL 04 BEYOND FOURTH WALL
$15.99
MARVEL COMICS
44
168
1.62
APR172140
X-O MANOWAR (2017) TP VOL 01 SOLDIER
$9.99
VALIANT ENTERTAINMENT LLC
45
90
1.61
OCT171660
ATTACK ON TITAN GN VOL 23
$10.99
KODANSHA COMICS
46
16
1.60
SEP170994
AMAZING SPIDER-MAN CLONE CONSPIRACY TP
$39.99
MARVEL COMICS
47
48
1.60
OCT171103
HILLBILLY TP VOL 02
$17.99
ALBATROSS FUNNYBOOKS
48
64
1.56
SEP171009
DOCTOR STRANGE TP VOL 04 MR MISERY
$19.99
MARVEL COMICS
49
134
1.55
JAN160645
PAPER GIRLS TP VOL 01
$9.99
IMAGE COMICS
50
12
1.53
SEP170620-M
DESCENDER DLX ED HC VOL 01
$49.99
IMAGE COMICS
51
71
1.52
SEP171003
HAWKEYE KATE BISHOP TP VOL 02 MASKS
$17.99
MARVEL COMICS
52
72
1.49
OCT171032
MOTOR GIRL TP VOL 02 NO MAN LEFT BEHIND
$15.99
ABSTRACT STUDIOS
52
53
1.49
JUL151482-M
RICK & MORTY TP VOL 01
$19.99
ONI PRESS INC.
54
65
1.47
SEP170421
NEW TEEN TITANS TP VOL 08
$19.99
DC COMICS
55
88
1.39
OCT171004
ICEMAN TP VOL 01 THAWING OUT
$15.99
MARVEL COMICS
56
66
1.37
AUG170036
LOBSTER JOHNSON TP VOL 05 PIRATES GHOST
$19.99
DARK HORSE COMICS
57
69
1.36
JUL170766
WALKING DEAD HERES NEGAN HC (MR)
$19.99
IMAGE COMICS
58
101
1.36
JAN170850
SAGA TP VOL 07 (MR)
$14.99
IMAGE COMICS
59
3
1.35
JUN171041
X-MEN CLASSIC OMNIBUS HC
$125.00
MARVEL COMICS
60
83
1.31
SEP170996
TOTALLY AWESOME HULK TP VOL 04 MY BEST FRIENDS ARE MONSTERS
$17.99
MARVEL COMICS
61
619
1.31
JUN110767
X-MEN PHOENIX RISING TP
$14.99
MARVEL COMICS
62
84
1.30
OCT171011
MOON GIRL AND DEVIL DINOSAUR TP VOL 04 GIRL-MOON
$17.99
MARVEL COMICS
63
85
1.29
SEP171006
ALL NEW GUARDIANS OF GALAXY TP VOL 02 RIDERS IN SKY
$17.99
MARVEL COMICS
64
263
1.25
JUL130710
THOR EPIC COLLECTION TP WAR OF PANTHEONS
$34.99
MARVEL COMICS
65
129
1.24
SEP170424
SCOOBY DOO TEAM UP TP VOL 04
$12.99
DC COMICS
66
95
1.23
SEP170769
ROCKET GIRL TP VOL 02 ONLY THE GOOD
$16.99
IMAGE COMICS
67
6
1.22
JUN171043-M
MMW FANTASTIC FOUR HC VOL 19
$75.00
MARVEL COMICS
68
96
1.21
SEP170402
BLUE BEETLE TP VOL 02 HARD CHOICES
$16.99
DC COMICS
69
93
1.19
SEP171008
ROCKET TP VOL 01 BLUE RIVER SCORE
$17.99
MARVEL COMICS
70
81
1.19
SEP170426
SUICIDE SQUAD TP VOL 07 THE DRAGONS HOARD
$19.99
DC COMICS
71
36
1.18
SEP170416
JSA BY GEOFF JOHNS TP BOOK 01
$34.99
DC COMICS
72
117
1.15
NOV128157
WALKING DEAD TP VOL 01 DAYS GONE BYE
$14.99
IMAGE COMICS
73
31
1.14
SEP171012
DEADPOOL CLASSIC TP VOL 20 ULTIMATE DEADPOOL
$39.99
MARVEL COMICS
74
725
1.14
NOV130726
SUPERIOR CARNAGE TP
$17.99
MARVEL COMICS
75
74
1.14
SEP170408
TRINITY HC VOL 02 DEAD SPACE
$22.99
DC COMICS
76
20
1.13
AUG170615-M
BLACK SCIENCE PREMIERE HC VOL 02 TRANSCENDENTALISM (MR)
$49.99
IMAGE COMICS
77
60
1.13
SEP170480
MONSTROUS COLL STEVE NILES & BERNIE WRIGHTSON TP
$24.99
IDW PUBLISHING
78
285
1.12
NOV120796
X-MEN FALL OF MUTANTS TP VOL 01
$34.99
MARVEL COMICS
79
162
1.10
AUG170384
DUCKTALES TP TREASURE TROVE
$9.99
IDW PUBLISHING
80
33
1.08
SEP171017
PUNSHER EPIC COLLECTION TP CAPITAL PUNISHMENT
$39.99
MARVEL COMICS
81
39
1.08
SEP170411
BATMAN BRAVE & BOLD BRONZE AGE OMNIBUS TP VOL 01
$34.99
DC COMICS
81
121
1.08
OCT171006
MIGHTY CAPTAIN MARVEL TP VOL 02 BAND OF SISTERS
$15.99
MARVEL COMICS
83
131
1.07
APR130443
SAGA TP VOL 02 (MR)
$14.99
IMAGE COMICS
84
70
1.07
OCT171949
SHIVER HC JUNJI ITO
$22.99
VIZ MEDIA LLC
85
110
1.06
APR170834
MONSTRESS TP VOL 02 (MR)
$16.99
IMAGE COMICS
86
114
1.06
OCT138324
FLASHPOINT TP
$16.99
DC COMICS
87
146
1.06
JUN170777
PAPER GIRLS TP VOL 03
$12.99
IMAGE COMICS
88
62
1.06
OCT171000
BLACK PANTHER PANTHERS QUEST TP
$29.99
MARVEL COMICS
89
40
1.06
AUG170025
BPRD HELL ON EARTH HC VOL 01
$34.99
DARK HORSE COMICS
90
302
1.05
JUN130697
IRON MAN EPIC COLLECTION TP ENEMY WITHIN
$39.99
MARVEL COMICS
91
35
1.05
SEP171018
STAR WARS LEGENDS EPIC COLLECTION NEW REPUBLIC TP VOL 03
$39.99
MARVEL COMICS
92
63
1.04
SEP170431
TEEN TITANS THE SILVER AGE TP VOL 01
$29.99
DC COMICS
93
109
1.03
NOV070226
BATMAN THE KILLING JOKE SPECIAL ED HC
$17.99
DC COMICS
94
119
1.03
SEP170444
EVERAFTER TP VOL 02 UNSENTIMENTAL EDUCATION (MR)
$16.99
DC COMICS
95
78
1.02
FEB161683-M
RICK & MORTY TP VOL 02
$19.99
ONI PRESS INC.
96
138
1.01
OCT171955
TOKYO GHOUL RE GN VOL 02
$12.99
VIZ MEDIA LLC
97
184
1.01
SEP172047
SECRET WEAPONS TP VOL 01
$9.99
VALIANT ENTERTAINMENT LLC
98
26
1.00
APR170439
WATCHMEN THE ANNOTATED EDITION HC
$49.99
DC COMICS
99
52
1.00
JUN171047
DOCTOR STRANGE HC VOL 01
$34.99
MARVEL COMICS
100
55
0.99
JUN171048
THOR BY JASON AARON & RUSSELL DAUTERMAN HC VOL 02
$34.99
MARVEL COMICS
101
219
0.98
SEP170519
MY LITTLE PONY CUTIE MAP TP
$7.99
IDW PUBLISHING
102
122
0.98
JUL170919
WALKING DEAD TP VOL 28 A CERTAIN DOOM (MR)
$16.99
IMAGE COMICS
103
124
0.95
AUG171045
STAR WARS DARTH VADER DARK LORD SITH TP VOL 01 IMPERIAL MACH
$17.99
MARVEL COMICS
104
5
0.95
JUN171040
CAPTAIN AMERICA BY WAID & GARNEY OMNIBUS HC
$125.00