Travel Foreman's Pencils For I Am Batman #0, Out In August
At the end of The Next Batman: Second Son, we got to see the Batman costume that Jace Fox had discovered in one of his father's old basements. In August's new series, I Am Batman, we see Jace Fox hitting the streets of Gotham in the new suit, being the Next Batman, and all part of the new Fear State crossover.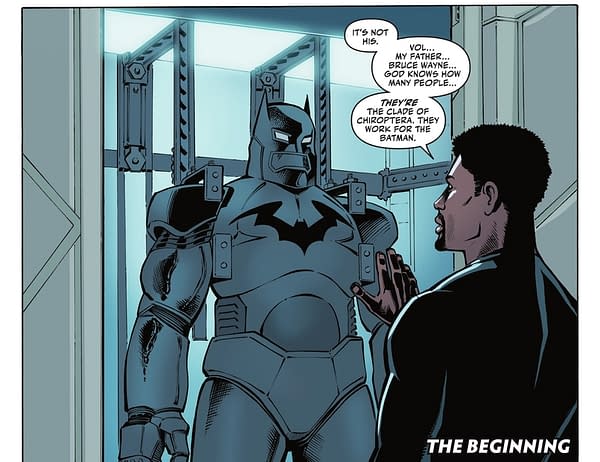 And Bleeding Cool also has a little look at some of the pencils for I Am Batman #0 by John Ridley and Travel Foreman, taking Jace Fox further. And getting into that Batsuit.
Anyone fancy a go at inking all that?
I Am Batman #0
story by JOHN RIDLEY
art by TRAVEL FOREMAN
cover by TRAVEL FOREMAN
ON SALE: 8/10/21
$4.99 US | 40 PAGES | FC | DC
variant cover by DERRICK CHEW
US $5.99 (card stock)
variant cover by DAVE WILKINS
US $5.99 (card stock)
1:25 variant cover by RICCARDO FEDERICI
US $5.99 (card stock)

Future State gave readers a preview of things to come with Jace Fox as the new Batman…but his debut in the core line arrives with a bang! Picking up immediately from the events of The Next Batman: Second Son, Jace thrusts himself into action when the Magistrate's crackdown on Alleytown begins, using armor he's found in the abandoned Hibernaculum. The age of a new Dark Knight starts now!

The Next Batman: Second Son
written by JOHN RIDLEY
art by TRAVEL FOREMAN and TONY AKINS
cover by DOUG BRAITHWAITE
ON SALE: 9/7/21
$24.99 US | $33.99 CAN | 128 PAGES | FC | DC
Hardcover
ISBN 978-1-77951-360-1

Discover the origin of the new Dark Knight, Tim "Jace" Fox! The estranged son of billionaire Lucius Fox returns to Gotham City and takes on the mantle of Batman after being away for years. Where has the eldest son of one of Gotham's premier families been for these "missing" years, and how did he become Gotham's new protector?
The prodigal Fox returns home following the tragic events of The Joker War and Lucius Fox taking full control of the massive Wayne fortune. While his mother and sisters greet Jace, his younger brother, Luke, secretly the armored vigilante known as Batwing, does not welcome his sibling back with open arms. Is the city big enough for two Fox brothers? Find out how Jace evolved from man of mystery to Gotham's newest guardian.