Tuesday Runaround – Jody Leheup To Gokul Gopalakrishnan
HUP FOR JODY
Jody Leheup, ex of Marvel, is now also ex of Valiant.
PUTTING SONGBIRD TO STAY

Amy Dallen of Geek and Sundry pays a musical tribute to S.H.I.E.L.D. in lieu of the highly anticipated premiere…
[youtube]http://www.youtube.com/watch?v=oPVHzKGAVJw[/youtube]
GOING BACK AGAIN
Marc Guggenheim, screen and comic writer, takes Superman in a whole different direction with Tears Of Krypton… or does he?
The biggest fundamental difference between my story and Alan Moore's story is that Alan Moore's story is a little bit of an Elseworlds in the sense that he writes it from the perspective of a Superman who has always remained on Krpyton; he was never set on Earth. I based a lot of my story on the fact that Superman was coming back to Krypton after growing up on Earth, and experiencing the planet completely from that perspective. It's that difference in perspective that makes this story very distinct from "The Man Who Has Everything," in my mind. THE SAINTS COME MARCHING
Kotaku calls Boxers & Saints 2013's best graphic novel…
What Yang does so well in Boxers & Saints is capture the sweep of history from the viewpoint of the individual. But he does it without slavishly recreating specific events. Yang filters the conflicts through a layer of magical realism. That means the reader sees the warriors of the Society of the Righteous and Harmonious Fist as they were talked about: nigh-invincible warriors imbued with the spirits of the gods of myth. And Four-Girl's yearning for a belief system where she wouldn't be seen as worthless manifests itself as conversations with Joan of Arc.
While Newsday describes it;
The ambitious story structure renders no one unsympathetic, and Yang's laser-precise line work belies the compelling imprecision with which his characters approach their impossible choices.
BULLET TIME
Glamsham.com profiles a new comic strip working alongside Bollywood movie Bullet Raja.

The first chapter is called 'Ek Seeti ka Jawaab!' and features the character of Bullett Raja teaching eve teasers a lesson. He is also seen mouthing total filmy dialogues like, "Jhund mein to suar aate hain! Sher akela aata hai" and "Insaaf to kanoon ke bina nahi aata…. Lekin jab tak Bullett Raja hai, tab tak suraksha hai!" Sure to get the audiences whistling we think!
INDIA CONNED?
Times Of India finds its Comic Con is like… other comic cons…
Comic Con Express — the title itself suggests that the two-day event was supposed to be dedicated to comics. But even as 25,000-odd youngsters thronged the event from various parts of the city, the hard core comic lovers were left disappointed. Reason? Out of 70 stalls present at the venue, only 20 were dedicated solely to comic books.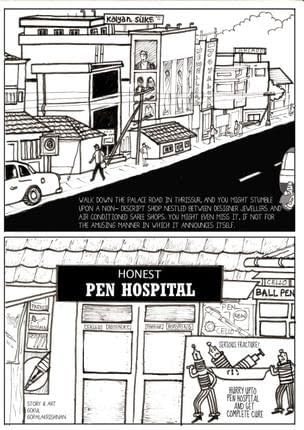 Although one creator seemed to do well for themselves, a comic book creating policeman from Mumbai, Gokul Gopalakrishnan.
Hailing from Thrissur, Gokul graduated in Sociology and did his Masters in English Literature. While pursuing his MPhil at CIEFL Hyderabad he researched on the evolution of the narrative in a graphic novel. Meanwhile he secured a job with the Motor Vehicles Department and settled in. In 2009 he began with a cartoon strip for a newspaper and got in touch with Comix India, an alternative comic movement. His panel 'Small Talk' dealt with anthropomorphic characters where a python and a vulture spoke like human beings. "I observe keenly. Recently I felt strongly about our society's fascist leanings. The characters comment on the creator too," says Gokul who enjoys the non-linear form of narrative where the panels allow for a to and fro movement. Gokul explains this freedom. "Unlike a sequence in a film, the comic strip allows flexibility. A text and an image need not go hand in hand. Take these disparate narrative modes and play with it."