Tuk The Caveboy Responsible For The X-Men? Franklin Richards as the New Galactus? Two Histories Of The Marvel Universe, Tomorrow…
The careers of Mark Waid and Kurt Busiek have been intrinsically linked, both having what some have seen as a familiar take on superheroes, an interest in continuity and a way of tying so much together into a cohesive whole. They've started a publisher together, and they have created some of their most memorable work with the same artist, Alex Ross, namely Kingdom Come and Marvels.
Tomorrow sees two books that both go back to that well, telling stories of superheroes out of time, taking other people's work, gathered through extensive research, putting them through different filters and concentrating them into one. And with Marvel Comics showing off their workings as well.
So we have The History Of The Marvel Universe by Mark Waid, Javier Rodriguez and Alvaro Lopez which, to quote Alan Bennett – 'History, it's just one thing after another.' And delving into all the different conflicting versions of history presented by Marvel Comics over 85 years to try and approach some kind of cohesive whole. Dan DiDio just talked about creating a proper timeline for the DC Universe – if he wasn't so much on the outs with Waid, maybe Waid could have done it for him.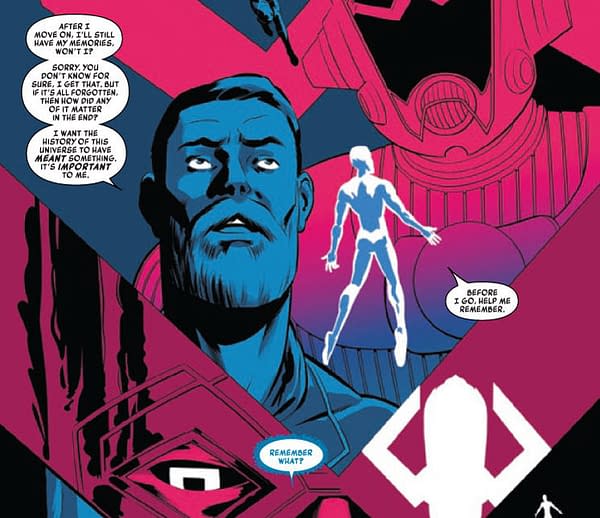 And this history is told from the end of times, when Galactus and Franklin Richards remain – and it looks as if Franklin will be the Galactus for the next version of reality, as The Ninth Iteration awaits. Reed Richards' greatest victory may have been repelling Galactus from Earth, the irony that his son will become the next Galactus is rather apparent.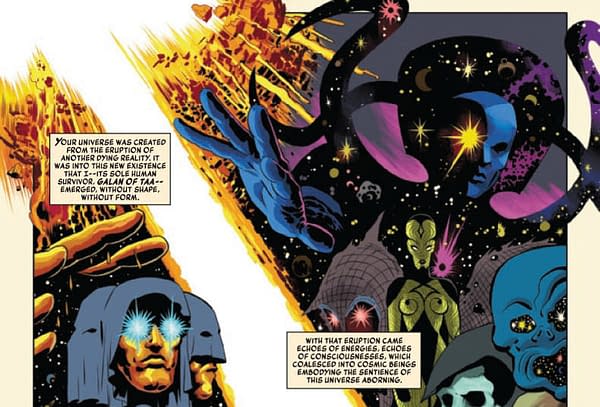 Oh yes, Mark Waid has really dived into Al Ewings' rewriting of Marvel Universe reality as well. All that time plotting the Avengers weekly books no doubt. And this book will be very handy for those intrigued by Phase 4 announcements, to go back and revisit characters like The Eternals, in the great context of everything else… making more sense fo what at the time was considered really weird…
While also combining it with the latest retcons from the Avengers. And even revealing, as Tom Brevoort has mentioned in the past, that Tuk The Caveboy, prigeny of the Inhumans, was responsible for all of mutantkind – even before homo sapiens came on the scene..
But this is just the first part of the book, the back shows all the workings out. References to every comic book that provided a historical note…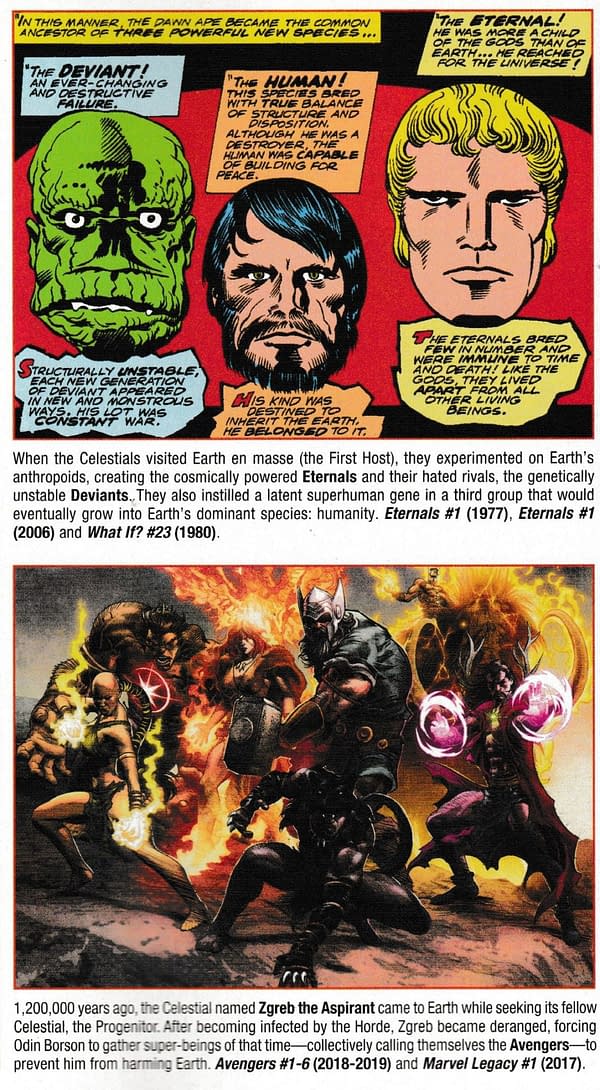 A comic book researcher – or speculator's dream.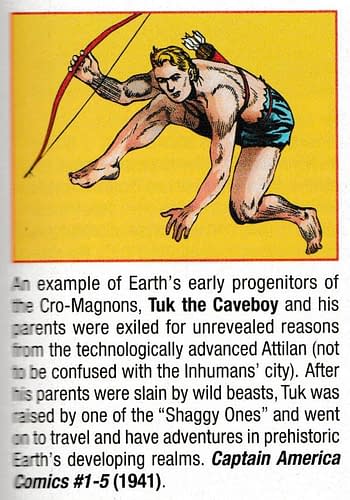 And it's a similar approach taken with Marvel Epilogue by Kurt Busiek and Alex Ross, also out tomorrow. That lets the pair tell one more story – and for Busiek to embed it within a specific point in seventies publishing, but also between two of his issues of Marvels: Eye Of The Camera, as well as looking at what else Marvel was publishing that month to tie it all in., in 16 pages.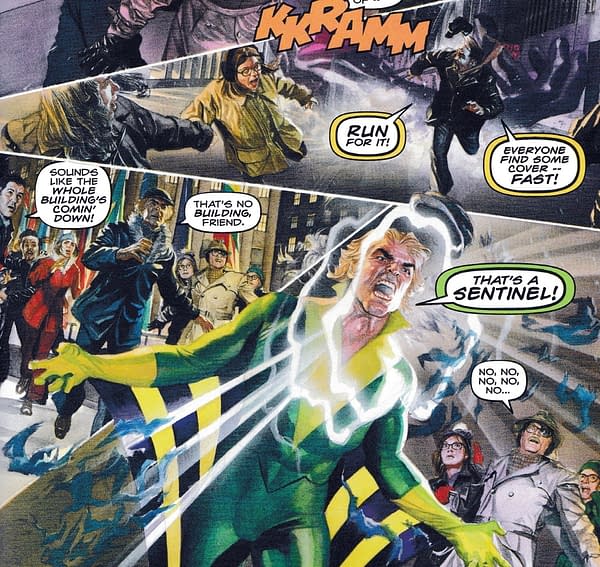 And again, showing all their working out in interviews at the back.
And even doing a version of MAD Magazine that may have conceivably appeared in the Marvel Universe at the time… well if DC COmics don;t want to do that anymore, maybe 'Mahvels' can step up there too…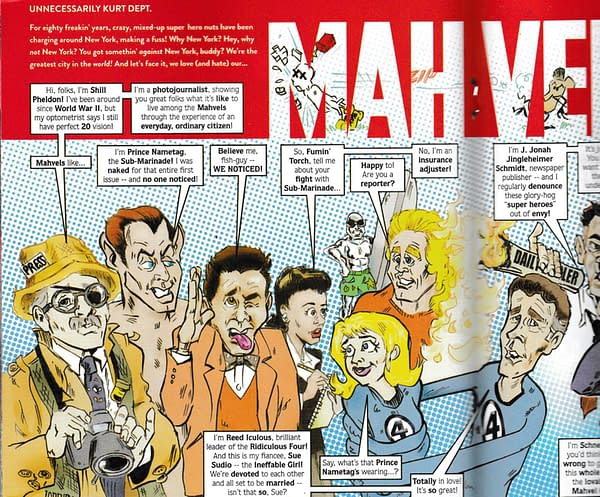 There will be plenty of deep-diving into both books tomorrow. Maybe put some time aside now…
HISTORY OF MARVEL UNIVERSE #1 (OF 6)
(W) Mark Waid (A) Javier Rodriguez (CA) Steve McNiven
ALL-NEW STORY BY LEGENDARY CREATOR MARK WAID! Everything you ever wanted to know about the Marvel Universe – in one lavishly illustrated series! From the Big Bang to the twilight of existence, HISTORY OF THE MARVEL UNIVERSE chronicles completely, for the first time, everything that was, is or will be! Lushly illustrated text tells the complete story of the Marvel Universe, revealing previously unknown secrets and serving as the ultimate reference book for Marvel fans! Witness the greatest tale ever told – and be prepared for some shocking revelations!
Rated T In Shops: Jul 24, 2019
SRP: $4.99

MARVELS EPILOGUE #1
(W) Kurt Busiek, Alex Ross (A/CA) Alex Ross
An all-new standalone epilogue to the classic MARVELS graphic novel written by Kurt Busiek and fully-painted by Alex Ross! A "Marvels" look at the "all-new, all-different" X-Men of the 1970s. In this 16-page story, Alex and Kurt bring Marvel's world to brilliant, realistic life one last time, as the now-retired Phil Sheldon and his daughters, in Manhattan to see the Christmas lights, find themselves in the middle of a clash between the outsider heroes and the deadly Sentinels, giving them a close-up perspective on the mutant experience. Also featuring a behind-the-scenes look at the making of this special story, and other bonus features.
Rated T+In Shops: Jul 24, 2019
SRP: $4.99