Twenty-Nine Thoughts About Twenty-Nine Comics – From The Pumpkin Seeds Of Adventure Time To Sandman Overture
Hello everyone! Hello My Little Ponies, from the twelfth issue of your ongoing series! Such a welcoming bright comic, and my daughter is in love with them all. Well, that was quite a day, yesterday. Felt a little like this from Wild Blue Yonder #3… Or this from Teenage Mutant Ninja Turtles #27. Or this from Damian Son Of Batma #1.
Well, some people just have smackable faces don't they? Exactly. Thank you Green Lantern Annual #2 for revisiting that classic.By rthe way, I hope nothing too bad happens to Jackanapes. Thank you Powerpuff Girls #2, you've reassured me a little. So it's a day of DC Annuals, an ending of Battle Of The Atom, an almost ending of Infinity. But there are lots of comics on the stand, as ever! And I always like it when one comic makes me reconsider a totally unconnected title. Such as the new Sandman Overture #1. And then reading Adventure Time 2013 Spoooktacular #1 straight afterwards. And straight onto Clive Barker's Hellraiser 2013 Annual #1 right after that. Excuse me, I'm suddenly feeling rather queasy. Also the appearance of the Corinthian in Sandman Overture, suddenly got me seeing parallels in even more innocent books, such as Archie's new comic The Fox. And straight on from that into Clive Barker's Next Testament #5. What can I say, I'm getting a little peckish.What do I fancy. Game Of Thrones #17, any ideas? No, not corn. Actually, I fancy taking a few Marius Piper potatoes, parboiling them, cutting them into thin wide slices and then frying them with sea salt and fresh rosemary, with a dash of the contents of bearded men's arm scars. As you do. Of course I'm not the only one in trouble with potatoes. From Swamp Thing Annual #2… That's right, folks, an earlier version of The Swamp Thing caused the Irish Potato famine. No offence, obviously. Crossed Badlands #40 comes to Japan for the day of the outbreak, which of course is carried out with extreme cultural sensitivity, with Buddhist monks getting blowjobs from decapitated heads. Again, no offence. Sorry Batgirl-appearing-in-Nightwing Annual #2. I should be careful what I say, it's true for many people. For example, if I called a woman a witch, I should expect some blowback. Aquaman Annual #2 there. Watch your mouth… and your tree logging ways as well, I'm sure that was a factor. Though not everyone takes such a forward approach. Danger Girl The Chase #2 features a nice piece of backseat driving. And with the length of those heels, she could probably even steer the wheel from there.
Though talking of sex earlier, and now talking of Sex, it's hard to reproduce a non-NSFW from that comic for this column. Even in this relatively tranquil scene, after pages and pages of hardcore fucking, the smoke from the cigarette doesn't behave too much like smoke… but semen in mid ejaculation. Again, talking of which. You have to love Saga. Everyone has to love Saga. And we do.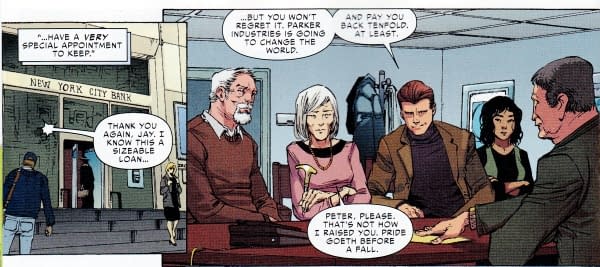 Superior Spider-Man #20 looks like it's a hotbed for all sorts of plot launches. As well as the cliffhanger, there's promised revenge from the Black Cat, Parker's academic reputation at risk, his superhero reputation at even more risk and Pete Parker starting Parker Industries, as teased in last week's Daredevil.
Despite Dan Slott's protestations, at some point in the future, we will see the return of Peter Parker as Spider-Man. We got a glimpse of how that may happen last issue. But 'm hoping that Parker Industries is something that continues over. As Doc Ock continues Spider-Man's legacy, even if it is a warped and twisted one, so Peter Parker should be able to contine Doc Ock's as well…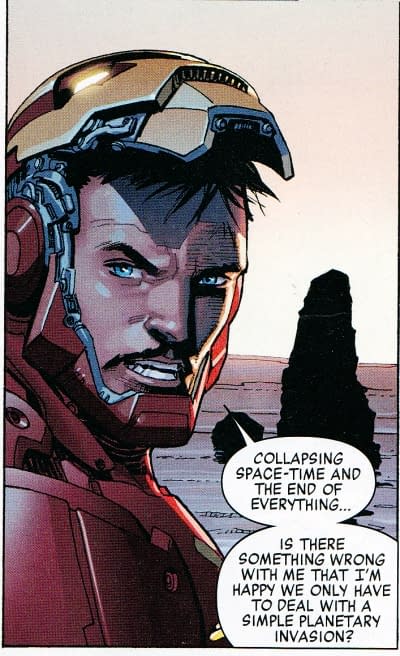 Avengers #22 gets to the crus of the thing I've most enjoyed about Infinity, the large amounts of big major plottage that crash into each other. The Builders galactic war. Thanos' attack on Earth. The emergence of Inhumanity as a new defence mechanism. And the continuing incursion of other dimensions that have to be destroyed or both dimensions will be destroyed. I can't help that think that somehow the existence of the Builders will be used to stop the incursions… or something. But with all this going on, yes, I sympathise with Iron Man… While over in Infinity, we get some fundamental opposite points of view, which you might expect when a God sits down with a 1940's soldier… Man, the conversations I've had that began like this. GI Joe #19, there… Transformers Robots in Disguise #22 has Transformers really in disguise. Never has the title been more apposite. "Blast him with your love beam" – this is for kids, right? Even KISS Kids #3? Because, you know, I'm just not born that way, I could never blast him with my love beam., I'd never bve able to perform…
Okay, talking of bones bring on the dinosaurs. Teenage Mutant Ninja Turtles #7 have a bunch on the menu. Godzilla #5 has a fair few to play with as well. You know, like kids toys. And in a shock plot twist, dinosaurs also appear in Dinosaurs Attack #4. Who saw that coming? I do like the lettering on Witchblade #170. Just wanted to say.
Comics courtesy of Orbital Comics, currently running their Mark Buckingham Fables exhibition and next week host a conversation with Blue Is The Warmest Color's Julia Maroh.