Twenty Thoughts About Twenty Comics Today – Morning Glories, Secret, Justice League, Itty Bitty Hellboy, Super Dinosaur, Angel And Faith, Mind The Gap, Skullkickers, Lazarus, Massive, Think Tank, Sex, Peanuts, Steed And Mrs Peel, Fanboys Vs Zombies, Regular Show, Uncanny X-Men, New Avengers, Wolverine & The X-Men, Uncanny Avengers
So how to start this week's comics. Something, light, upbeat, feel good and… Okay, maybe Morning Glories wasn't the best way to start. Well then, something else…
Aah! Uncanny Avengers, do you really have to? I can't take any more… Wolverine And The X-Men, you too? Can people please stop ripping off their faces, give me something else to watch, please!
I deserved that. Well, I'm awake, that's for sure. Thank you for that, Sex. I'm just worried about the influence this comic may be having on the rest of the comics industry.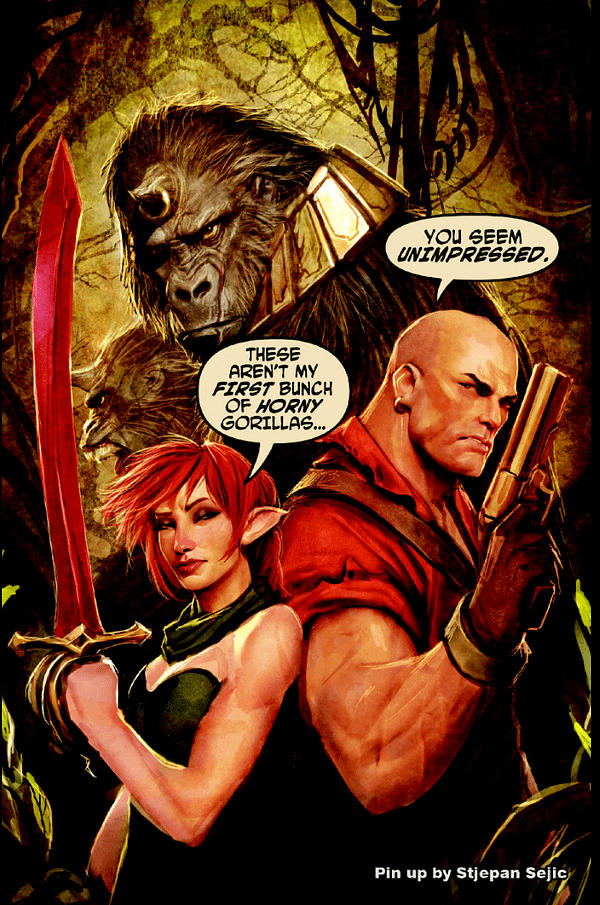 We looked at Stjepan Sejic's erotic comic Sunstone the other day. It looks like it may be leaking out into his other work, such as this Skullkickers pinup.
Even Peanuts is getting in on the love action, seriously where will this end?
When Lazaruses flirt, it just gets a little creepy. Like watching real Japanese robots dance.You know you can get sex robots now, right? Well, Mrs Peel does. Anyway, all this unbridled lust can only lead to one thing. And you know what happens then…
Yup, nuclear war. Thank you Massive for joining the dots on that one. But I need something uplifting something silly, something sex-free, something… Something Itty Bitty Hellboy! There we go, from the Aw Yeah guys, a kids version of Hellboy that's just as entertaining as the real thing. And as a result, probably read by forty year olds like me.
You know, I always wondered why there were carrots in my suit. Now I have an answer. Anything else? Super Dinosaur as a Dinosaur Ninja! This must be my lucky day! At least he's got an arse like a horse's arse and not a face. The final issue of Angel And Faith gives me chuckles, and lets me face a grimmer world. Okay, bring it on…
Mind The Gap seems to have noticed how successful Peter Panzerfaust is. and demands a slice of that action. In New Avengers, Wolverine gets the Paul Hogan "that's not a knife" routine in his gut…
…while our enterprising new member of the Uncanny X-Men finally chooses a name. Looking forward to the toy already.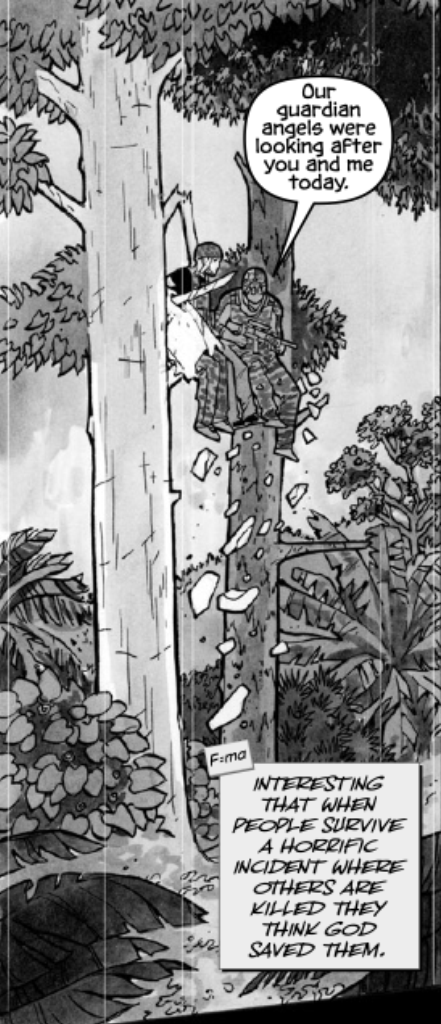 Think Tank gives you philosophy and theology along with your action adventure, from up top of a tree. How many other comics can say that?
While the most welcome return of Secret plays it safe with this rather well portrayed traffic, starting off so simply and beautifully. I do hope they brought a map. If not, I'm sure the above from Regular Show will do. Seriously, what is it with Atoms and brains? After Identity Crisis, surely people would have learned to be a bit more wary around them? They are just not to be trusted!
So, what did we think of it all this week?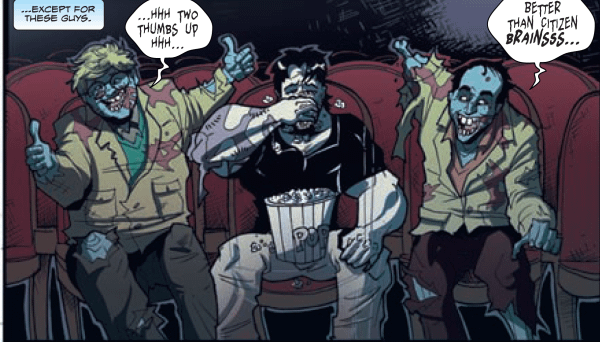 Fanboys Vs Zombies delivers the verdict.
Comics courtesy of Dave's Comics in Brighton. Who would like to tell you about Brighton the graphic novel, launching later this year…