Unbelievably 21 More Black Friday Comic Shop Sales
The first set of 18 here, the second set of 19 here, the third set of 19 here… a fourth look at Black Friday sales amongst comic book stores… one day to go…
Jesse James Comics, 10620 N 43rd Ave #7, Glendale, AZ 85304 Larry's Comics 66 Lakeview Ave Lowell, MA 01850
#1- BUY ONE GET TWO FREE on NEW Mylar key comic selection. DISCOUNT TRADES & HARDCOVERS. FIFTY CENT COMICS. NEW COMICS (excludes this weeks books ) SILVER , COPPER, BRONZE SECTION

#2- DONUT PARTY

#3 GIFT CARD DEAL: For every $25 gift card you purchase, you get your choice of ONE yellow stickered discount trades & hc's
Golden Apple Comics' Black Friday Sale is too big for their Los Angees store. So they have opened a pop up shop next door to accommodate it all. Orbital Comics in London is all about the Black Sabbath side of Black Friday. Hiero's Pop Up Store, 1200 50th Ave, Oakland, CA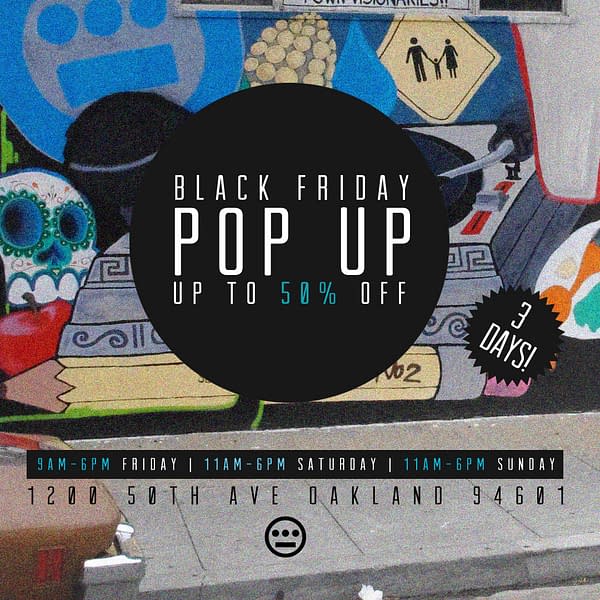 Come say hello to members of the Hiero crew and cop discounted gear for up to 50% off this weekend at Hiero's Pop up Store, 1200 50th Ave, Oakland, CA!! Supporters who are not in the Bay Area still receive online discounts of up to 50% off by entering the code "BlackFriday" at www.shophiero.com the weekend of 11/27 and 11/30.
The Comic Bug 1807 Manhattan Beach Blvd, Manhattan Beach, California 90266
EVERY VARIANT COVER IN THE STORE FOR COVER PRICE!
HALF OFF ALL NEW COMICS!
75% OFF ALL BACK ISSUES!
Buy one TP, get 10% off, buy two, get 20% off! Buy 5 TPs and get 50% off all five of them!!
90% off our SALE items!
By popular demand, we're bringing back the MAPOUPON, combination MAP and COUPON that is good for either a free new comic or 50% any item at the OTHER store! Mapoupons handed out in Manhattan Beach are good for items in Culver City and vice versa! Here's the locations…
The Comic Book Depot, Inc. 2847 Jerusalem Ave, Wantagh, New York 11793
Comic Books
15% off all new comics
25% off all back issues
Upto 75% off trades
All Marvel Select action figures 1/2 off
The Comic Station 615 Station Ave, Haddon Heights, New Jersey 08035
Not only a Black Friday Sale but we have not one but two artist's. Joining us on Black Friday are Dad's Cartoons and Playful Gorilla. These "Gentlemen" are great artist's and great guys as well. It's gonna be a lot of fun.
Best Comics 1300 Jericho Tpke, New Hyde Park, New York 11040
20-50% off almost everything in shop!
Limited edition variant comics available on 11/28 while supplies last
The Comic Book Shop 1855 Marsh Rd, Wilmington, Delaware 19810
Black Mask STUDIOS has hit the comics world hard with sell-out series after sell-out series of bold, powerful ideas and ideals with a punk rock attitude and homegrown style.

We're proud to host a few of the creators at our shop on the day after Thanksgiving for another fantastic BLACK MASK BLACK FRIDAY!!
Steve's Comic Relief 930 Woodbourne Rd, Levittown, Pennsylvania 19057 Viera Comics 7640 N Wickham Rd, Ste 108, Melbourne, Florida 32940
Sales will be going on all day starting at 11AM but the best part will be a Customer Appreciation Party from 7PM to 11PM we will have pizza, soft drinks, cookies and other goodies for you while you shop. We will play some games too! The Sales will gradually get better and better as the day goes on as well with the most Savings occuring between 9PM and 11PM! Plus another great raffle! We promise it will be fun
So the Discounts will go like this:
From 11AM-5PM everything in the store is 15% off
From 5PM-9PM everything in the store is 20% off
and from 9PM-11PM everything in the store is 25% off
IF YOU COSPLAY DURING THE HOURS OF 7PM-11PM ADD ANOTHER 5% TO YOUR DISCOUNT
Empire's Comics Vault, 1120 Fulton Ave, Ste K, Sacramento, California 95825
Hours: 9am-8pm

Back Issues $5 and under ONLY .50c
• $5.01-$10 ONLY $1
• $10.01-$15 ONLY $2
• $15.01+ 75% OFF
40% OFF Toys, Posters, Statues & Games
35% OFF Graphic Novels
Comic Kings 4404 Holland Rd in the Holland Plaza Shopping Center, Virginia Bea
EVERYTHING IN THE STORE WILL BE 10% to 50% off
Wall Books: 15-50% off
Back Issues: 25-50% off
Graphic Novels: 35% off
Comic Supplies: 25% off
Action Figures and Statues: 25% off
Card Game Product (Magic the Gathering/YuGiOh/Pokemon/Vanguard booster packs, boxes, etc.): 10-50% off
Card Singles: 25-50% off
Card Supplies: 25% off
Cool Stuff / Effin Comics 417 Burmont Road Drexel Hill, PA 19026 (610) 733-7615
Variants are still 50% off through 11/30/15!
T-shirts – 10 BUCKS!!
Graphic Novels and Value Packs are Buy One Get One Free!*
All current comics are $2 each!!**
$1-books are now 3 for $1!!!!***
Everything else is 25% off!! CheapGraphicNovels.com Black Friday Sale runs through Monday December 30th.
Like the banner says, we have thousands of different graphic novels for 50%-90% BELOW COVER PRICE!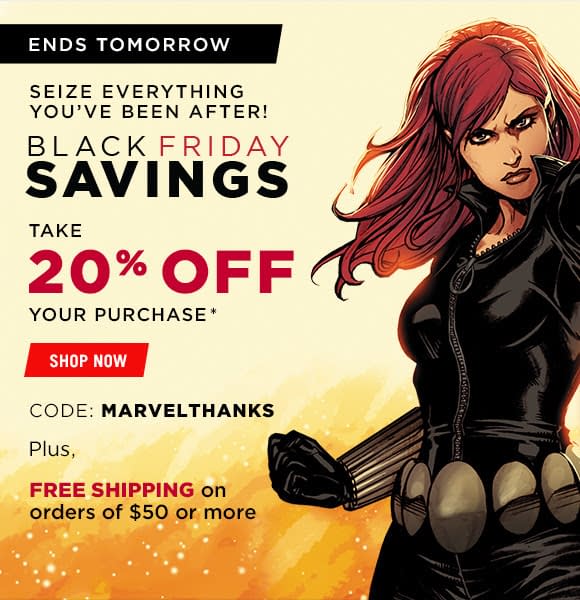 The Advent Comics Black Friday Sale kicks off with preorders and savings up to 60% off of all items!! Also, FREE Shipping (not a misprint)!! Because we love you guys so much, we're throwing these awesome sales!DOORBUSTERS (10/27 only)
9AM-12PM——– 50% off Graphic novels
9AM-12PM—- $10 COSMOS Starter Gift Set (features COSMOS #1, #2, Omni #1 and Handbook #1)
10AM-1PM——— $1 Back Issues on Selected Titles
10AM-11AM——– 60% off on Apparel and T-Shirts
10AM-12PM——– FREE Shipping on all orders over $20 A look at all the Aspen Comics deals. Dynamite Forces discounts from 75% to 40%.
And lots of Comixology sales – including these: