At the C2E2 Retailer Breakfast held this morning, attended by Bleeding Cool's David Swallow and Peter G, Valiant addressed the retailers regarding what has come – and what is about to.

They announced that 2015 was off to a rolling start for the publisher thanks to Bloodshot Reborn #1, the second highest debut of a Valiant title since relaunch, 45,000 copies. The book is plotted up to issue 25, and the first 3 arcs are in production. They note that their last four releases have seen issue to issue increases in sales.
Talking the Book Of Death as their big summer event for 2015, someone from 1000 years in the future comes back with the history of the Valiant Universe. Each issue is 40 pages, a full length story with back up stories filling in the upcoming events of the Valiant Universe including character deaths like that of Ninjak. The event will be 8 issues total, 4 of the main book and 4 tie in issues.
Retailers will be getting a much much higher discount than normal for every issue of the comic, with full returnability, to encourage hem to stock up and stock high.
They will also publish their Book Of Death: Legends Of The Geomancer comic, one copy made available to retailers for every 25 orders they make of Book Of Death #1. Only available in print, not digital, this is the only way people will be able to get copies, also encouraging retailers to increase orders on Book Of Death.
Is this the first ratio book since the Pirate Angela comic from Image all those years ago? Though this is tied to a book that is heavily discounted and fully returnable so it should be a lot easier to get a copy.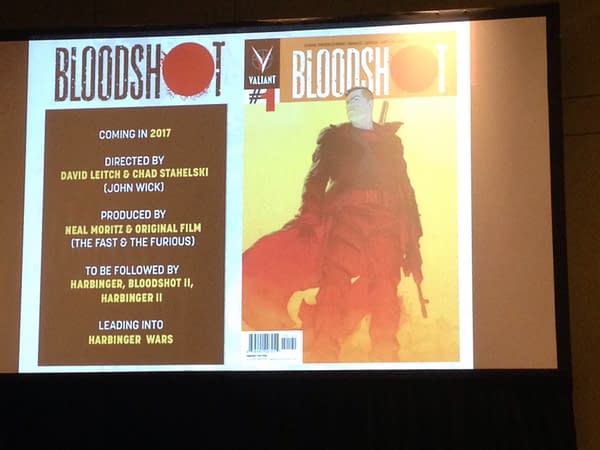 They also reminded retailers, if they had missed the news, that they have five movies in production with Sony, for Bloodshot, Bloodshot 2, Harbinger, Harbinger 2 and Harbinger Wars.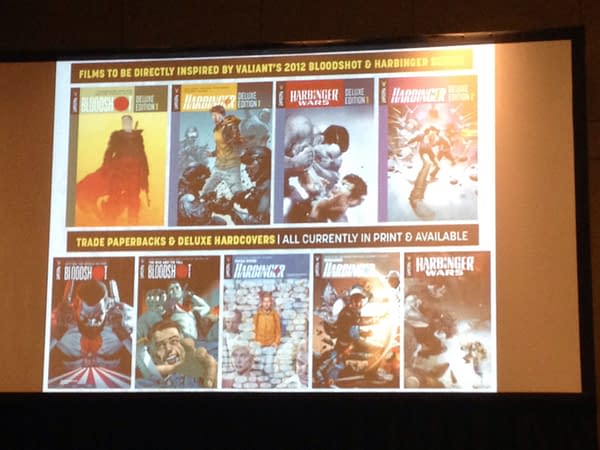 They also told retailers that they happy to take calls with any questions from retailers, and will send each store a full collection of trade paperbacks of the Valiant product so far to get them more acquainted with the products.
See more C2E2 Retailer Breakfast coverage here.
Enjoyed this article? Share it!