Vince McMahon Biography Gets Spinoff Zine With Comics, More
Ringmaster, the upcoming Vince McMahon biography, will have a companion zine, Greater Power: A Vince McMahon zine. And it looks awesome.
---
Ringmaster: Vince McMahon and the Unmaking of America is an upcoming book by Abraham Josephine Riesman, also the author of True Believer: The Rise and Fall of Stan Lee. It has the good fortune of coming out in just a few weeks, amidst what is probably the most lucrative time to release a book about Vince McMahon. The man who dominated the wrestling industry since the 1980s is currently in the midst of attempting to sell WWE after being forced to retire from the company last year amidst a scandal surrounding hush money payments for sexual misconduct allegations, only to return earlier this year, seize power again, and oust his detractors. Oh, and he's also got a mustache now.
You'll probably enjoy the book if you're a wrestling fan, even one who "knows everything" about the business. As a very important member of the wrestling "journalism" community, I was able to read an advance copy. It's the kind of book that not only had me up until 1 AM reading about Vince McMahon but had me waking up at 4 AM covered in sweat because I was dreaming about Vince McMahon (there's your pull quote, Riesman). I realize now that I'm writing it that that probably sounds like a reason to avoid Ringmaster at all costs, but what I actually mean to say is that it was very gripping and presented a lot of familiar and some unfamiliar McMahon and wrestling history in a cohesive narrative that puts the story in the context of the strange world we live in today, one which Riesman argues McMahon had a bigger impact on than you might think. And in a lot of ways, that's disturbing. But in an enjoyable kinda way.
And if you're also a comic book fan, you may enjoy Ringmaster even more because Riesman announced on Twitter today that the book will have a companion zine, Greater Power: A Vince McMahon Zine. And it looks as awesome as it sounds.
Here's some of the art from the zine:
Greater Power: A Vince McMahon Zine will feature comics, art, and outtakes from Riesman's extensive research, essays, and two exclusive interviews. As you can see from Riesman's tweet, you can win a signed copy of the zine and the book by entering that sweepstake, but she says the zine will also be for sale after the book is released. For now, just bask in the glory of this cover by Eva Redamonti: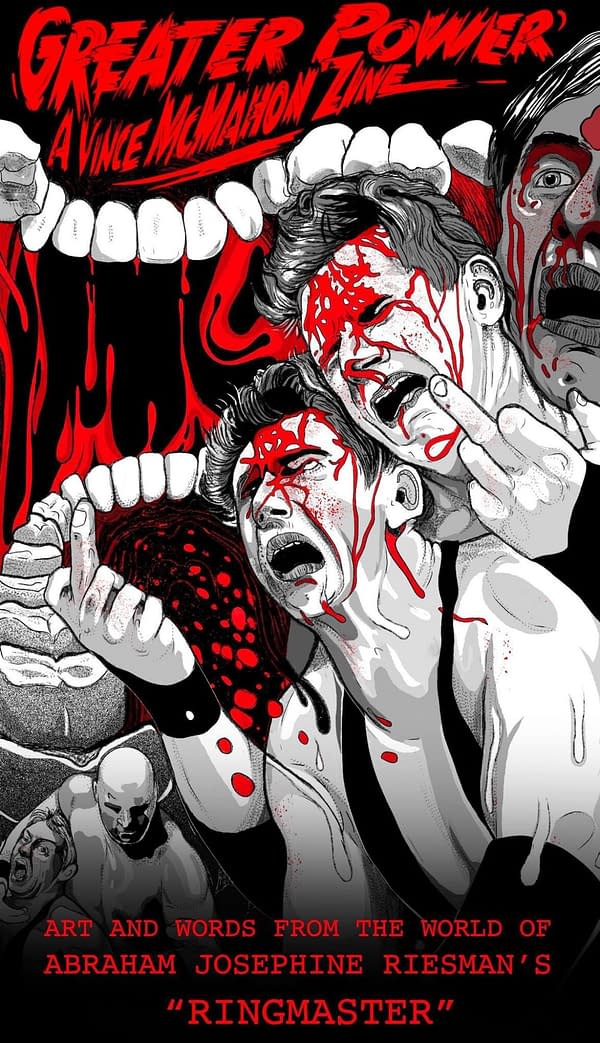 Ringmaster is out on March 28th. Learn more here.