[rwp-review-recap id="0"]
The trial of Detective Buckler continues in the near future, while Buckler and Vinegar Teeth deal with a mangled suspect in the former's police cruiser. The blood and viscera send Vinegar Teeth into a frenzy.
Later, the pair responds to an armed robbery in progress.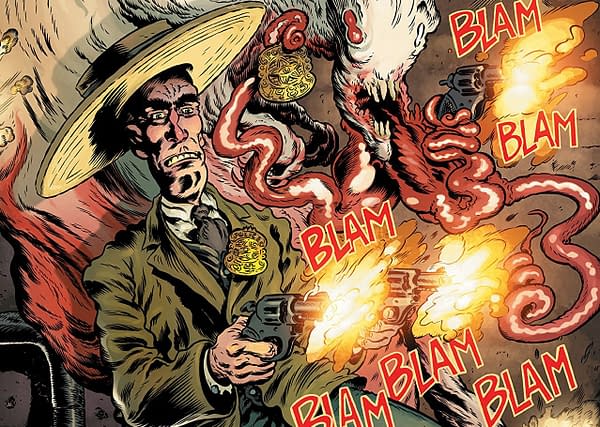 The bizarre surreal world of Vinegar Teeth spins onward with its second issue. We still have a world where people are treating the shambling monster like everyone else. It's still hilarious, and many a good one-liner is shared.
There is an emphasized tension on whether Artie Buckler is a likable character. In the first issue, Buckler appeared to be an angry yet hard-working and generally well-meaning police officer. Here, he's impulsive, angry, selfish and a complete ass to the lovable monster. Buckler is given a moment of humanity, but he allows it to be ruined by an innocuous statement from his partner.
Vinegar Teeth himself, despite the consuming of suspects, is a strangely endearing and even cute character. Sure, he's a shambling mass of flesh and tentacles, but he wants to do good by Buckler and the people around him.
There is the possibility that this comic is playing with some Lovecraftian themes. Buckler's proximity to Vinegar Teeth the creature could be driving him mad, resulting in him becoming more hostile and erratic.
Without giving anything away, we are given hints of something grander going on here.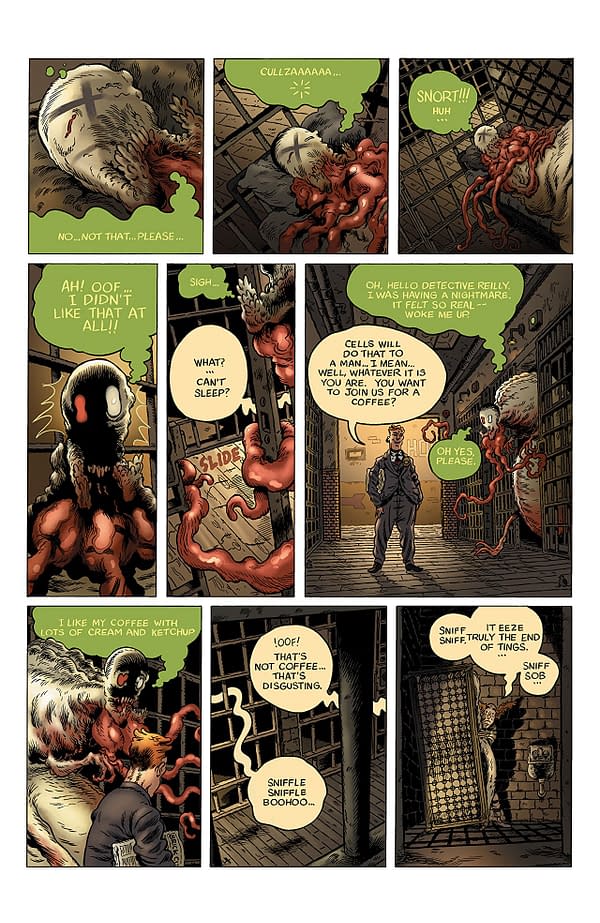 Troy Nixey's artwork continues to be the right mixture of detailed, layered, and outright ugly to fit the tone of the world created here. Vinegar Teeth still looks like a bizarre monstrosity. Buckler is lumpy and misshapen. Brick City is cold and unwelcoming. Guy Major and Michelle Madsen's color art (the latter fills in for page 22) coincides with an off yet still darker color palette. This comic has a great aesthetic for its offbeat tale.
Vinegar Teeth #2 follows up on its first issue very well with another bizarre issue with surreal characters and an ugly yet comical world. This is a comic so strange that it's impossible to take your eyes off it. Naturally, it comes recommended. Check it out.
[rwp-review-ratings id="0"]
[rwp-review-form id="0"]
Enjoyed this article? Share it!