It's not just Midtown Comics. JHU has a similar problem. I bet Neal Adams; new Crusty Bunkers store so close to DC Comics' Burbank offices will include a similar direction of travel. But anyway, Midtown has a new such position. Just if you get it, try and stay there for a couple of years before taking the Marvel/Archie/Valiant/AWA/Dynamite shilling, okay?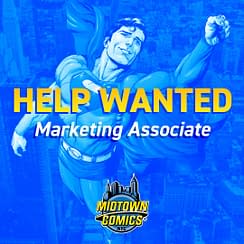 HELP WANTED– Marketing associate needed full time for Midtown Comics!
We're looking for a full time marketing associate to work with us at our offices in NYC and New Hyde Park. The right candidate will help us continue to achieve a multitude of goals in the areas of experiential marketing, branding, sales, social media, SEO, and more.
You should have at least two-three years of professional experience in the field, and have a keen interest in current social media/digital marketing trends. We're looking for someone who is personable, outgoing, and can think outside the box and teach us a thing or two! And of course, you should love comics and have an excellent understanding of the industry.
Please provide a cover letter and a writing sample with your application to be considered for the role. This is a requirement in order to move forward with your application.
Responsibilities in Social Media Marketing:
Work with our team leader, using our social media calendar and other company tools, and in partnership with our team, develop strategic content combining product, experience and more, across all channels.
Engage our followers and get them talking, buying, and attending our events.
Our content should speak to immediate trends that are relevant to our brand.
Expand influences and social community outreach
Social selling: help us get started with Facebook Marketplace and Instagram Shopping.
Expand the Midtown Comics in-store experience:
Help create/improve experience and "Instagrammable" moments. A visit to Midtown Comics is about more than just shopping!
Online & In-Store Promotions:
Assist with creation of marketing materials and implementation of all sales events.
E-mail Marketing:
Assist with our email campaigns from start to finish, including content creation, planning, testing, and evaluating.
Event Planning:
Assist with planning and implementation of all store events.
Calendar management:
Manage the jobs in our calendar and insure that they are done by the proper personnel.
Print materials:
Assist, direct, and oversee creation and printing of promo materials.
Ideal candidate profile:
Organizational ability and fine attention to detail.
Experience in social media and digital marketing.
Experience managing social media content with Hootsuite or similar platform.
Strong verbal and written communication skills. Writing impactful, fun, brief copy should come naturally to you.
Experience using social media analytics tools and the ability to tweak social strategies based on findings.
Excellent spreadsheet skills, Excel and Google Sheets.
Must work well under pressure and in a fast paced environment.
Must be a self-starter, who takes initiative.
Not afraid to take risks and try new things, always testing and learning.
Always on top of social trends and platform changes.
Helpful skills (not required):
Knowledge in paid search advertising.
Familiarity with Google AdWords.
Interested? Send your resume and cover letter with the subject line "Marketing Associate" to jobs@midtowncomics.com
Job Type: Full-time
Enjoyed this article? Share it!