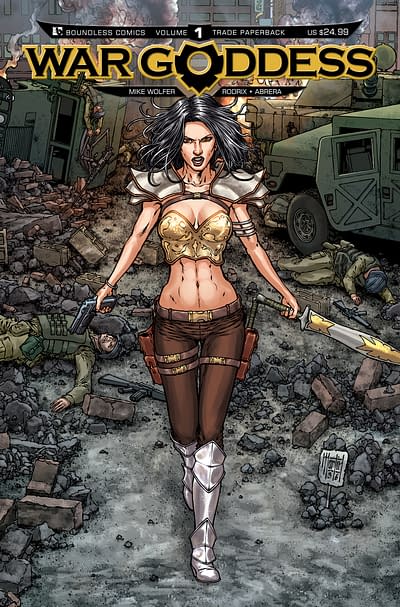 One of the true hidden gems of the massive Previews catalog, month in and month out, is the War Goddess series from Boundless Comics. Writer Mike Wolfer, with artists Pow Rodrix and Andres Ponce, have been crafting an explosive, frenetic tale of gorgeous female soldiers, goddesses, and mutants at war with an otherworldly invasion, science gone horribly wrong. Among the pages of the most recent Previews catalog (April issue for June shipping) is the listing of the first-ever War Goddess graphic novel, collecting the spectacular seven-issue run that brings back the bad girls for a whole new generation!
The backstory of War Goddess: For centuries, the sins of man ravaged the Earth, and only the immortal Pandora, the very woman whose curiosity first unleashed that evil, could protect humanity. After innumerable ages, she had finally completed her mission and settled into a life of leisure. However, the mantle of War Goddess cannot be so easily set aside. When a freak accident of science unlocks the doors to endless dimensions, all-new evils spill out into the world, and Pandora charges again into combat. But to defeat the deadly Hellina and the malevolent legions that follow in her wake, the immortal heroine must assemble a supernatural line of defense… including the woman/spider hybrid Widow, whose savagery and thirst for blood might be the deciding factor between victory and Hell on Earth.
We're happy to share a preview of the interior contents below.
Boundless Comics is making this exciting collection available in two cover editions: a Softcover (see upper artwork) and special autographed Hardcover edition (see lower artwork).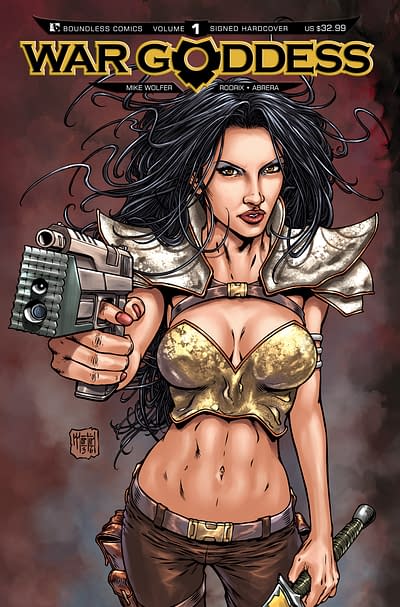 WAR GODDESS Volume 1 Softcover
$24.99, Cover by Matt Martin
Diamond Item Code: APR120960
ISBN: 978-1-59291-167-7
WAR GODDESS Volume 1 Signed Hardcover
$32.99, Cover by Matt Martin
Limited to 1000 copies
Autographed by Mike Wolfer and Matt Martin
Diamond Item Code: APR120961
ISBN: 978-1-59291-169-1
As a special note to retailers, remember that your April Previews initial orders are due tomorrow! Don't forget to include War Goddess — you know your "bad girl" fans will appreciate it!
Enjoyed this article? Share it!