Today sees the publication of The War Of The Realms: Omega #1, the final chapter of The War Of The Realms (even though Unstoppable Squirrel Girl still has a crossover to go) and a few post-war comedowns. Avengers #21 has a She-Hulk who could clearly do with a little personal attention…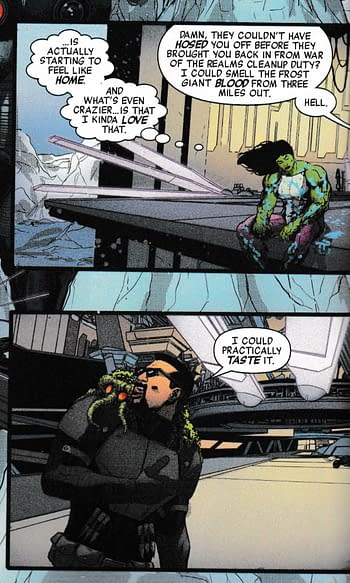 Has anyone told Blade he is carrying around a bit of the Weapon X programme on his back, as Boy-Thing? One thing to be careful of is that Thor #15 should also be read before The War of The Realms: Omega #1, just in case. Because Thor has scenes like this: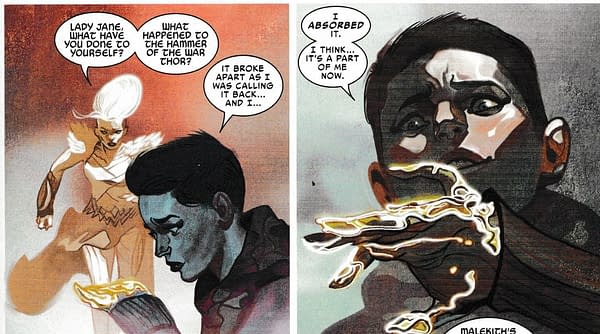 While Omega tells us what that means.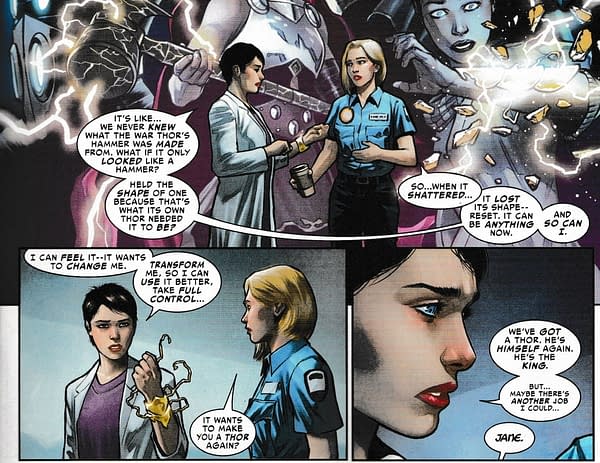 Jane Foster: Witchblade Valkyrie will be out soon. While Thor sets up Loki's new life…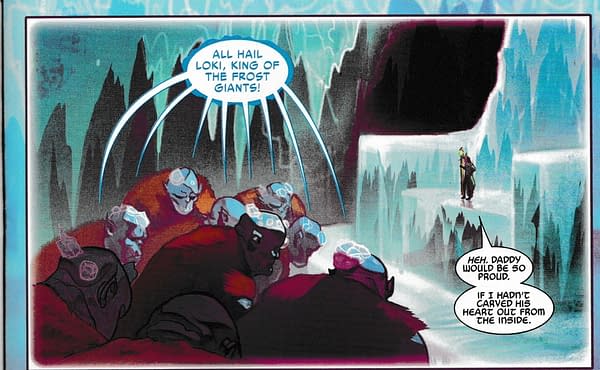 It's Omega that adds a little complication amongst said Giants.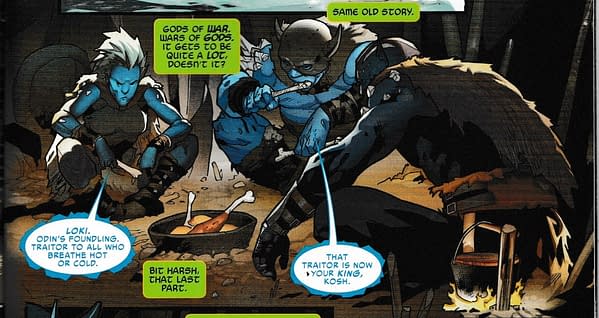 And Loki gets to weapon up too.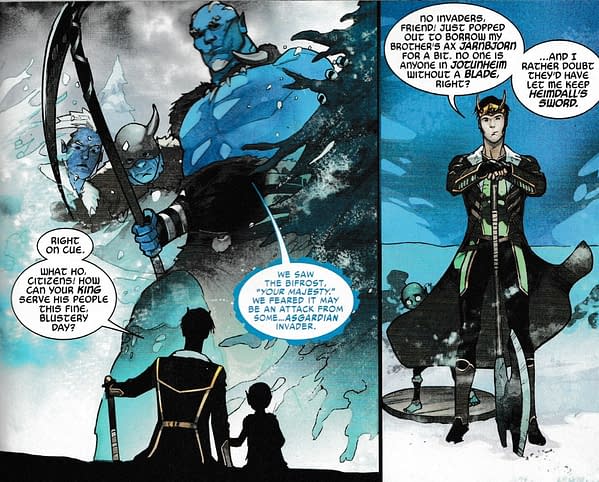 He's not alone. Omega also has Heimdall give Daredevil new weapons to carry with him now that he no longer has 'The Sight'…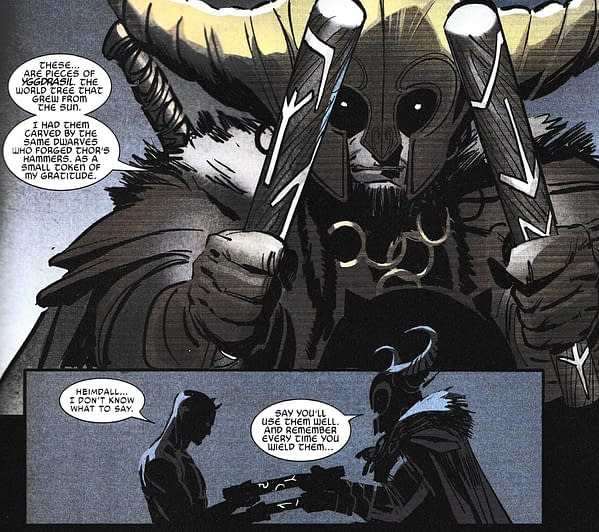 Eddie Brock over in Venom #16 is having his own post-war flashbacks… and lessons to learn.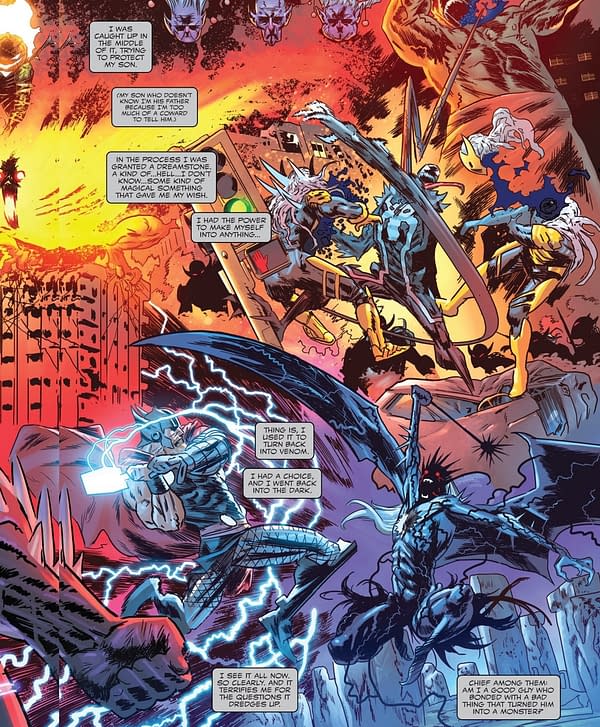 Avengers gives us more of Daredevil's godly visions we talked about last month. And now we have to add Starbrand to them all…
And yes, while this feels like solid slashfic with Captain America, Iron Man and Thor all naked in a hot tub, to be joined by a She Hulk who clearly needs it…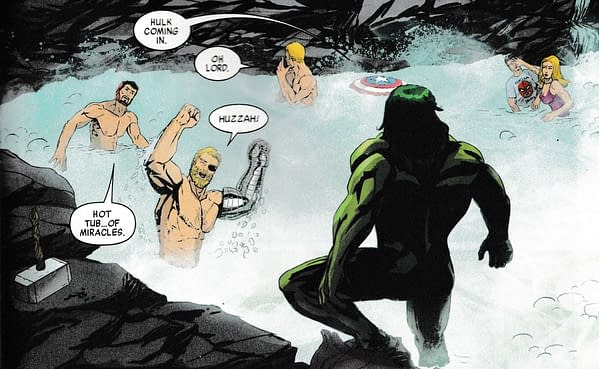 Thor only has one real love as seen in Thor #15, beyond both Jennifer Walters and Steve Rogers…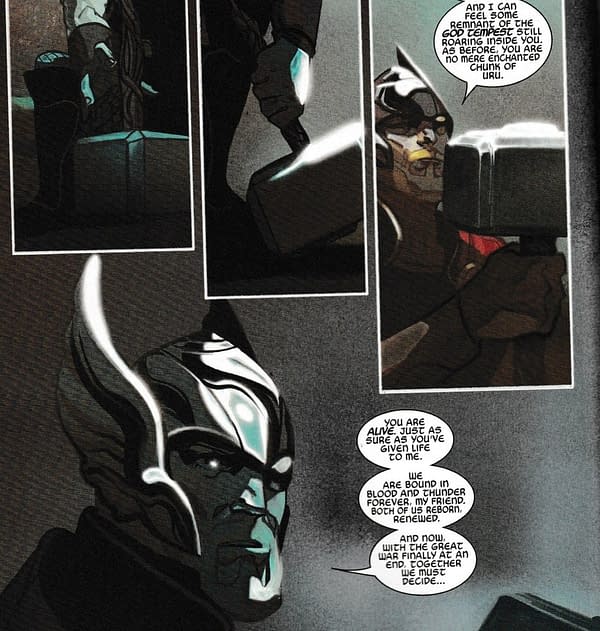 It's hammer time. While in Omega, the Punisher has a solution to Manhattan's food crisis…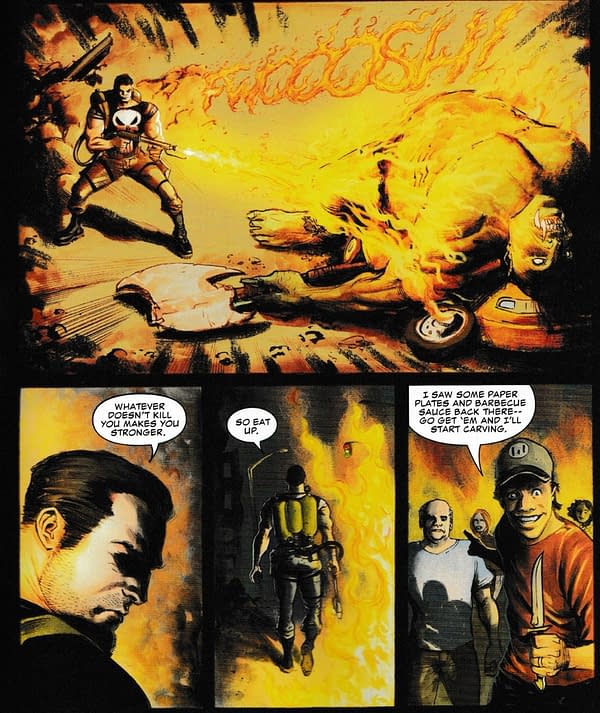 Has he never read Skrull Kill Krew? And monsters or not, is eating the corpses of sentient beings where we are at now? But the Punisher is still hunting his great white frost giant…
Champions #7 promised a War Of The Realms crossover issue, but, aside from Ms Marvel having stepped down from leadership, the comic is rather War Of The Realms-free, rather choosing to pick up on plot points from Amazing Spider-Man last year, over the location of Nova's helmet…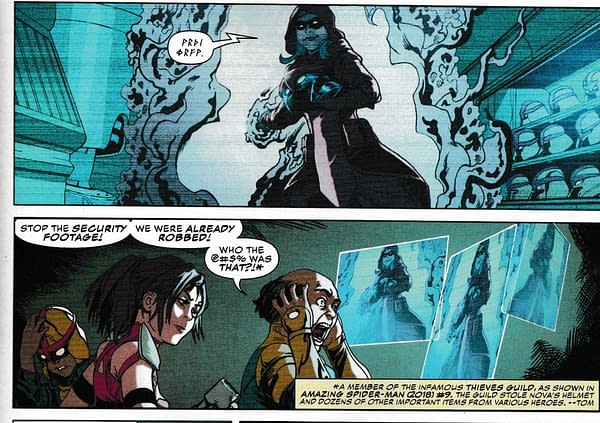 And also as a deep dive, back in Omega, as we meet paramedic Lisa Halloran, a colleague of Jane Foster…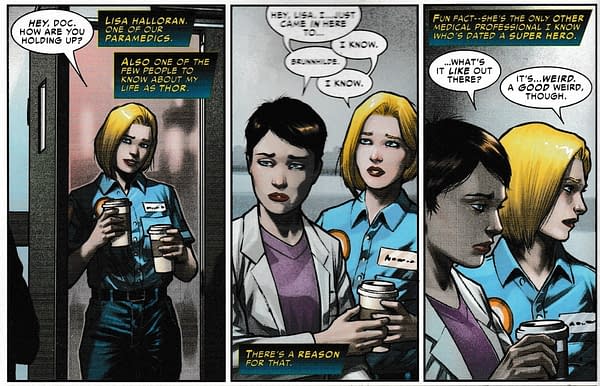 …she's joining Damage Control.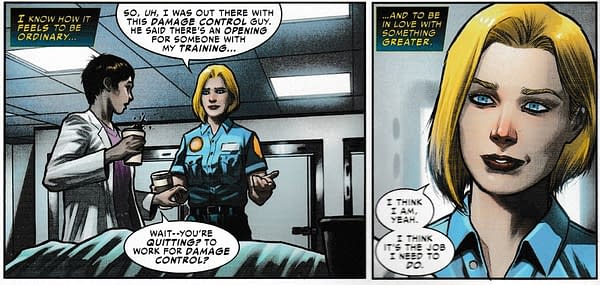 Could we get more Damage Control in Marvel Comics titles soon? Cross fingers…
WAR OF REALMS OMEGA #1 WR
(W) More, Al Ewing, Jason Aaron (A) Juan Ferreyra, Carlos Alberto Fernandez, Oscar Bazaldua (CA) Phil Noto
THE WAR IS OVER – AND THE MARVEL UNIVERSE MUST PICK UP THE PIECES! Midgard is broken, and as heroes of Asgard and Earth alike start to sift through the pieces, new heroes – and villains – emerge. What's next for Jane Foster, now free of the hammer she was willing to die to hold? Thor's brother Loki faced a terrible fate in the War of the Realms – and now the god of mischief must make himself anew. For the Punisher, the war isn't even close to finished – but this time, he's got his own army. And for Thor himself, destiny has finally arrived. The God of Thunder strikes out for a whole new adventure!
Rated T+In Shops: Jul 10, 2019 SRP: $4.99
AVENGERS #21
(W) Jason Aaron (A) Jason Masters (CA) Stefano Caselli
The war is over, and Earth's Mightiest Heroes are looking to celebrate. That's right, there's a party at Avengers Mountain! But who invited the Squadron Supreme of America?
Rated T+In Shops: Jul 10, 2019 SRP: $3.99
CHAMPIONS #7
(W) Jim Zub (A) Steven Cummings (CA) Kim Jacinto
The WAR OF THE REALMS is over, but its effect on the Champions has shaken the team to its very core. Meanwhile, Sam Alexander's mission in space takes an unexpected turn. Will he find redemption, or is this the last ride for the human rocket?
Rated T+In Shops: Jul 10, 2019 SRP: $3.99
THOR #15
(W) Jason Aaron (A/CA) Michael Del Mundo
WAR OF THE REALMS EPILOGUE! NEW STATUS QUO FOR THE GOD OF THUNDER! To end the War of the Realms, Thor made a sacrifice that will leave him forever changed. Now he must face the choices he's made. What lies ahead for the God of Thunder? Jason Aaron's legendary run draws to a close – don't miss the start of his final arc!
Rated T+In Shops: Jul 10, 2019 SRP: $3.99
VENOM #16
(W) Donny Cates (A) Juan Gedeon (CA) Joshua Cassara
After weeks on the run and battling the monsters of Asgard through the WAR OF THE REALMS, Eddie Brock finally has a moment to catch his breath. But without his symbiote, getting even the basic necessities will become a challenge for Eddie Brock. Which means that keeping his son, Dylan, alive will be too!
Rated T+In Shops: Jul 10, 2019 SRP: $3.99
Enjoyed this article? Share it!