Warren Ellis Has a Plastic Man Pitch – If You Dare
In his utterly essential weekly mailing list, which you really should subscribe to, Warren Ellis mentions many a thing. Including his internal pitch for a Plastic Man from DC Comics.
Hello from out here on the Thames Delta, where I have this week imagined a take on DC Comics' PLASTIC MAN as a Timothy Morton hyperobject existing simultaneously in all the oceans and landfills of the world like a garbage Swamp Thing, a hero's journey leading inexorably to The Parliament Of Deposits where all the sentient pollutants of the world gather to discuss the dangers of recycling and plant-based diets.
Go on then, from Wikipedia…
In The Ecological Thought, Morton introduced the concept of hyperobjects to describe objects that are so massively distributed in time and space as to transcend spatiotemporal specificity, such as global warming, styrofoam, and radioactive plutonium. He has subsequently enumerated five characteristics of hyperobjects:

1. Viscous: Hyperobjects adhere to any other object they touch, no matter how hard an object tries to resist. In this way, hyperobjects overrule ironic distance, meaning that the more an object tries to resist a hyperobject, the more glued to the hyperobject it becomes.
Yeah, that's the one.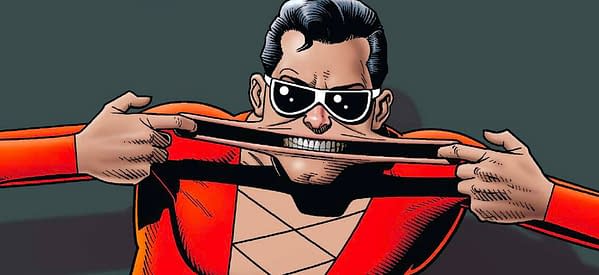 As for his comics,
About 30 pages to go on THE WILD STORM before that's wrapped (actually less, because I have a bunch of pages in note form ready to be slotted in). … I have, at this point, eleven more scripts to write for DC Comics.
That's a Batman thing with Bryan Hitch, we are still thinking, courtesy of Jonathan Ross.
OH! I did forget something! PETER CANNON THUNDERBOLT by Kieron Gillen and Caspar Wijngaard with Mary Safro and Hassan Otsmane-Elhaou. Issue 4. April 17. I think. I don't know that I can give anything away right now, but it f-cking destroys. This is the one people will be talking about.
There's lots more as well. Why not sign up here? Save me cutting and pasting most weeks…