Way Of X #4 – And What The Mars Terraformers Forgot (Spoilers)
Since the publication of Planet-Sized X-Men #1, I have enjoyed amateur scientists weighing up what the mutants of Krakoa and Arakko did, terraforming Mars into a mutant home. From Magneto bringing in an iron core, Oceans and fertile land being created, Iceman forming coeanic sheets, Storm controlling and creating an atmosphere and more. But plenty of folk have been asking other questions online regarding gravity, heat, solar radiationand even the effects of Mars' moons. And today's Way Of X #4, not following on from the death of the Scarlet Witch, but rather reintroducing X-Men Sooraya Qadir, also known as Dust.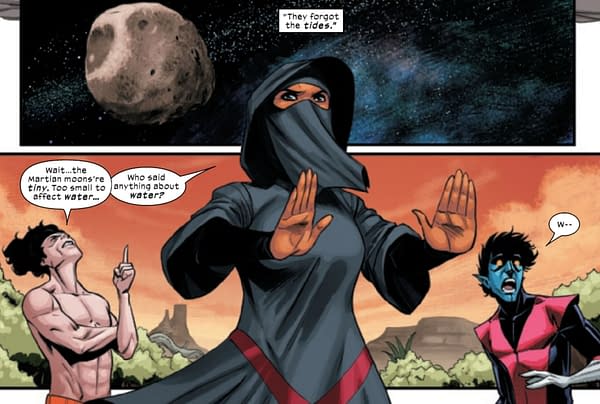 And with Mars suddenly being a lot heavier and denser, it is getting more attention from the smaller moons that orbit it.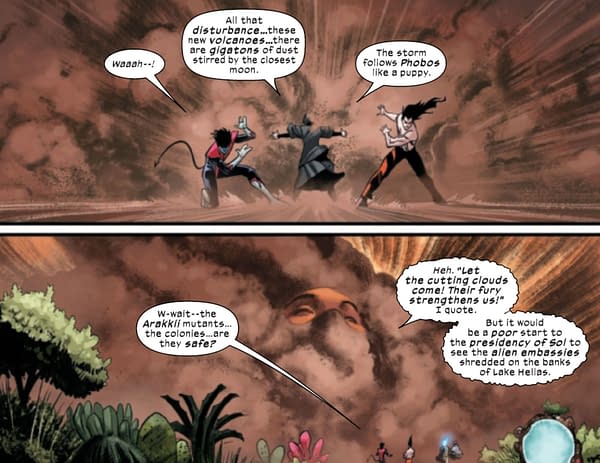 And Dust is the one who is left to literally, sweep up the mess. Across the entire planet. Before it causes a major intrgalactic incident. One of many things the founders of Arakko may not have planned for. There's going to be a long list.

Do we have another Omega Level mutant in the making? Say, I wonder what the wifi signal is like on Krakoa? Maybe something going down in X-Corp #3 could be ported across…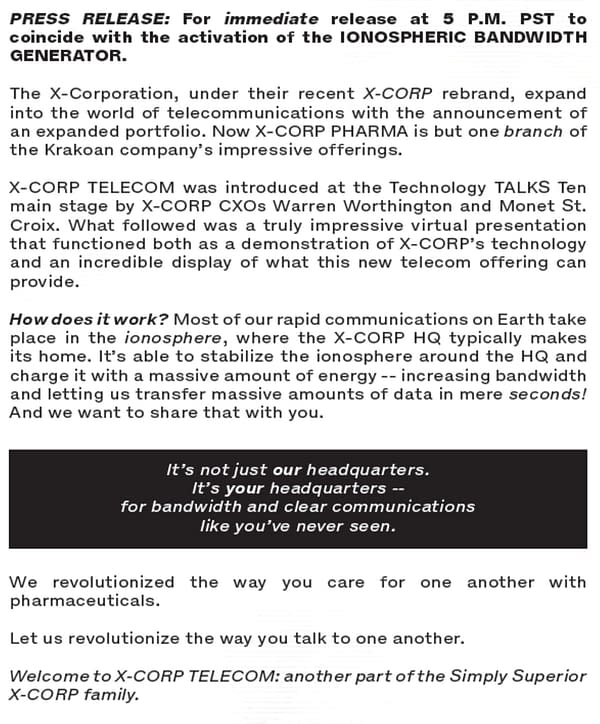 Surely that is too much for just one world?
WAY OF X #4
MARVEL COMICS
MAY210592
(W) Si Spurrier (A) Bob Quinn (CA) Giuseppe Camuncoli
KILL NO MAN! (BUT SOME EXCEPTIONS MAY APPLY) Nightcrawler must act fast to avoid catastrophe as the laws of Krakoa (and physics) are tested to their limits. Also: a nice family bonding sesh with no violent repercussions. Just kidding. This is Xavier vs. Legion in a boozed-up Tiki bar, with the sanity of mutantkind at stake. Rated T+In Shops: Jul 14, 2021 SRP: $3.99

X-CORP #3
MARVEL COMICS
MAY210590
(W) Tini Howard (A) Valentine De Landro (CA) David Aja
MULTIPLE MEN, MULTIPLE SOLUTIONS! He's everywhere you want to be. He's never not in the office. And his direct reports always fall in line. How does X-CORP meet their nearly impossible quotas with maximum synergy and minimal bandwidth? They've got Dr. Jamie Madrox, and he's the world's best boss. Rated T+In Shops: Jul 14, 2021 SRP: $3.99