You can read this week's free June Previews for yourself free on ComiXology – register here and then click here. And see more of our DC June Previews coverage here.
But it"s not just me, is it? Because, while reading the Dr Fate June Preview in that back of Convergence: Aquaman today, which is a sweet and deftly touched comic book, in terms of both writing and art, and what could be a grand example of Batgirling if it can find its audience…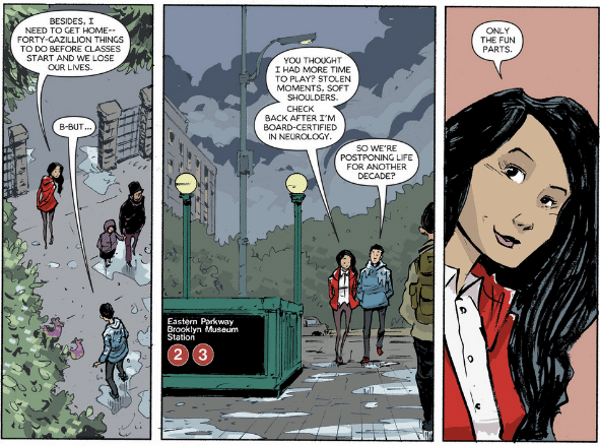 There's also this moment.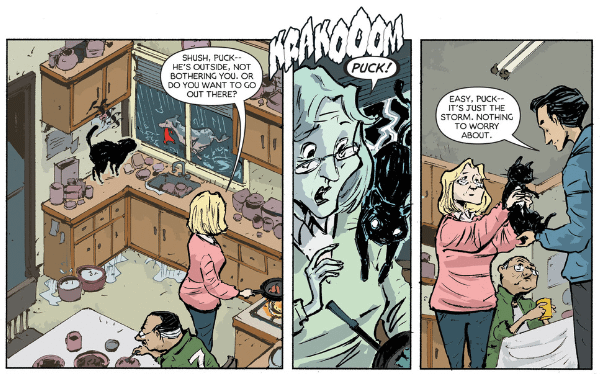 Okay, am I the only one who read the middle panel differently? Whose brain saw the word "Puck!" amidst the explosive sound effects of the storm, and the shock on the old woman's face and read that P as an F?
I mean the book is written by the squeaky-clean Paul Levitz, and that would never do…
Ah well, in the back of Convergence: Supergirl there's always Bat-Mite. Who seems to have a certain song in his head.
It wasn't that long ago that DC Comics banned Mike Allred from referencing the Batusi on the cover of Solo. Those days are long gone.
Comics courtesy of Orbital Comics, London. Currently hosting the exhibition of the work of Declan Shalvey and Jordie Bellaire, to celebrate the launch of Injection #1 with Warren Ellis from Image Comics. Signing event this Saturday….
Enjoyed this article? Share it!