So there's a General Election happening tomorrow in Britain. Yes, another one. It is currently expected that Boris Johnson and the Conservative Party will be returned to government with a small majority – but it is in no way certain. The Conservative Party has had to throw their usual fiscal conservatism to the dogs, and up public spending across the board paid for increased borrowing, But that's nothing to the opposing Jeremy Corbyn and the Labour Party who are upping public spending, borrowing, nationalisation. and taxation weighted on the richest 5%, those who earn over £80,000 – around $100,00 a year. On top of that, there are allegations of anti-Semitism against Labour, Islamophobia against the Conservatives, that the Conservatives will carve up the NHS and sell it to American investors as part of a new trade deal, that Labour will bankrupt the country after driving all the millionaires and billionaires out, and I haven't even mentioned Brexit.
Tomorrow, by law, all British broadcast media will stop covering the campaigning until polls end, which means it will go even madder online. But the madness had an early start over in the British Comics Internet today. When the Comic Books For Sale UK Facebook Group which as you might be able to tell, is usually used for offering comic books for sale in the UK, changed their heading visual to this:
And as you can see, there were quite a lot of comments. Some verbose…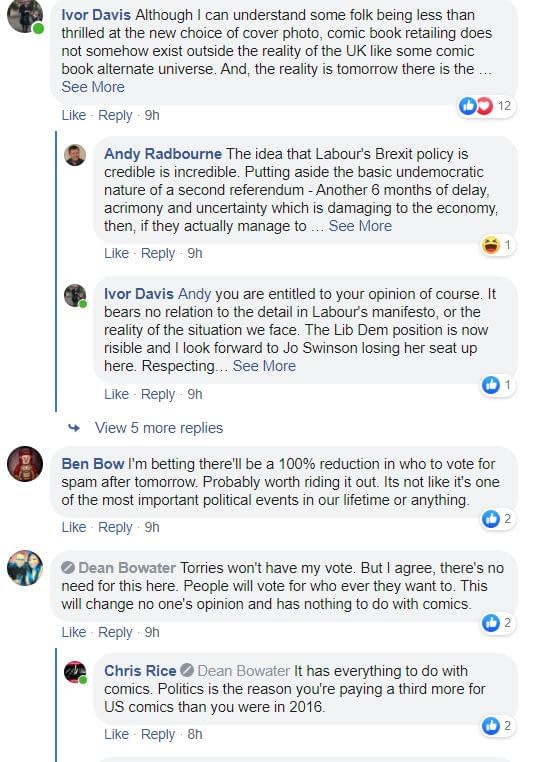 Some more partisan.
But where are the allegations of racism, homophobia and general bigotry? Oh, not far behind.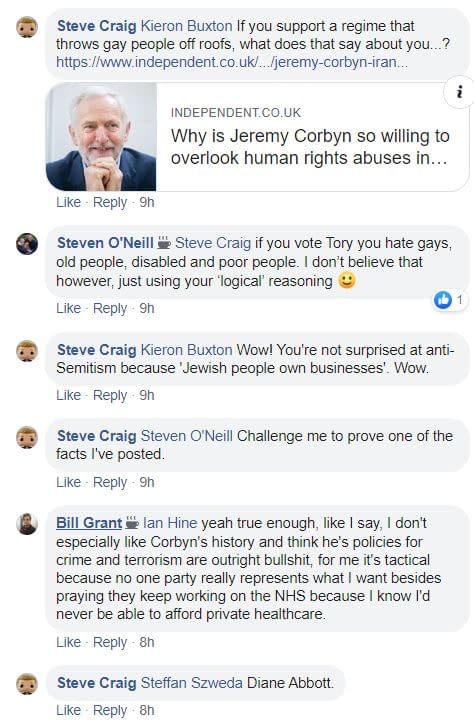 And so on for hundreds and hundreds of posts, Scenes like this are taking place all over social media… see you at the polls tomorrow.
Enjoyed this article? Share it!