When Batman Day Was Cancelled By Costumed Madmen
Shane Simmons is one of my favourite comic book creators of all time. You may have heard me talk about his Longshot Comics at length. Well, today you're going to read him talk at length instead about how his local Batman Day was cancelled…
The iconic bat signal lit up 13 cities two-ish weeks ago around the world for the 80th anniversary of Batman's debut. Batman Day was an international event this year, with the winged logo being projected onto buildings across six continents. It all went off without major incident—except in Montreal, the lone Canadian participant.
Fans showing up for the 8pm start time at Place Dupuis were greeted with long strips of police tape blocking access to Émilie Gamelin Park, the prime vantage point for the festivities. As Dark Knight cosplayers, Batman t-shirt fashionistas, and casual fans lined up along streets and sidewalks bordering the park, distant ranting could be heard over the city din, amplified by megaphone.
"Maybe it's a villain!" speculated one child, hoping for a themed spectacle above and beyond the illumination a single spotlight.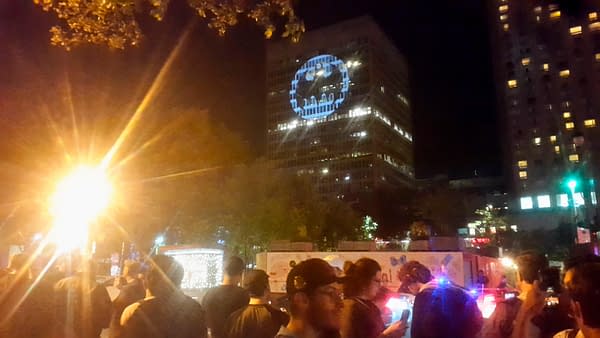 How right he was.
By the time the bat signal was ignited at 8:00 pm, the area was packed with an estimated 3000 spectators, many from out of town, some who had driven hours to attend. Scheduled to last until midnight, the four-hour event had barely begun before Montreal police pulled the plug. Fans had only 17 minutes to take their photos and videos of the seven-storey tall logo projected onto the side of Place Dupuis.
After that, the bat signal went dark.
Thousands lingered, waiting for the spotlight to come back on, as a new round of amplified ranting resumed from somewhere within Émilie Gamelin Park. Although no official announcement was made, by 9pm word had begun to spread that the heavily promoted event was cancelled, and the disappointed crowd, already dwindling, began to disperse in earnest.
A single protestor, dressed in a vintage convict costume, had scaled one of the towering abstract statues in the middle of the park, and refused to come down as he blared his anti-Montreal manifesto to indifferent ears. Few outside the police perimeter could make out what he was complaining about, and there was no indication he was armed or a danger to anyone but himself. Nevertheless, after allowing lighting technicians to turn on the bat signal for a token amount of time, the rest of the evening was unceremoniously shut down—purportedly for safety reasons.
How exactly one lunatic with a megaphone managed to hold an international cooperative event hostage is unclear, but police and emergency vehicle response was excessive, making up for the decided lack of superhero intervention. Contacted by Bleeding Cool, the Montreal mayor's office had no comment about the incident.
Shane Simmons is the artist behind the infamous minimalist graphic novel, The Long and Unlearned Life of Roland Gethers, and the author of the supernatural detective thriller Necropolis, both available through Amazon. He lives in Montreal, a city that experiences such wide extremes of temperature, it's remarkable anybody ever thought it could sustain life.