When Peter Parker Married Gwen Stacy In Mexican Spider-Man Comics
The Mexican version of Spider-Man, El Sorprendente Hombre Arana kept Gwen Stacy alive after she had died in the American versions.
---
Ever since Marvel Comics started its superhero line, there have been demands for licenses worldwide. Spider-Man, Hulk, Fantastic Four, X-Men and Avengers were translated and reprinted for local markets, and sometimes changes were made to suit the local market. When Spider-Man got a black costume, there was a period in the UK where they were just going to continue new stories with Spider-Man set in Britain in his original blue and red suit, for fear that the British mainstream public would not take to an All-Black Spider-Man. It lasted a few issues until economic reality set in – but there was a precedence.
La Prensa published Marvel books translated into Spanish in Mexico, with El Sorprendente Hombre Arana being published fortnightly in the sixties and seventies. And they ran out of American Spider-Man comic books to reprint. The editorial director of La Prensa flew to New York to petition Marvel Comics to allow him to commission new Spider-Man stories from local Mexican talent to be inserted between the reprinted American stories, and was granted the rights without any New York Marvel oversight on this project at all.
The creative team for the new stories were Raul Martinez and Jose Luis Gonzales Duran, who was known for his swipes of Neal Adams, John Romita, Gil Kane, Jack Kirby and others, and all-new stories began with El Sorprendente Hombre Arana #123 in which Spider-Man fought the Man Of Iron for three issues.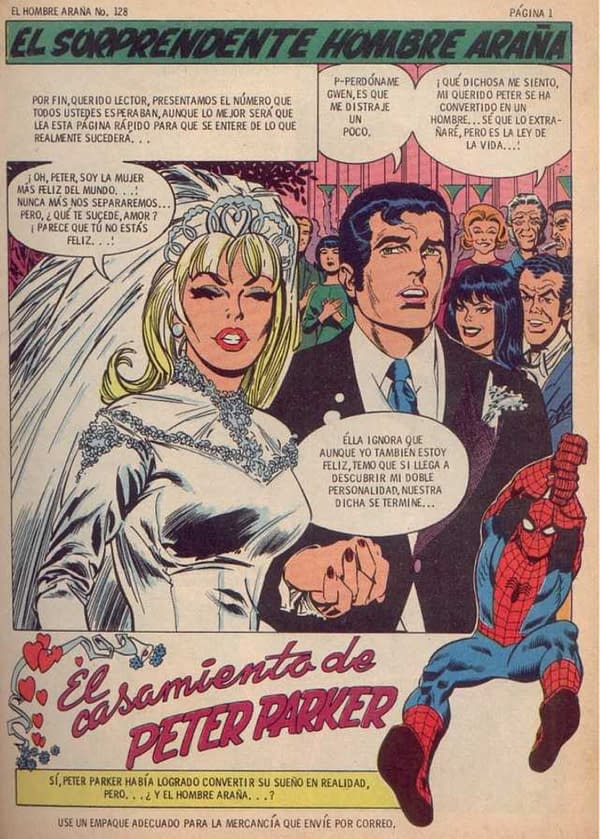 But in the US comics, Gerry Conway and John Romita decided to have Green Goblin kill off Gwen Stacy. The editor at La Prensa did not think the Latin American readers would accept this, as Peter's blonde love interest was wildly popular in Mexico. She was also Duran's favorite character to draw, and often in a significantly more provocative manner than her American counterpart. And so El Sorprendente Hombre Arana continued its own continuity with brand new stories in which Peter Parker and Gwen Stacy were still a couple, and Gwen Stacy was still very much alive, for another sixty issues, creating 45 stories, and only ending in 1974 with a return to the regular US continuity when another publisher picked up the Marvel rights.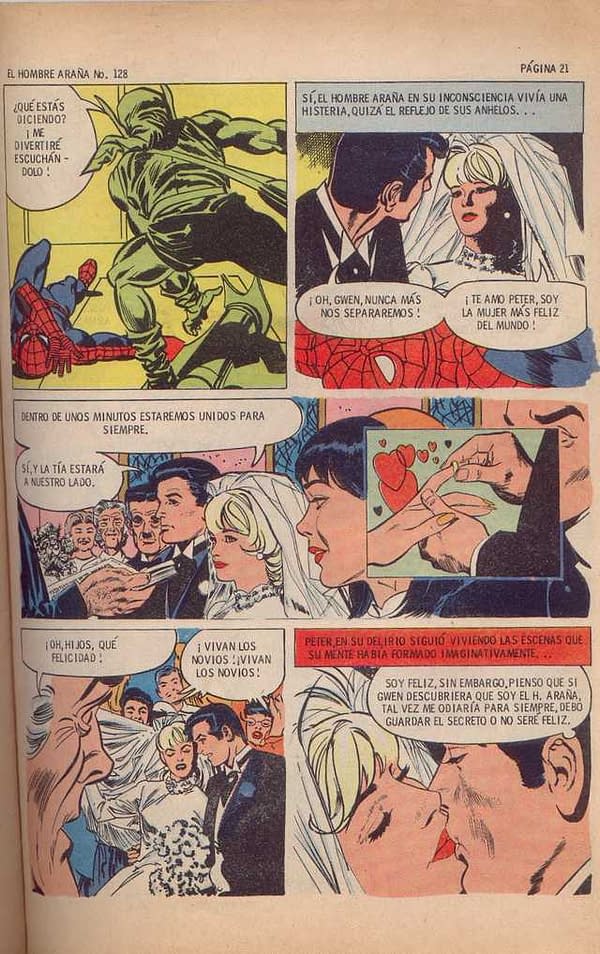 El Sorprendente Hombre Arana #128 gets particular attention as it features an imaginary marriage between Peter Parker and Gwen Stacy on the cover and on the inside and pre-dated the US marriage of Mary Jane and Peter Parker. It represents a significant moment in comics book history with a new Gwen Stacy continuity, and was not harmed by rumours that the comic actually saw Peter marry Gwen. A CGC 6.5 copy sold for $35,000 in November 2022, higher than any American Bronze Age comic has ever reached in such a grade. An 8.5 graded copy is currently up for auction from Comic Connect and is likely to smash that record. Currently at $9000 after 16 bids and 22 days to go.
EL SORPRENDENTE HOMBRE ARANA (AMAZING SPIDER-MAN) #128 CBCS VF+: 8.5
off-white pages; Foreign copy; from the Bildhauser Research Archives; 2nd highest graded!
Mexican Spider-Man & Gwen Stacy wedding issue; Green Goblin cvr & app.; Jose Luis Duran cvr & art; Raul Martinez story; wedding cvr; contains alternate Spider-Man story-line in which Gwen Stacy remains alive (5/72)

Affiliates of Bleeding Cool buy from and/or consign to ComicConnect.