Will The Ultimate Universe Return Full-Time In August?
Tomorrow sees the All-New X-Men team of X-Men Blue meet up with the son of Ultimate Wolverine, who they last met on a jaunt into the Ultimate Universe. In tomorrow's Infamous Iron Man, the Ultimate Mister Fantastic, The Maker, is getting to grips with The Thing.
In recent issues of The Unworthy Thor, we saw the Ultimate Thor's Mjolnir be picked up. And of course, the cast of Ultimate Spider-Man settle into this universe, while Jessica Jones deals with some of the awkward leftovers… Well, in August's The Ultimates2 #100 (which you first heard was happening on Bleeding Cool with full number breakdown) we get a visit from the original Ultimates… Featuring the Ultimates and…the Ultimates?
The Mighty Thor #22 has its own battle. Thor and the Ultimate Thor go face-to-flame with the Queen of Cinders!
But even the fire of Muspelheim pales beside the fury of the Ultimate Thor… And with his thunder comes his vengeance.
While in Spider-Man, the Prime version of Miles Morales is out and about.
The mystery of the OTHER Miles Morales thickens,
Well, the Maker does have a plan…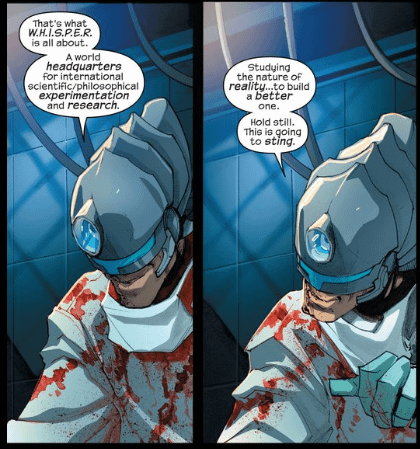 Will it come to fruition with Ultimates2 #100?