Will Youngblood Now Be Published by Terrific Production?
Earlier today, Bleeding Cool ran the story about Rob Liefeld quitting his created comic book series Youngblood, and how former Comico-purchaser and publisher Andrew Rev came to own and control it. but we have been doing a little digging. Andrew Rev, it seems. appeared at San Diego Comic Con representing Comico in the Portfolio Review area during San Diego Comic-Con. At some point during the weekend, the Comico portfolio reviews merged with "Terrific Production". Here's the listing on the San Diego Comic-Con website.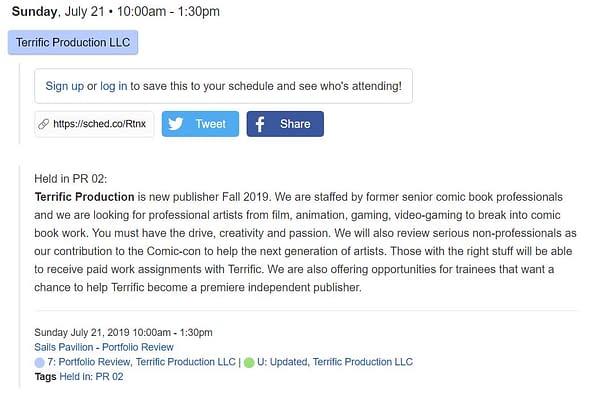 It may be worth suggesting that the reason that Rob Liefeld said what he did when he said it, that it was to pre-empt a big media-friendly splash announcement of Terrific Production, with its lead comic book title Youngblood, based on Rob's original comic book.
Did you have a portfolio review with Terrific Production at San Diego? What did they tell you? I have emailed Andrew Rev at the Terrific Production e-mail address he gave me without joy. But there are other people willing to share their experience over the years, as well as Rob Liefeld… we may hear from a few of them soon.