There's a reason that the upcoming series DCeased is getting such a big push from DC Comics that goes beyond what ostensibly looked like a re-warming of Marvel Zombies, with the Earth overrun by a techno-virus turning everyone into violent murderers, Crossed-style.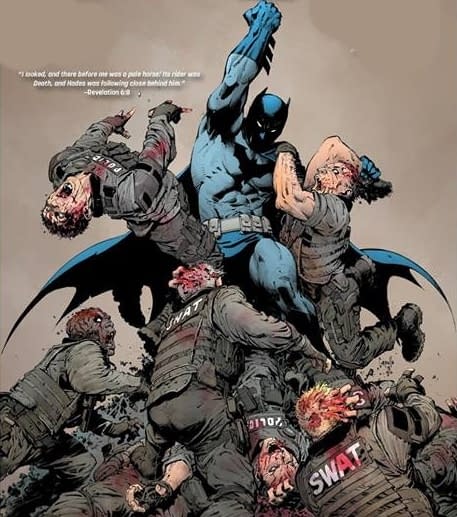 The series has a number of variant covers, and retailer exclusive covers, something reserved for DC's biggest books.
So what's going on?
It all began when I was passed some imagery that featured the Omega symbol writ large, which intrigued me enough to dig deeper. And then it all fell into place. The mysterious techno-virus released on Earth, a quote about 'its rider was death' in the solicitation, and more.Well that would be the Black Racer.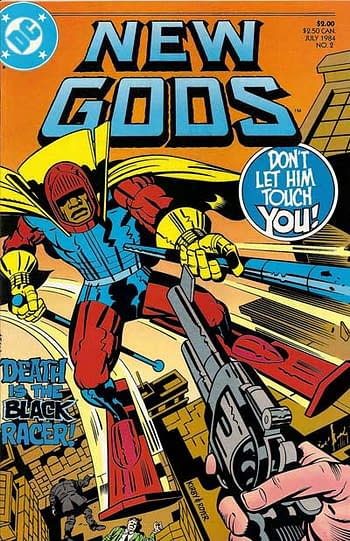 The Omega symbol would be Darkseid.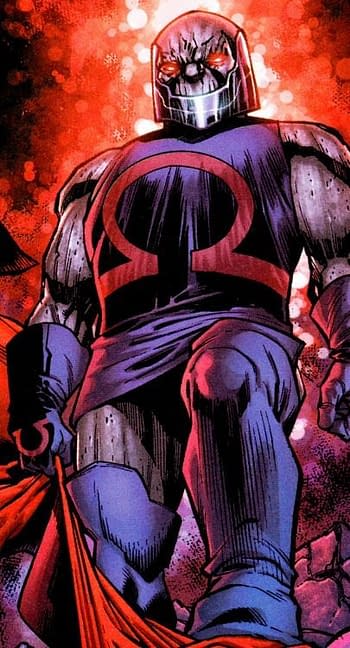 And the techno-virus spreading across the planet? The Anti-Life equation, finally solved.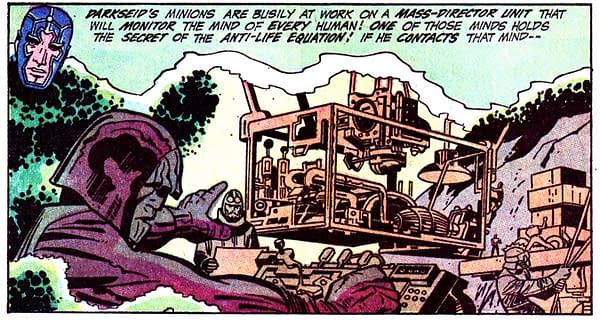 It's a big Walking Dead-Meets-Jack Kirby book right in the middle of the summer.
Darkseid isn't.
DCEASED #1 (OF 6)
(W) Tom Taylor (A) Trevor Hairsine, James Harren, Stefano Guadiano (CA) Greg Capullo
"I looked, and there before me was a pale horse! Its rider was Death, and Hades was following close behind him."-Revelation 6:8
A mysterious techno-virus has been released on Earth, infecting 600 million people and turning them instantly into violent, monstrous engines of destruction.
The heroes of the DCU are caught completely unprepared for a pandemic of this magnitude and struggle to save their loved ones first…but what happens to the World's Greatest Heroes if the world ends?
New York Times best-selling writer Tom Taylor (INJUSTICE) returns with a terrifying new tale and is joined by artists Trevor Hairsine (LEGENDS OF THE DARK KNIGHT) and Stefano Gaudiano (The Walking Dead).
In Shops: May 01, 2019
Final Orders Due: Apr 08, 2019
SRP: $3.99

DCEASED #2 (OF 6) VAR ED
(W) Tom Taylor (A) Trevor Hairsine, Stefano Guadiano (CA) Francesco Mattina
Millions are dying every minute. Heroes and villains alike are falling. Can the Justice League unite to find a way to stop the spread of death? Can they save humanity from extinction? Can they even save themselves? The key to survival may hinge on the last moments of one of the World's Finest Heroes…
RATED T+In Shops: Jun 05, 2019
SRP: $3.99
Enjoyed this article? Share it!