Wolverine #11 Sells Out In Advance Of This Week's Sale. Something's Up.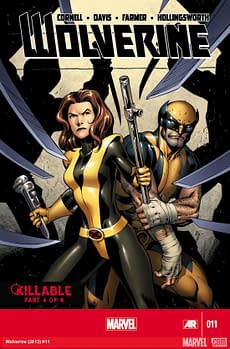 This is the solicitation for Wolverine #11 out this week.
With the world on the brink of viral apocalypse, Logan and Kitty Pryde face down the Thirteen Ninjas of Sabretooth's Hand! • And that's not all – enter Lord Deathstrike and the Silver Samurai! • It all comes to a head with one final moment that will change the face of Wolverine – forever!
One final moment.I understand that reorders on Wolverine #11 have been rising rapidly this week at Diamond Comic Distributors, as if a retailer or two were tipped off as to something big coming, and the book is now sold out at Diamond. Expect a second print for this one. But what's up?
From an interview with Paul Cornell spotted by BleedingCool reader Angelo2113;
Absolutely. Wolverine lost the healing factor in issue #6, but the big change in his life doesn't happen until the end of #13. The Watcher appears one more time. This is big stuff, changing the shape of the Marvel Universe.
Could this have anything to do with the Aaron/Deodato "Death Of The Watcher" covered mini-series? Aaron has been writing Wolverine & The X-Men of late… Say, Wolverine isn't killing The Watcher is he?
Or is it the big one? Wolverine heading towards his eventual death?
Isn't this fun?
Issue 12 solicits are;
• The penultimate chapter of KILLABLE, the storyline that will change Wolverine as we know him forever!
• Wolverine is confronted with the mastermind behind the bounty on his head.
• Meanwhile, the virus is in its final stages of a hostile takeover of the human race!
Issue 13 solicits are;
• Logan's last stand against Sabretooth
• The Microverse virus offers Logan a trade: his healing factor for his help in evading S.H.I.E.L.D. – can he afford to say no?
Whatever is teased for issue 14 will happen this week. And it begins with this week's WOlverine #11. Which may well get spoiled on a national newspaper website. Let's see.