Today, Wolverine's Daughter Rien Becomes Part of 616 Continuity (Marvel Comics Presents #9 Spoilers)
Okay, okay, it may not be called 616-continuity anymore. Prime Earth or what have you. But the Wolverine story running in Marvel Comics Presents throughout 2019 by Charles Soule and Paulo Siqueira has been telling a story across the decades, with Wolverine and a witch fighting a demon who appears every ten years, with Logan aging as he goes, fathering the witch's daughter Rien who, after her mother's death at the hands of the demon, keeps the fight going with her father, Wolverine, into the future, sporting magical abilities and bone claws to match her dad.
It has been emphasised that this is out of regular continuity by Wolverine's ageing process, narrated by Rien from the beginning. And her first appearances on panel gained quite a little attention on eBay. Currently #5 with a cameo sells for up to $20, #6 with a full appearance and naming as Wolverine's daughter sells for up to $50 for a first print and $90 for a second print featuring Rien on the cover, #7 with her origin confirmed, an easier $5 and #8 going for similar. But there has been some reticence from certain investors thatm, as this story is not part of regular continuity, then it doesn't 'count'
Well.
In Marvel Comics Presents #9, published today, bursting out of hell, and back into the past, busting Rien's mother out as well, gives a chance for a new history to be written.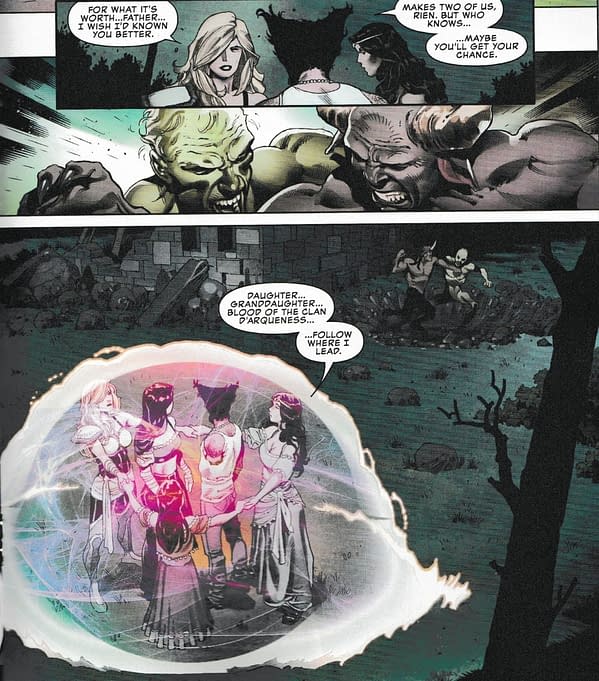 And as the bad guy/guys are dealt with in a very neat solution, everything seems to be tied up, regarding timelines and spare time twins, aside from one.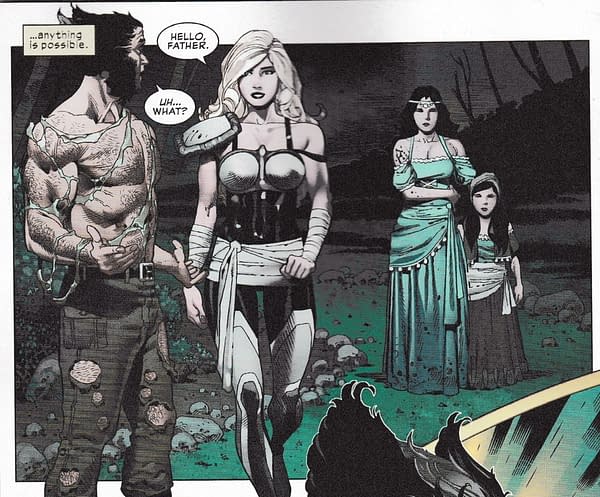 Wolverine'd daughter, Rien, now a part of mainstream Marvel Comics continuity, going forward.
What will that do to those sales of MCP #5 and #6 now? Or even #1, which I'm dubbing 'First narrated appearance of Wolevrine's daughter Rien' currently selling for a buck or two…
Marvel Comics Presents #9 is published today.
MARVEL COMICS PRESENTS #9
(W) Charles Soule, Zac Thompson, Lonnie Nadler (A) Paulo Siqueira, More (CA) David Yardin
ALL-WOLVERINE ISSUE!
First, Wolverine's decades-long battle with demon the Truth comes to a bloody and brutal finale! Then, head back into the digital world of the .EXE/men to meet their version of Logan!
Rated T+In Shops: Sep 25, 2019
SRP: $4.99