Woman in Red and Black Terror in America's Best Comics #1, at Auction
Standard/Better/Nedor joined the Golden Age tradition of featuring a publisher's best characters in one title with America's Best Comics.
---
Anthology titles combining stories featuring a publisher's best characters was a standard practice of the Golden Age. DC Comics had World's Finest Comics and All-Star Comics, Fox Feature Syndicate had Big 3, and Marvel/Timely had All-Winners Comics, for example. In 1942, Ned Pines' Standard/Better/Nedor followed suit by launching America's Best Comics, featuring the Black Terror, Doc Strange, Captain Future, and the Woman in Red among others. The title itself and the characters it featured would go onto help inspire the Wildstorm/DC Comics imprint America's Best Comics, founded by Alan Moore in 1999. The beginning of a comic book brand well remembered to this day, there's an America's Best Comics #1 (Nedor Publications, 1942) CGC Apparent FN 6.0 Slight (C-1) Off-white to white pages and several other issues of the series up for auction in the 2023 February 23 The Thrillingly Exciting Heroes of Nedor Comics Showcase Auction #40219 at Heritage Auctions.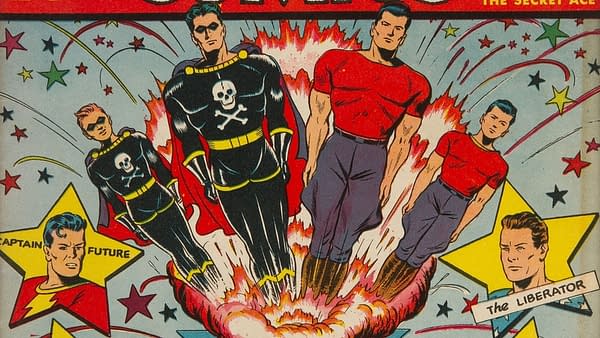 America's Best Comics #1 included contributions by several Standard/Better/Nedor regulars, such as Richard E. Hughes and Kin Platt, but Raymond Thayer's work on the Woman in Red is worth singling out here. Thayer is best remembered for his mainstream magazine cover illustrations for the likes of Life and Judge during the 1910s and 1920s. He also contributed to several Sunday newspaper syndicated literary inserts during the 1910s, and did covers for pulps in the 1920s-1930s for titles including Snappy Stories, The Blue Book, and Argosy All-Story Weekly, as well as interior illustrations for a variety of magazines and pulps. Throughout the 1920s and 1930s, Thayer also worked in advertising, creating artwork for a number of major brands. During 1940-1942, Thayer did a handful of comics work for Standard/Better/Nedor, and then had a run on Dell's Roy Rogers Comics towards the end of his career in 1951-1955.
The Woman in Red was an early female superhero who had debuted in Thrilling Comics #2 (cover-dated March 1940). The character was created by writer Richard E. Hughes and artist George Mandel. She was an undercover policewoman named Peggy Allen, who assumed the persona of The Woman in Red to hide her identity. She did not have superpowers, but was an outstanding detective and scientist.
The America's Best Comics series lasted 31 issues 1942-1949, and would eventually come to include other noteworthy Standard/Better/Nedor characters such as Pyroman and Miss Masque. This copy of America's Best Comics #1 has been graded by the Certified Guaranty Company (CGC) at Apparent FN 6.0 Slight (C-1) Off-white to white pages. In addition to its historical significance, America's Best Comics #1 is not an easy get. There are only 26 entries for this issue on the CGC Census. For first-time bidders, Heritage Auctions has a FAQ page on the bidding process and related matters.

Affiliates of Bleeding Cool buy from and/or consign to Heritage Auctions.