Thor's Daughters, Storm's Comic, and the Cover That Took 36 Hours to Color – Women of Marvel Panel at C2E2
Robert Goode went to the Women of Marvel panel at C2E2 and reported back. From the back. Quite a way back.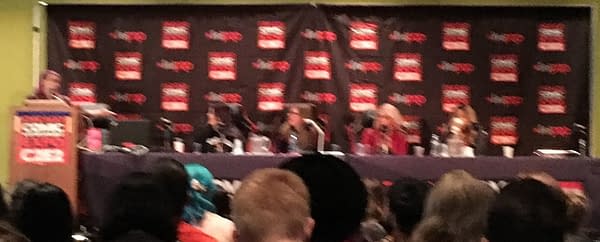 It's the last day of C2E2 for 2018, and we sit down at the Women of Marvel panel. People filter into the room while a few of the panelists take seats on the platform. As we get started, we are greeted by Judy Stephens, Host and Producer. She also announces that the panel is being recorded as a podcast. In attendance are Judy Stephens, Jen Grunwald, Rachelle Rosenberg, Jen Bartel, and Katie Cook.
The Women of Marvel panel and podcast started at San Diego Comic-Con in 2009. In the last two months the podcast has done tons of interviews, and they promise great things coming up on the podcast. They may be referring to this.
Judy Stephens asks the women in the crowd to raise their hand if they want to work in comics — a good portion of the crowd does so. "Go make comics!"
Jen Grunwald has been at Marvel for 16 years in June. She says that her focus is on trades and her office puts out 60-80 trades a month. They work on layout and what to put in, including bonus content in the back. She says her job is mostly like a project manager and is most excited about a coffee table book on Galactus coming soon. She may be referring to this.
With three artists on the panel, we got a few comments on process: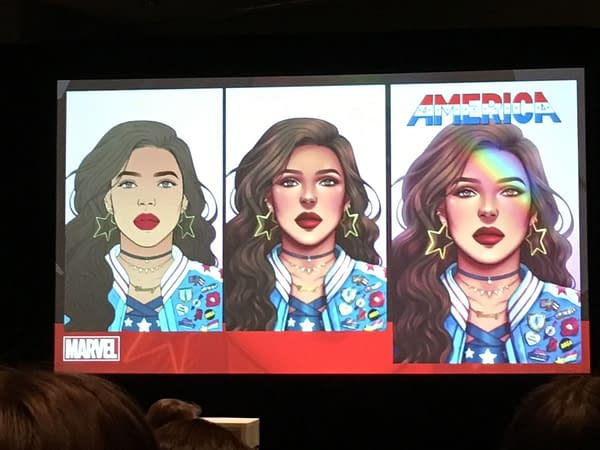 As a colourist, Rachelle Rosenberg gets black-and-white art with color ideas from the artist — it looks like a coloring book. With that as her starting point, she goes in and worked over that. We look at an image from The Hunt for Wolverine by artist David Marquez. She is conscious regarding how she deals with skin tone — she knows she needs to be aware of that and it often needs to be adjusted.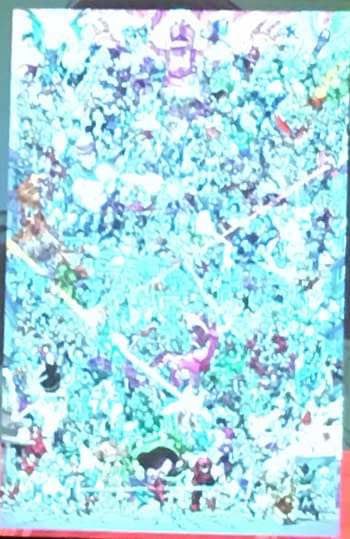 The cover for The Hunt for Wolverine has nearly 270 characters, which took Rachelle 36 hours to color. Damn. However the page shown for Hunt for Wolverine only took 45 minutes, because she is "really fast".
Cover artist Jen Bartel talks about starting with sketches, then inks. Once the pencils are set by editorial, the last step is to add colors, which tie everything together. If she has more time, she will send in more sketches. She likes to include options with a full body, an action shot, and she always sends in a headshot. The way she colors is labor intensive, but she finds coloring hair relaxing.
And she is working on a story featuring Thor's daughters that she just turned in.
Thor's daughters?
All the panelists comment about how digital art has really changed the way that comics are made — how different it is from the days when the pencilers would physically hand the art to the ink and the colorist way back in the day.
Katie Cook feels it is easier to write what she draws because she writes what she wants to draw. She has some Thanos pages coming out in the Thanos Annual and loves getting to play in the Marvel sandbox.
The panelists were asked for advice on getting into the comics industry. They replied to just make comics. If you want to do comics, build a body of work to show it. Judy Stephens and Jen Grunwald started out as interns at Marvel. Jen Bartel just wanted to have a freelance artist/illustrator career, but people only took notice when she started doing art that felt like her. Passion is important. And don't be disheartened if it takes time.
They were asked how they dealt with obviously "male-designed" superheroes? Jen Bartel said that you have to be true to the character. There is a difference between drawing the character and the male gaze.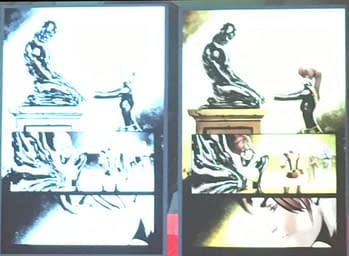 They asked if there were any updates on the promised Storm ongoing series by Ta-Nehisi Coates and Jen Bartel announced last October. Jen wasn't sure how much she can say. There's no timeline.
When asked which female character they would like to have for an audio drama podcast like Wolverine: The Long Night, Judy Stephens chose Mystique.
How old were they when they decided they wanted to do this? Rachelle wanted to be an artist at five years old. She wanted to work for Disney but became more interested in illustrating. She focused on coloring and advises to "find your niche". Jen Grunwald just loved comics and decided to give Marvel internship a shot. Jen Bartel also wanted to be a artist from a young age, saying you should become friends with those you work with, because you can always help each other. Katie wanted to draw newspaper comics as a kid. She started doing indy comics online and eventually got noticed.
If they could choose one Woman of Marvel to be, who would they choose?
Judy Stephens: Captain Marvel.
Jen Grunwald: Rogue or Pixie because of her hair.
Katie Cook: Snowbird from Alpha Flight.
Rachelle Rosenberg: Phoenix.
Jen Bartel: Storm.
Hopefully we'll get to see her art from that series soon…