 Nancy Collins, famous for her character Sonja Blue, recently returned to comics to write a Red Sonja story for Dynamite. That has lead to her taking on the iconic Vampirella in a relaunch of the character. This week we saw the release of the first issue and now Nancy is letting us see behind the scenes with this commentary of the series debut.
Vampirella #1 The story begins with the Baxter Family—in particular little Emma, who will play a major role in the events that follow. I wanted to ground the opening scene in the domestic reality of a broken marriage and a little girl who misses her father and doesn't understand why things can't be way they used to be. The line of dialog about Emma's father becoming involved with a strange religious group is the only hint that this might not be yet another version of Kramer vs. Kramer, and sets us up for… Every parent's worst fear. It is my belief that what makes horror genuinely creepy isn't just monsters or gore, but the juxtaposition of normalcy with the nightmarish. Within a blink of an eye this went from a family drama to something incredibly dark—and wherever it might be headed, you know it ain't nowhere good. I then follow this by introducing our heroine, Vampirella, by echoing the domestic 'normalcy' of the opening scene. Even kick-ass vampire hunters need their beauty sleep.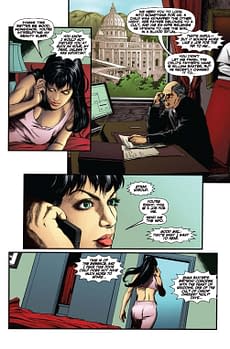 One of the problems with taking over a book, especially one with such a long history like Vampirella's, is dealing with the exposition necessary to acclimate new readers to the characters. This page serves the purpose of getting everyone up to speed with Vampirella's life—in particular her working relationship with the Vatican, who she has been working with, off and on, ever since she reappeared as a Dynamite character, and revealing that Emma's father claims to be Ethan Shroud, Vampirella's oldest reoccurring enemy (he dates back to the original Warren series, btw).
Here we see Vampirella preparing to go into battle against the forces of Evil. She flashes back on her history with Ethan Shroud, especially his bad habit of trying to sacrifice her to the mad-god Chaos, while at the same time reflecting on the changes in her life. This is best symbolized by her trying to decide between her original costume and the less revealing clothing she's been wearing for the last few years. This whole sequence was designed to speak to the long-time Vampirella fans—the ones that can remember her from her black & white Warren days—while at the same time give new readers an appreciation for the character's back story. As to what kind of fashion statement Vampi decides to make…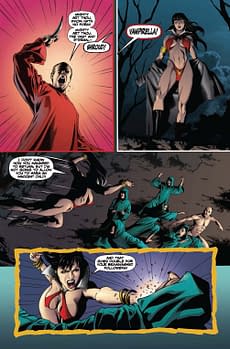 Vampirella has the skimpiest costume in the history of comics, which is really saying something. Dynamite tried to address this situation, but the fan response was highly negative to the change. There's no denying the costume's role in the character's popularity. It's her trademark. So after 45 years, I decided that the only thing to do was Own It. So you go, Vampi! You wear the hell out of that sling suit! And kill a few monsters while you're at it.
Enjoyed this article? Share it!