X-Men #1 Dominates Advance Reorders
The launch of a new mutant era. X-Men #1 by Jonathan Hickman and Leinil Francis Yu, and a plethora of variant covers has dominated the Advance Reorder chart this week, with only Spider-Man #2 and Something Is Killing The Children #2 poking its nose through.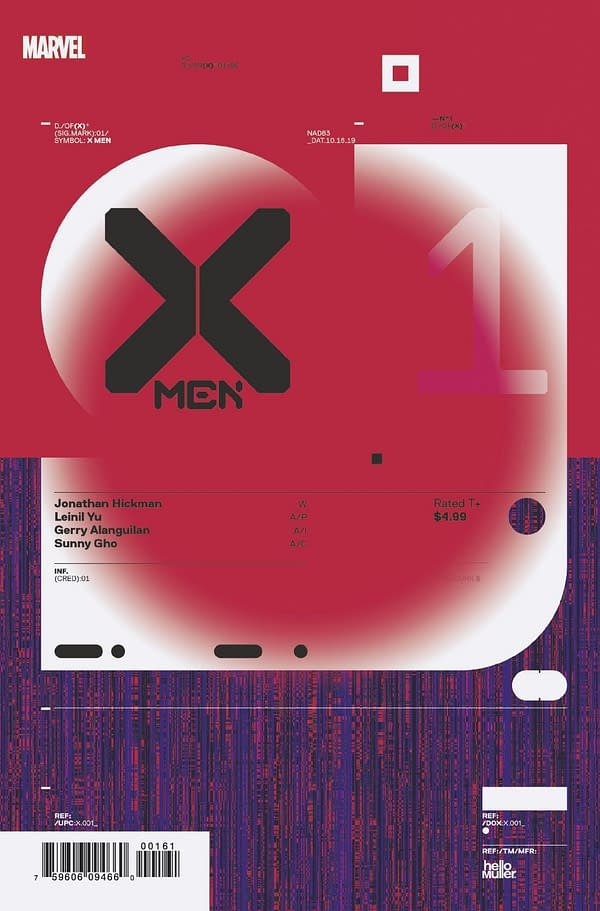 Greetings from the coal face of the direct comics market. Where retailers try to increase their orders of certain comics ahead of sale. Where supply and demand and most accurately reflected, where you can see which books are hot, where new orders are coming in and how retailers are reacting to new, unanticipated desire! And courtesy of stats from Diamond Comic Distributors.
TOP 25 ADVANCE REORDER COMICS/GRAPHIC NOVELS/TPS
| | | |
| --- | --- | --- |
| Publication | Price | Publisher |
| X-MEN #1 DX | $4.99 | MARVEL COMICS |
| X-MEN #1 ARTGERM VAR DX | $4.99 | MARVEL COMICS |
| SPIDER-MAN #2 (OF 5) | $3.99 | MARVEL COMICS |
| X-MEN #1 BROOKS PARTY VAR DX | $4.99 | MARVEL COMICS |
| X-MEN #1 BAGLEY EVERY MUTANT EVER VAR DX | $4.99 | MARVEL COMICS |
| SOMETHING IS KILLING CHILDREN #2 FOC BERTRAM VAR | $3.99 | BOOM ENTERTAINMENT |
| X-MEN #1 MULLER DESIGN VAR DX | $4.99 | MARVEL COMICS |
| POWERS OF X #4 (OF 6) 2ND PTG SILVA VAR | $4.99 | MARVEL COMICS |
| VENOM #18 2ND PTG COELLO VAR AC | $3.99 | MARVEL COMICS |
| ABSOLUTE CARNAGE #4 (OF 5) AC | $4.99 | MARVEL COMICS |
| ABSOLUTE CARNAGE AVENGERS #1 AC | $4.99 | MARVEL COMICS |
| X-MEN #1 CHECCHETTO YOUNG GUNS VAR DX | $4.99 | MARVEL COMICS |
| SOMETHING IS KILLING CHILDREN #2 | $3.99 | BOOM ENTERTAINMENT |
| HARLEEN #2 (OF 3) (MR) | $7.99 | DC COMICS |
| X-MEN #1 PORTACIO VAR DX | $4.99 | MARVEL COMICS |
| HARLEEN #2 (OF 3) VAR ED (MR) | $7.99 | DC COMICS |
| ABSOLUTE CARNAGE #4 (OF 5) DEL MUNDO YOUNG GUNS VAR AC | $4.99 | MARVEL COMICS |
| KING THOR #2 (OF 4) | $3.99 | MARVEL COMICS |
| ONCE & FUTURE #2 (OF 6) (3RD PTG) | $3.99 | BOOM ENTERTAINMENT |
| CAPTAIN MARVEL #11 | $3.99 | MARVEL COMICS |
| NYCC 2019 X-MEN #1 YU VAR DX (Net) | $4.99 | MARVEL COMICS (BUY – SELL) |
| BATMAN #81 CARD STOCK VAR ED | $4.99 | DC COMICS |
| ABSOLUTE CARNAGE #4 (OF 5) HOTZ CONNECTING VAR AC | $4.99 | MARVEL COMICS |
| ONCE & FUTURE #3 (OF 6) | $3.99 | BOOM ENTERTAINMENT |
| BATMAN #81 | $3.99 | DC COMICS |
TOP 25 REORDER COMICS/GRAPHIC NOVELS/TPS
| | | |
| --- | --- | --- |
| Publication | Price | Publisher |
| BATMAN ETERNAL OMNIBUS HC | $125.00 | DC COMICS |
| BATMAN DAMNED HC (MR) | $29.99 | DC COMICS |
| BATMAN WHO LAUGHS HC | $29.99 | DC COMICS |
| BOYS OMNIBUS TP VOL 03 (MR) | $29.99 | DYNAMIC FORCES |
| HOUSE OF X #5 (OF 6) | $4.99 | MARVEL COMICS |
| SAGA COMPENDIUM TP VOL 01 (MR) | $59.99 | IMAGE COMICS |
| UMBRELLA ACADEMY LIBRARY EDITION HC VOL 01 APOCALYPSE SUITE | $39.99 | DARK HORSE COMICS |
| MARVELS PLATINUM EDITION SLIPCASE HC | $200.00 | MARVEL COMICS |
| X-MEN BY ROY THOMAS & NEAL ADAMS HC GALLERY EDITION | $39.99 | MARVEL COMICS |
| INFINITY WARS BY GERRY DUGGAN HC COMPLETE COLLECTION | $50.00 | MARVEL COMICS |
| BOYS OMNIBUS TP VOL 04 (MR) | $29.99 | DYNAMIC FORCES |
| BATMAN WHITE KNIGHT TP | $19.99 | DC COMICS |
| BATMAN THE KILLING JOKE HC NEW ED | $17.99 | DC COMICS |
| POWERS OF X #4 (OF 6) | $4.99 | MARVEL COMICS |
| ABSOLUTE CARNAGE #3 (OF 5) AC | $4.99 | MARVEL COMICS |
| SILVER SURFER BLACK #4 (OF 5) | $3.99 | MARVEL COMICS |
| KING THOR #1 (OF 4) | $3.99 | MARVEL COMICS |
| DEADPOOL HC VOL 01 | $39.99 | MARVEL COMICS |
| X-MEN MUTANT MASSACRE OMNIBUS HC | $100.00 | MARVEL COMICS |
| X-MEN ADAMANTIUM COLLECTION HC | $200.00 | MARVEL COMICS |
| HOUSE OF X #2 (OF 6) 3RD PTG SHALVEY VAR | $4.99 | MARVEL COMICS |
| SPIDER-MAN #1 (OF 5) | $4.99 | MARVEL COMICS |
| HULK WORLD WAR HULK OMNIBUS HC | $125.00 | MARVEL COMICS |
| POWERS OF X #3 (OF 6) 2ND PTG SILVA VAR | $4.99 | MARVEL COMICS |
| HELLBLAZER TP VOL 01 ORIGINAL SINS NEW ED (MR) | $19.99 | DC COMICS |