Welcome, dear readers, to X-Men: Bland Design, the weekly multi-part recap column that strives to answer the question: "What if Ed Piskor had no art skills, a juvenile sense of humor, and less classic material to work with?"
Things have changed in the X-Men comics (and superhero comics in general) since the glory days recapped in Piskor's magnum opus. Gone are all of the thought bubbles, most of the narration boxes, most of the references to past issues, and perhaps most importantly, any trace of the idea that any comic could be some reader's first. Casting aside many of the properties that set comics apart as a medium, the modern superhero-industrial complex has instead chosen to treat comics as glorified storyboards, decompressed and written for the trade.
But for X-Men fans, it doesn't matter. We'll obsessively buy and read all of these X-Men comics until the day we die, no matter how bad they get! And if we're going to do that anyway, we might as well document the experience for you, our dear readers, brothers and sisters and non-binary siblings in suffering.
This week there are five regular-priced X-Books on the stands, which will cost you 20 bucks to buy, and, thanks to the aforementioned decompression, roughly 10 minutes to read: X-Men Red #2, X-Men Gold #23, Venom #163 (a crossover with X-Men Blue), Iceman #11 (the final issue), and Rogue & Gambit #3. Last but not least this week…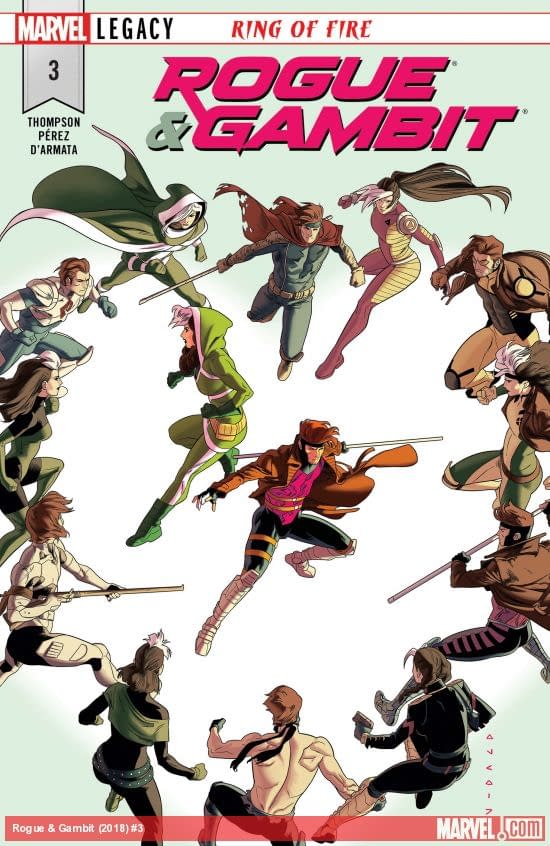 ROGUE & GAMBIT #3 (OF 5)
KELLY THOMPSON (W)
PERE PEREZ (A)
Cover by KRIS ANKA
RING OF FIRE PART 3
• ROGUE and GAMBIT are enjoying this mission in paradise more than anyone expected, but is the actual mission getting lost in the process? When things are this sexy, does it really matter? Yes, yes, of course it does. PROBABLY.
• Who or what is LAVISH? And can Rogue and Gambit escape its grasp?
• Do they even want to?
32 PGS./Rated T+ …$3.99
Rogue and Gambit have travelled to a tropical island wellness retreat to investigate the disappearance of mutants. They're posing as a couple seeking counseling… and also, they kind of are a couple who need counseling. While the pair work on rekindling their on-again-off-again-on-again-off-again-on-again-off-again romance, they investigate the strange happenings on the island and discover a room filled with what appear to be unconscious naked bodies (clones of some sort?). Meanwhile, the resort's lead therapist, Dr. Grand, is watching this unfold on monitors with a villain named Lavish.
Issue #3 opens up with Rogue and Gambit back in Dr. Grand's office for a session. They seem to be getting along better, but Dr. Grand recommends they continue with the therapy process. Grand asks the pair what it is that seems to get in the way of their relationship. Both answer "trust" at the same time. Asked when that started to become an issue, both answer "Antarctica." Oh yeah! It's flashback time!
We take a trip down memory lane to circa Uncanny X-Men #348, where Rogue and Gambit, imprisoned in Antarctica take advantage of their powers being suppressed to experience a certain "first time." Back in X-Men #348, we saw it happen like this:
But thanks to Rogue and Gambit and its excellent flashbacks, we now know what happened next: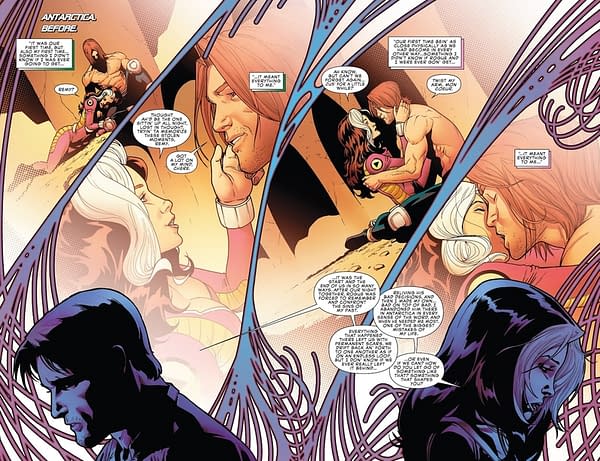 Grand tells them that they need to let go of the emotions attached to that night in order to move forward. She orders them to return the next morning for another session. Rogue and Gambit also ask Grand about these shared dreams they seem to be having (what we know to be real events). Grand tells them this happens sometimes as a side effect of the therapy.
On the way back to their bungalow, Rogue and Gambit stop to check in with fellow patients Janine and Theo. They seem to be gone though, which should be more concerning, but the pair don't seem too concerned. Neither are they about the fact that they appear to be losing track of time, unable to remember the last time they saw Theo and Janine.
Rogue tells Remy about how she felt when they first met, her insecurities about her lack of experience in romance compared to him, and how she needed to explore on her own to learn that she could survive without him. But she always loved him. Rogue reaches out and touches Gambit's cheek, and somehow doesn't steal his powers and memory. Instead, there's a tingle of electricity between them. They kiss.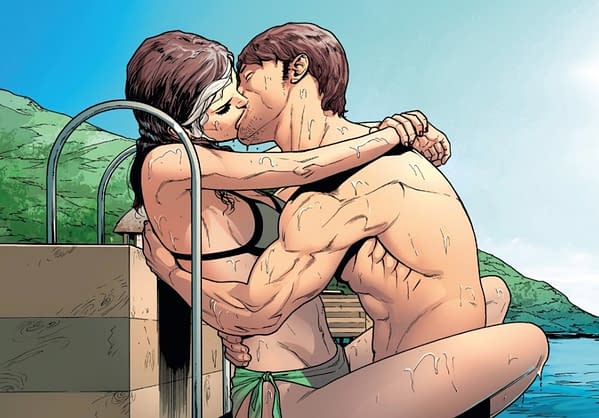 And a little while, and a lot of erotic electro stimulation later…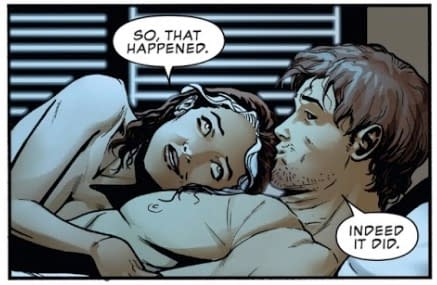 In the afterglow, the couple begin to notice that their powers don't seem to be working, they're losing track of time, and they can hardly remember what the purpose of their mission is. They recognize that this is not good. X-Men leader Kitty Pryde texts them with coordinates to look into on the island. They go to check it out and find a hospital. Inside, they find a psych ward teeming with patients, way too many to be normal for the small island population. All of the patients are suffering from amnesia or dementia, and the doctors don't know why. Rogue and Gambit agree to investigate the lab… again?
Turns out, they don't remember the first time they did that (last issue), though they do feel deja vu and notice that the wall they busted through seems like it's been recently repaired. Gambit can barely blow the wall open with his powers, so Rogue punches them a doorway. Inside, they find those bodies on tables… but the bodies are all Rogues and Gambits, in various past costume incarnations. They're surprised, but not as horrified as they probably should be given the circumstances. They also don't notice one of the gambits charging up some playing cards, which he uses to blast them through a wall. It's time for a Rogue and Gambit vs. Rogues and Gambits brawl…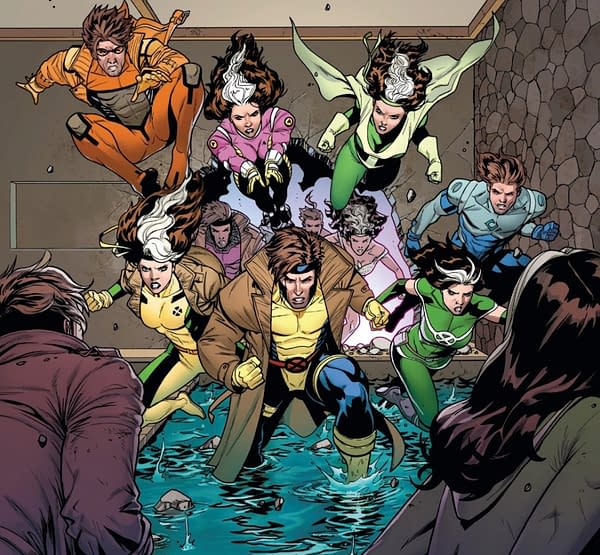 They each decide to fight the other's clones and chalk it up to therapy. Gambit suggests that the clones may be the reason for their missing powers and memories. They decide to try to get them back through punching. Rogue and Gambit (our Rogue and Gambit) win the brawl. But before they have a moment to catch their breath, Lavish appears. It looks like she somehow feeds on their powers and their memories. They're in trouble… but we'll need to wait until next issue to find out what happens.
Rogue and Gambit continues to be a smart and funny take on these characters, reframing them and their romance in a fresh way. It's working wonders so far, and the flashbacks, in which Rogue and Gambit can humorously reflect on some of the eccentricities of '90s comics, are icing on the cake. They should either make this an ongoing, or give the creative team control of one of the core X-Books.
Well, that's all for this week! See you in a few days for next week's X-Men: Bland Design!
Enjoyed this article? Share it!