Yellow Hulk Pushes IDW Avengers #10 to $46 on eBay But What About #9?
Marvel Action Avengers #10 was originally solicited to come out back in October last year, but even before the current global situation, it was a very late comic book. It was first out of the gates when IDW returned to Diamond Comic Distributors last week, and also looks like the first comic book to really explode from speculators, out of the new return to comic book distribution. Published by IDW, licensed from Marvel Comics, it features the first appearances of the Yellow Hulk. Which is now, apparently, a thing, courtesy of AIM. Brandon's Comics of Arizona tells us "Marvel Action Avengers #10 made me change the way I had to answer my phone on Wednesday. I'm praying they go to second and third print. Great idea to get these graded ASAP and be the first person on eBay with them. My Hulk customers said they don't care. They will overpay if I can get more."
They are right, there are no graded copies on eBay yet but issues have sold for $46, raw. While the 1:10 variant has sold for up to $60. With multiple high sales, this looks like one that could run and run. As long as that Hulk stays yellow that is.
IDW licenses the rights to publish a number of all-ages Marvel titles, and has done for a number of years, but none have caught the speculator market quite like this Yellow Hulk has. Here's a look at the original solicitation.
MARVEL ACTION AVENGERS #10 SOMMARIVA
IDW PUBLISHING
AUG190740
(W) Matthew K. Manning (A) Marcio Fiorito (CA) Jon Sommariva
A.I.M. has taken over New York City and mind-controlled many of its strongest super heroes! A small band of heroes struggles to fight back… but will they be any match for the Yellow Hulk?! The concluding storyline to the first phase of Marvel Action: Avengers!In Shops: May 20, 2020
SRP: $3.99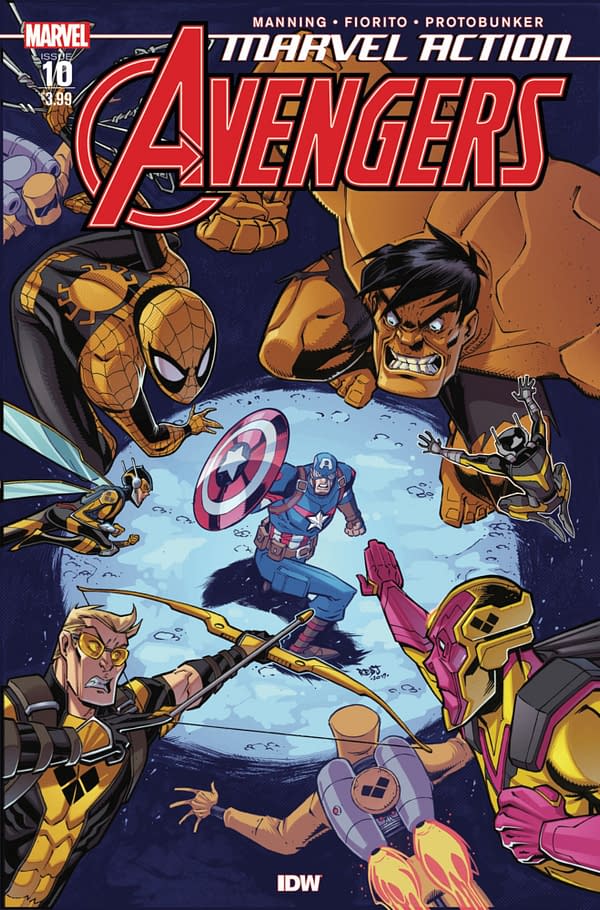 But guess what – the first actual appearance was in the previous issue, way back in January. Copies of that have sold for two to three bucks…