During the American Dad! panel at SDCC 2019, the gang revealed they were launching a new mobile app called American Dad! Apocalypse Soon. You can register for the game on App Store and Google Play as we speak, as you will play as Stan trying to save his family in weird situations with all the humor you'd expect from the series. We have a few quotes and the premise below, along with the trailer and some screenshots, as the game will be released in the Fall.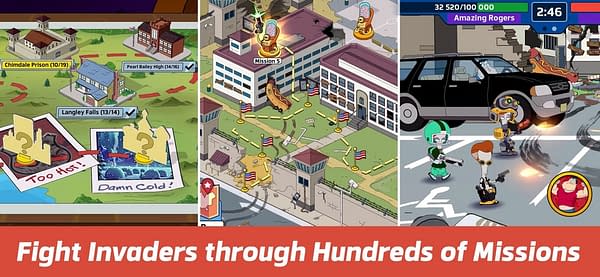 "I've waited 14 years for a game like this based on American Dad!" said Matt Weitzman, Co-creator and Executive Producer of American Dad! "My plan is to become so addicted to it that I won't have the time or inclination to make any new episodes."

"We are really excited about this fantastic opportunity to work with the American Dad! universe," said Vasiliy Maguryan, CEO, MY.GAMES. "Our studios have a real wealth of experience and talent, so we're delighted to put ourselves to the test with such an iconic franchise."

In American Dad! Apocalypse Soon, players will experience the signature satirical humor of the animated show as they guide Stan through the most important mission of his life. The game begins when Stan discovers that Francine, Hayley, and Steve have been kidnapped by mysterious aliens known as "Collectors." In order to rescue them and repel the alien invasion, players will use advanced CIA technology to clone Stan's somewhat reliable extraterrestrial ally, Roger, outfit dozens of Roger duplicates, build an underground base, fortify the Smith family home, and assemble an army capable of defeating the Collectors and saving his family. Save the Smiths, save the world!
Enjoyed this article? Share it!