Now you can have all the fun of running from killers or hunting down survivors from your phone with Dead By Daylight Mobile. Behaviour Interactive made the official announcement this morning to kick off PAX East 2020, as they will be bringing their hit group survival horror game will be released this Spring. The company has been working with NetEase Games since mid-2019 to bring the game to mobile devices without losing any of the aspects that make the game what it is. The company hasn't given out an official release date, but they have opened up pre-registration. Android users in the Americas and EMEA can pre-register here and iOS users can continue to pre-register on the website. Here's some added details from this morning's announcement.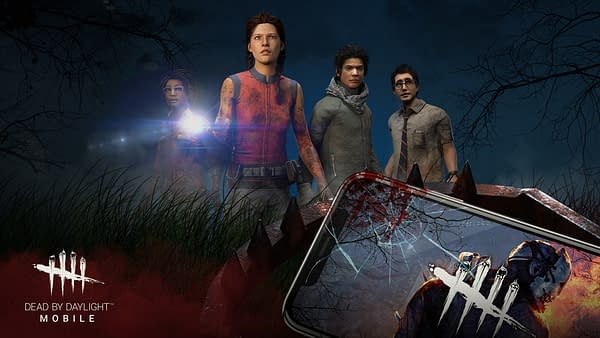 "Our fans have been eager for the launch of this title since we first announced it and we're happy to say our early adopters will be rewarded for their support and dedication. We're delivering a fully-fledged and definitive product on iOS and Android devices and fans can expect complete support and great content for a long time to come." said Mathieu Côté, Game Director.

Players who sign up for Dead by Daylight Mobile pre-registration will work towards the following in-game rewards:

Tier 1 (500K pre-reg): Weekend T-Shirt | Surf Tone; Hooded Training Top; Two-tone Coat; The Scarecrow; 2000 Iridescent Shards

Tier 2 (750K): Watermelon Pants; Sports Leggings; Red Flash Boots; Marked Spike Maul; 3000 Iridescent Shards

Tier 3 (1M): Preppy Flat cap; Jogging Headband; Colorful Headscarf; Bill Overbeck; 5000 Iridescent Shards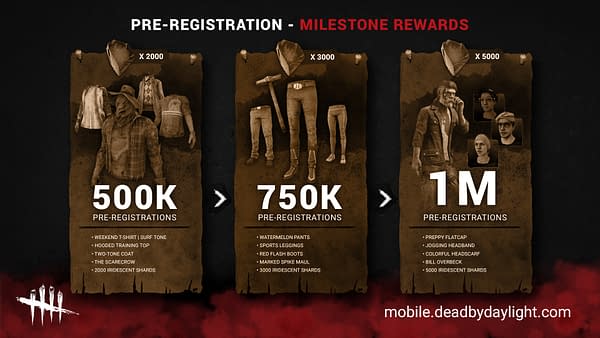 Enjoyed this article? Share it!