For the past few weeks, Fortnite players have been complaining about one main thing in the game, and that's the B.R.U.T.E. system. If you're not already familair with it, this is the new mech addition to the game which basically gives you a super powerful mech suit. In essence, if you get a hold of one, you can practically win the game, no matter what your skill level. So, of course, everyone is both loving the wins and then yelling about the losses. Well, the devs put in a new update this week that nerfed it to make them a little rarer and a little more low-powered. Check out the changes below as you now have a fighting chance against one in Fortnite.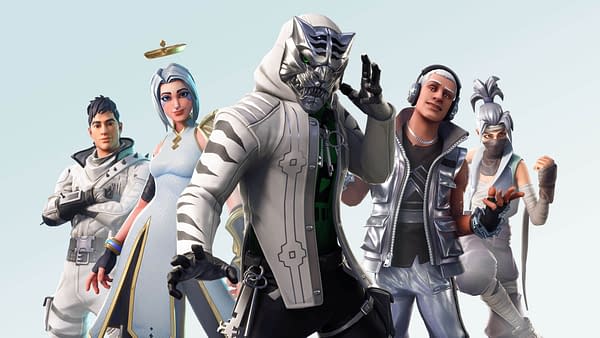 B.R.U.T.E.

Decreased the maximum amount of rockets fired by the B.R.U.T.E. in a single charge from 10 to 6.
Decreased the rate at which the rockets are fired from the B.R.U.T.E. by 56%.

Our goal with these changes is to increase the back and forth between the users of the B.R.U.T.E. and the players they face. These changes allow the players on the receiving end of the missile volley to have more time to react and protect themselves.

Decreased the radius of the B.R.U.T.E.'s rocket explosion by 42%.

Our goal with this change is to improve consistency and understanding around focused barrages of missiles. B.R.U.T.E.s will continue to be a strong option against structures, but less lethal against players.

Increased the dash cooldown from 3 seconds to 5 seconds.

The previous dash cooldown not only increased the B.R.U.T.E.'s mobility, but also made the B.R.U.T.E.s a harder target to hit from distance than we'd like. The adjustment here reduces the ability to close gaps quickly while in the B.R.U.T.E. while also increasing the ability to land shots on target for players facing the B.R.U.T.E.

Decreased the velocity gained from boosting while in air by 33%.

We want to reduce a B.R.U.T.E.'s ability to engage and disengage at long distances to encourage a more strategic approach to an encounter. In general we hope to shift B.R.U.T.E.s away from being highly mobile and put more emphasis on their already defensive nature.

The B.R.U.T.E. no longer grants materials to the driver and passenger when stomping or dashing through the environment.

Note: This change should roll out shortly following the other changes.
Our goal is to add more tension between being in and out of a B.R.U.T.E. as well as reduce instances where players can farm faster than intended without exposing themselves to danger.
Enjoyed this article? Share it!