Farming Simulator League Will be At FarmCom 2019
It appears there will be more at FarmCon 2019 than you may think as the Farming Simulator League will make its official debut at the convention. The event will take place at the CLAAS Technoparc in Harsewinkel, Germany on July 27th-28th, and will stream live on Twitch in English via the GIANTS and Focus Home Interactive channels. Basically, this is your first chance to get a look at what they're going to do for actual esports with this competition. Here are some additional details of what you can expect, per their announcement.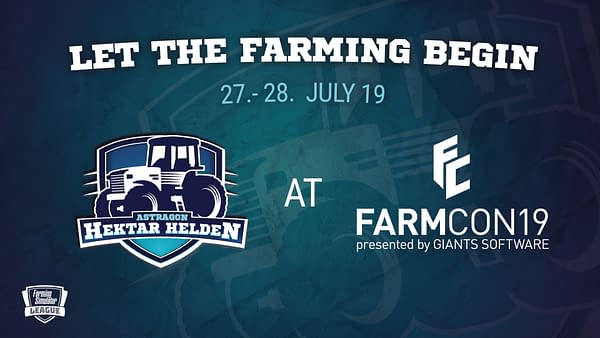 With this first tournament, the Farming Simulator League will be offering €12,000 in prizes to the successful teams, which see community player teams going up against the manufacturer-sponsored official squads. Want the scoop? These handy tutorial videos will teach you everything you have to know about the Farming Simulator League tournament system and rules.

Many weeks of hard training on the virtual fields have soon to pay off for the Astragon Hektar Helden. FarmCon 2019 is not only the initial tournament of the coming FSL season but also the location of the first official FSL matches of the ambitious team. Fans can already look forward to clever tactics and cooperative teamplay of team members Bull24 (Robert Zeitinger) The-Alien-Paul (Uwe Reifenrath) and The1050Vario (Christoph Köberle). This will be the three-way line up of the team for the exciting matches in Harsewinkel.