Full Set List For Pokémon's Silver Lance & Jet Black Poltergeist
The next wave of Japanese-language Pokémon Trading Card Game sets are on the way. Both Jet Black Poltergeist and Silver Lance, which respectively focus on the new Legendary Calyrex in its different Formes, will be released April 23rd, 2021. Now that we are drawing closer to the release date, the full set list of both sets has been released with the exception of the Secret Rare cards. Note that Japanese sets consider Full Art Vs and Trainers to be Secret Rares along with Rainbow Rares, Rare Alternates, and Gold Cards, while the English-language Pokémon TCG generally classifies the latter three as secret rares. Let's take a look at what these sets are bringing to the table, as many of these will be adapted to English for the June Pokémon TCG: Sword & Shield – Chilling Reign expansion.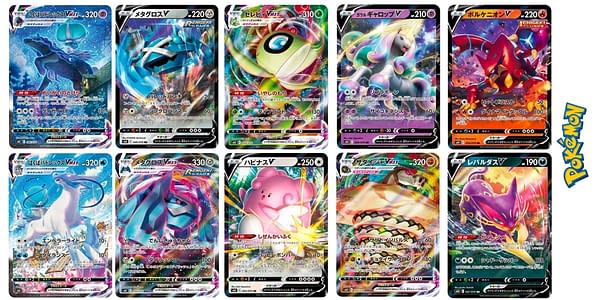 The sets have been confirmed to include:
New Pokémon V:

Volcanion
Calyrex Ice Rider
Calyrex Shadow Rider
Galarian Ponyta
Sandaconda
Liepard
Tornadus
Celebi
Arctovish
Zeraora
Metagross
Blissey

New Pokémon VMAX:

Calyrex Ice Rider
Calyrex Shadow Rider
Sandaconda
Tornadus
Celebi
Metagross

New Holo:

Zarude
Cinderace
Froslass
Gardevoir
Lycanroc
Galarian Slowking
Tauros
Porygon-Z
Rillaboom
Weavile
Tapu Fini
Gengar
Cresselia
Grapploct
Cobalion
Greedent
The full list of non-Secret Rare cards can be seen at PokéBeach, where the set debuted.
Now, these two sets are expected to combine with March's Matchless Fighter Japanese set to make up Chilling Reign. I expect to see the English-language Pokémon TCG mixing and matching with some of these cards as we saw with sets in 2020, because the current number of cards in these three sets is higher than the number of cards advertised as planned for Chilling Reign. As we get closer to the release of Chilling Reign, we'll have a better idea of what will make it in and what will slip. Also, as the release date of Jet Black Poltergeist and Silver Lance in Japan creeps closer, expect more info to drop on the sets' secret rares.