Games For Change Reveal Their 2020 Best Of Video Game & XR Winners
Games For Change has revealed all of its 2020 winners in their Best Of Video Game & XR Awards, with some surprising winners on the list. Much like a lot of events this year, this one was held online as their annual festival is running from yesterday until July 16th. We have the full recap announcement from the organizers below as Dreams took top honors as Game Of The Year and Most Innovative, along with Sky: Children of the Light winning Best Gameplay and the People's Choice award.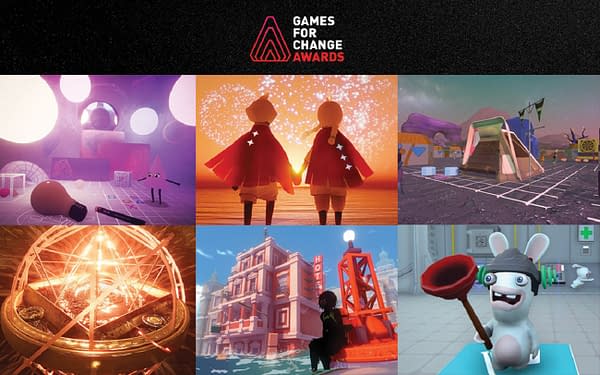 Game of the Year and Most Innovative Game: Dreams from Media Molecule (PlayStation 4)
Experience the dreams of Media Molecule and others in the Dreams community. Here, players can create their own dreams, whether they are games, art, films, music or anything in-between and beyond.

Best Gameplay and People's Choice: Sky: Children of the Light from thatgamecompany (iOS)
Celebrating its one-year anniversary this week with more than 20 million downloads, Sky explores the buried mysteries to rebuild a fallen kingdom for its ancient inhabitants above the clouds. Using courage and compassion, players must connect as a community to share and build on their flame to spread light back into the world.

"Games for Change has always had a significant place in our hearts, and so we thank you for recognizing Sky and our hard-working team," said Jenova Chen, co-founder and creative director of thatgamecompany. "Designing games for positive behaviors and social impact is more important than ever before. We applaud all game creators who dedicate efforts to further develop and collaborate in this space, and can't wait to see what you do for next year!"

Most Significant Impact: Sea of Solitude from Jo-Mei (PC, Xbox One, PlayStation 4)
Sea of Solitude is a 3D adventure in which a young woman embarks on a journey, trying to find out why she turned into a monster, and what happened to the monsters she encounters along the way. It is a story about overcoming loneliness and self-reflection.

Best Learning Game: Rabbids Coding from Ubisoft (PC)
A fun educational game, Rabbids Coding aims to teach players of all ages the basics of programming as the Rabbids invade space and turn the spaceship upside down. Rabbids Coding is an entirely FREE programming and educational tool, available on Uplay.

Best Student Game: Resilience from Sungrazer Studio, Drexel University(PC, Mac, Linux)
Created by a team of students from Drexel University, Resilience is a humanitarian sci-fi city-builder that fosters empathy for displaced peoples and explores how the distribution of resources impacts civilian wellbeing in refugee camps. Students consulted with advisors from Drexel's Game Design, Computer Science, and Political Science departments in order to balance compelling gameplay with respectful and accurate portrayals of real-world situations.

Best XR for Change: The Holy City from Nimrod Shanit (Oculus Rift, Oculus Rift S, HTC Vive)
The Holy City is a one-of-a-kind virtual reality experience and engaging sensory story of the world's spiritual epicenter. The Holy City will showcase the holiest sites of Jerusalem using volumetric scanning and Stereo 360 VR filming, including Western Wall, the Holy Sepulchre, Al-Aqsa mosque and The Dome of the Rock. Game entries came from established AAA studios, indie developers, and university-level students, and exemplify this year's Games for Change Festival themes of resilience, connectedness, and well-being. A juror panel representing 70 game developers, researchers, and experts in game design selected the finalists and winners.