Games Workshop's Warhammer Community Page just showed off some of the pre-orders that are coming our way for Warhammer: Age of Sigmar, which includes a veritable swarm of big bad bone daddies. The Ossiarch Bonereapers are here, with a whole new look for the venerable armies of the undead!
Katakros, Mortarch of the Necropolis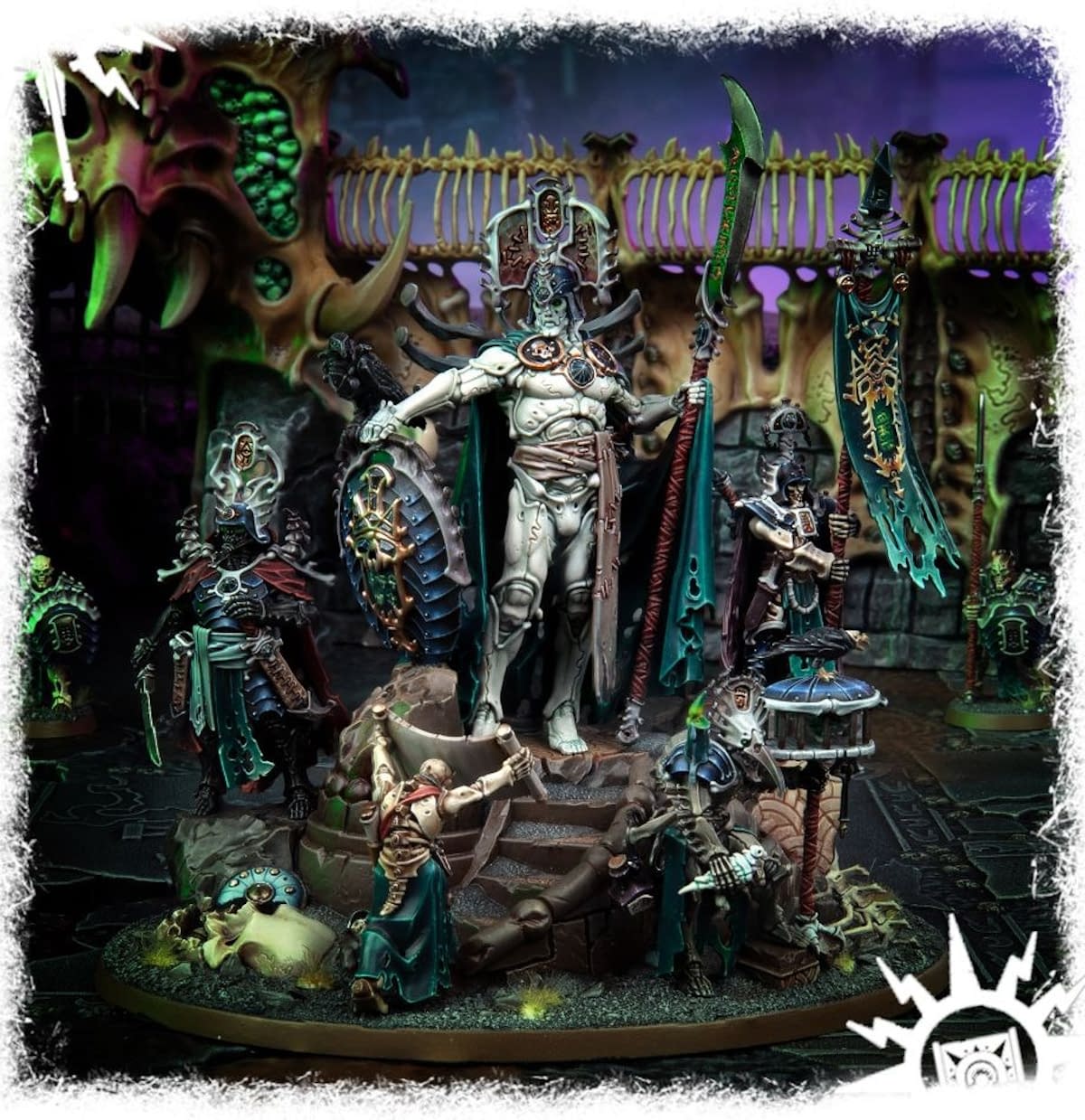 Orpheon Katakros is the emperor of an undying elite, and he goes to war with all of the pomp and circumstance that befits his station. Distrusting steeds since the disastrous chariot charge that cost him his life, he simply strides to battle with the surety of a god.
Katakros is a 46-part plastic kit, and comes with a 120mm Citadel oval base. He's flanked by his most trusted battle-bros, which include the Prime Necrophoros, the Liege-Immortis, the Gnosis Scrollbearer, and the Aviarch Spymaster, all of which would make fantastic names to make a reservation for dinner with.
Katakros and his battle-bros will ship to stores on November 9th, and will retail at $110. It's an impressive looking kit, and would be a blast to paint whether you want to play this army or not. It would also look pretty nice as a display piece, too.
Liege-Kavalos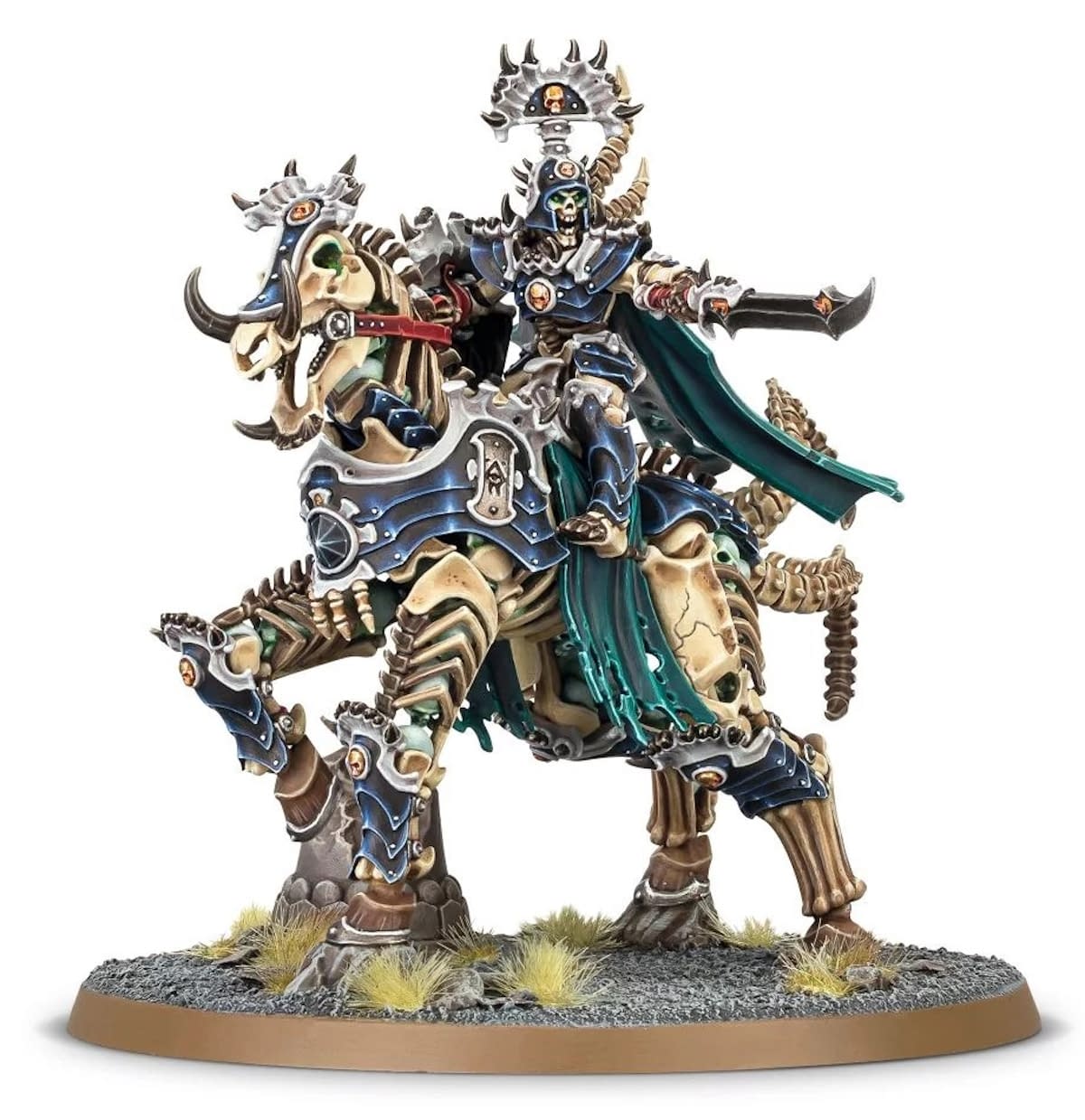 A Liege-Kavalos is a cavalry commander of uncanny skill and resilience. At a harsh order he can drive his Bonereapers to redouble their attack, hacking into the enemy ranks even as he fells dangerous foes with his commander's blade and battle-shield.
Almost unstoppable on the charge, the Liege-Kavalos smashes the enemy into the ground and crushes them beneath the nadirite-shod hooves of its mount, inspiring nearby units to even greater acts of carnage.
The Liege-Kavalos model comes in 46 pieces, and can make either one Arch-Kavalos Zandtos or one standard Liege-Kavalos figure for Warhammer: Age of Sigmar. This model will ship on November 9th, and carries a retail price-tag of $50.
Mortek Guard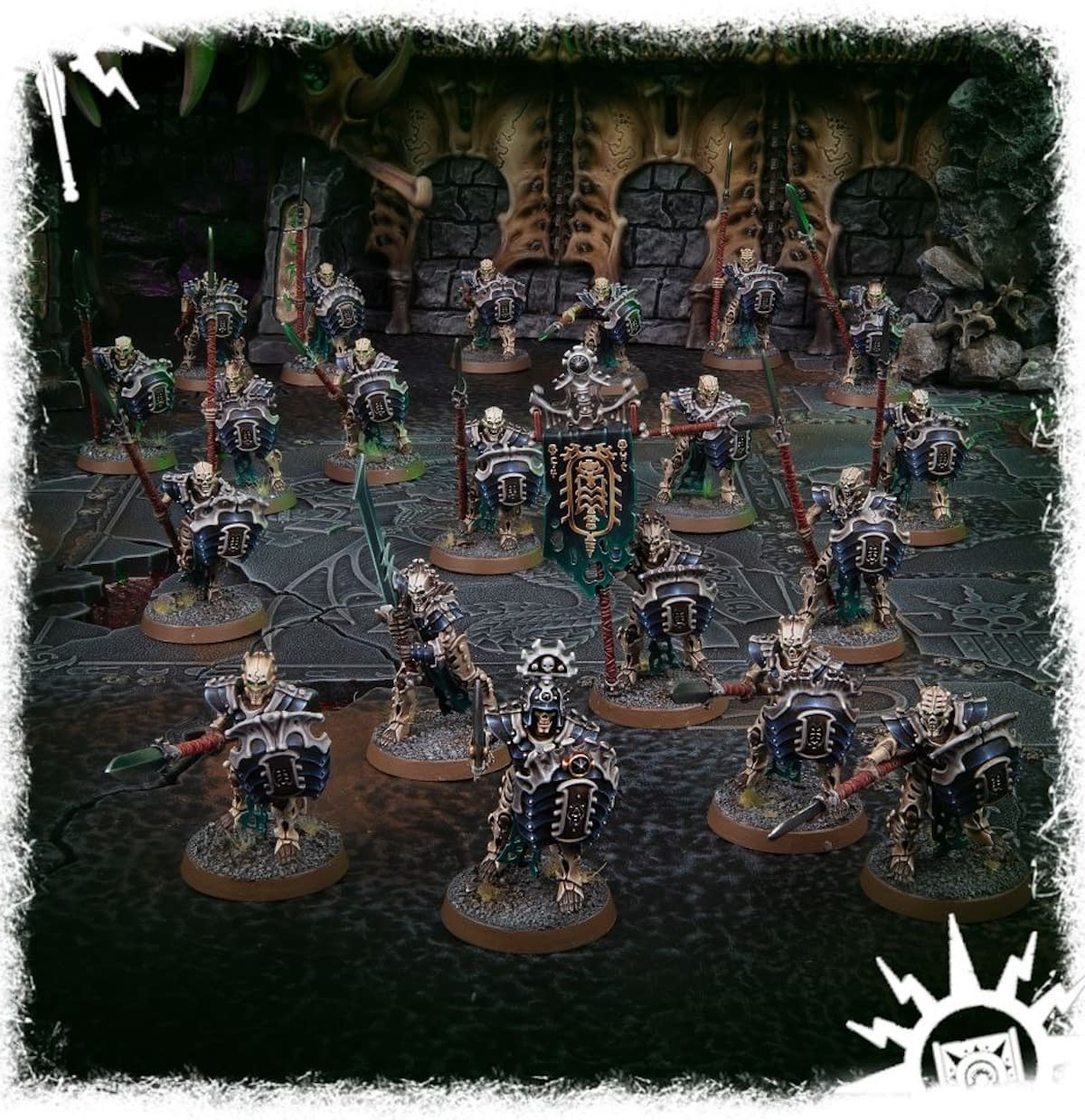 The Mortek Guard are soul-constructs created to dominate the battlefield. Armed with life-draining nadirite weapons and shaped from impenetrable osseous armour, they grind the enemy to dust beneath their relentless march.
The Mortrek Guard from Games Workshop are your go-to foot soldiers for the Ossiarch Bonereapers, and this set contains 146 pieces, which will make 20 plastic models with weapon options. The Mortrek Guard will ship on November 9th and carry a retail price-tag of $60.
Kavalos Deathriders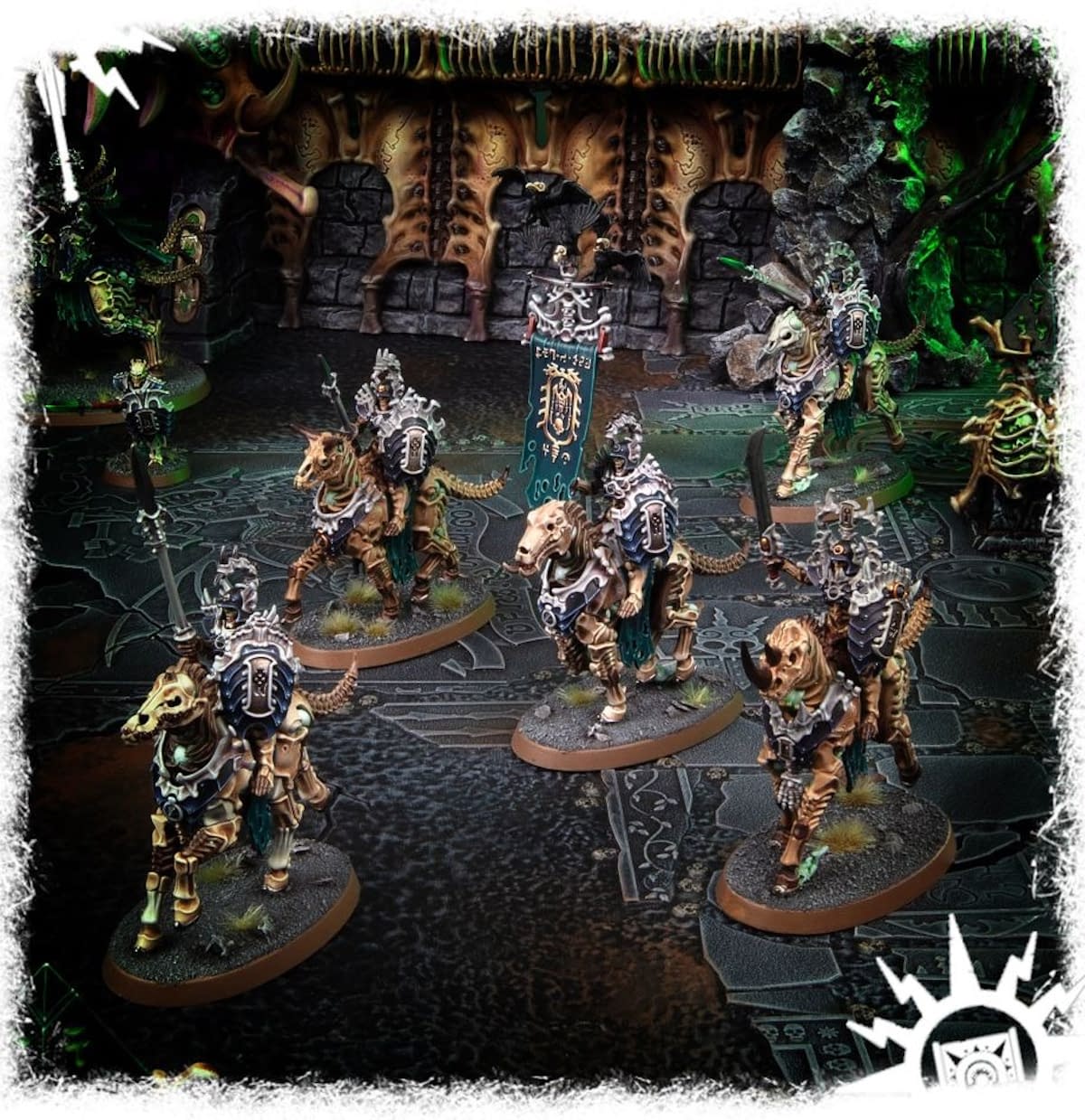 The heavy cavalry of the Ossiarch Bonereaper legions, the Kavalos Deathriders are expert riders mounted on macabre armoured steeds. They clatter into the foe in a wedge formation, breaking battlelines with every ferocious charge.
This multipart plastic kit from Games Workshop comes with enough pieces to build 5 Kavalos Deathriders and will retail for $60. Expect this kit to ship on November 9th as well.
Mortrek Crawler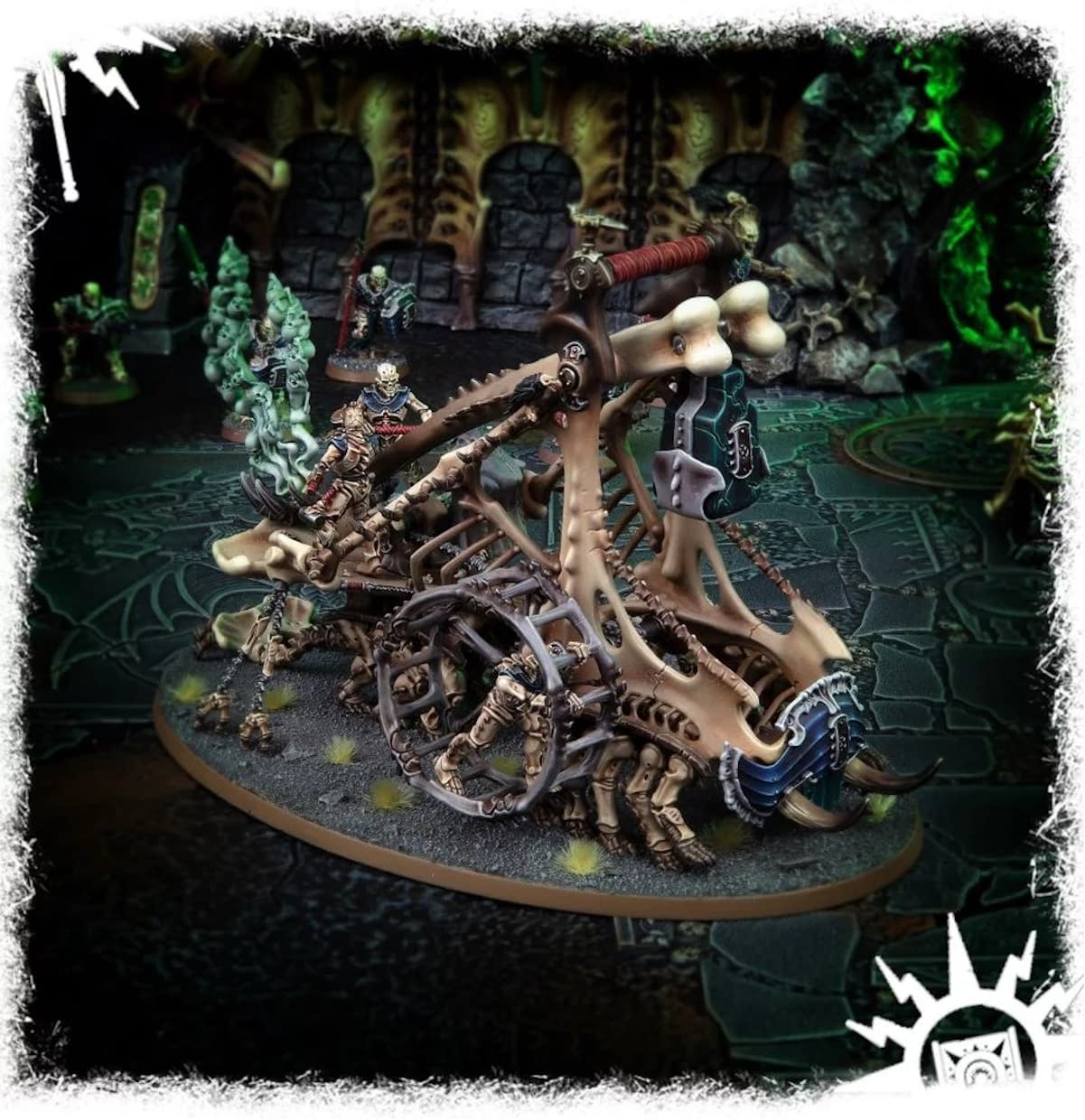 The arcane catapult known as the Mortek Crawler delivers death from afar with terrifying accuracy. It can fire hails of necrotic skulls that bite and gnaw, send soul-tearing spirits into the foe, or hurl weighty blocks graven with curses that can kill the mighty in an instant.
This fantastically detailed kit for Warhammer: Age of Sigmar contains 63 pieces, and the catapult arm can be assembled without glue, allowing players to leave the piece with a pivot action. That may not seem like a big deal to most, but trust me— with just a little spring-work, you could make this thing really chuck tiny skulls.
The Mortrek Crawler ships on November 9th, and packs a retail price tag of $80.
There are quite a few other goodies shipping for the the Ossiarch Bonereapers, which you can check out at the Warhammer Community page. Your local game shop or independent Games Workshop stockist would be happy to pre-order these items for you now, which should be in shops soon!
Enjoyed this article? Share it!