A Spyro Drone is Making a Cross Country Circuit of the United States
To celebrate the imminent launch of the Spyro Reignited Trilogy, Activision Blizzard has created its first ever fire-breathing, talking Spyro drone. The drone is making a cross-country circuit of the United States over the next two weeks in order to commemorate the upcoming game launch on November 13th, 2018. The drone left from Stone Hill Castle this morning in order to fly over New York City as the first stop on the drone's tour.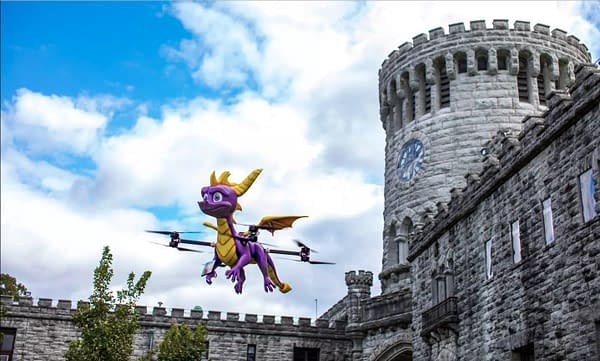 Many of the drone's circuit locations bear a solid resemblance to iconic levels from the trilogy, which adds an extra bit of flavor to the publicity stunt.
You can keep track of the drone's progress on the associated Spyro Twitter, Facebook, Instagram, and YouTube accounts.
And before you ask, yes, the drone's speakers will be playing some of the tiny dragon's most famous quips as it jets around the country.
"We can't wait for fans to see this awesome fire-breathing and talking Spyro drone and encourage everyone to have their phones ready to catch Spyro on his journey," said Michelle Fonseca, Senior Product and Marketing Director at Activision. "Spyro the Dragon is such a pop culture classic and we're thrilled to bring this beloved character to fans for the launch of the newly remastered series, Spyro Reignited Trilogy."
You can check out the drone in action below.
Swung by the Stone Hill Castle to grab the new Spyro Reignited Trilogy game coming 11.13. On my way to @SnoopDogg now, but his crib got nothing on my castle 💰 💰🕶 #SpyroToSnoop #SpyroDrone pic.twitter.com/OeXfx4dqXo

— Spyro (@SpyroTheDragon) October 30, 2018
And if the drone himself wasn't quite enough for you, the secondary purpose of the drone's flight path is to deliver an early copy of the Reignited Trilogy to rapper and entertainment icon Snoop Dogg out in LA. Because obviously, when you think Spyro the Dragon, you also think Snoop Dogg.
Hang tight @SnoopDogg I'm coming. NYC to LA. #SpyroToSnoop #SpyroDrone pic.twitter.com/laNiZYUBym

— Spyro (@SpyroTheDragon) October 30, 2018
The Reignited Trilogy is available for pre-order now, it will release on November 13th, 2018.