Gorillaz Drop A New Track Dedicated To Pac-Man's Anniversary
Gorillaz just released a new music video today that helps celebrate Pac-Man's 40th anniversary with a song dedicated to the game. The virtual music group has been releasing new tracks as part of an online series called Sound Machine, in which they basically are just putting out singles with their own music videos rather than recording a full album. This particular track, simply called "Pac-Man", is the fifth episode in that series as they bust out the nostalgic sounds and sights of the game, along with an appearance from multiple Grammy-nominated rapper ScHoolboy Q. The song was produced by Prince Paul, Remi Kabaka Jr., and Gorillaz as it was recorded in London just before the COVID-19 lockdown.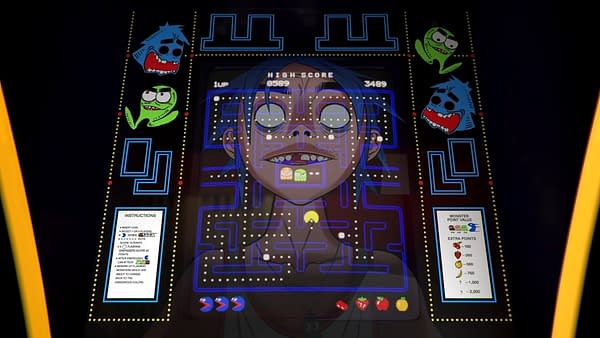 The video, which you can check out below, shows the virtual band in their studio "feeling the effects of an arcade game machine procured for Kong Studios by Gorillaz bassist Murdoc Niccals in mysterious circumstances, resulting in some unexpected cartoon visitors.' It'sd a pretty cool video to check out as it falls in line with a lot of what is produced for the band when it comes to their music. This is a pretty cool collaboration that kinda came out of nowhere, especially with it being hard to predict what the real-world members of Gorillaz are doing at any given time and when they'll decide to get together for some music. We're guessing there was a little nudge from Bandai Namco to put this out into the universe in time for the anniversary. But hey, who cares? We got a pretty awesome song from the band about a video game that's celebrating an anniversary. Enjoy the video below as we wait to see what's next on the docket for this year's celebrations.