Looks like you'll be seeing a lot more blood and guts in Grand Theft Auto Online as Rockstar Games added the Arena War update today. Basically, it's all of the regular combat sports you've been making in the game with ridiculous conditions, only this time you have vehicles with ridiculous weapons attached to them so you can kill on the go in something lighter and faster than a tank. Here's Rockstar's intro to it below, but basically this is a free update with new options to go shoot down more people than you normally might get the chance to, all while racing or going at it Mad Max style.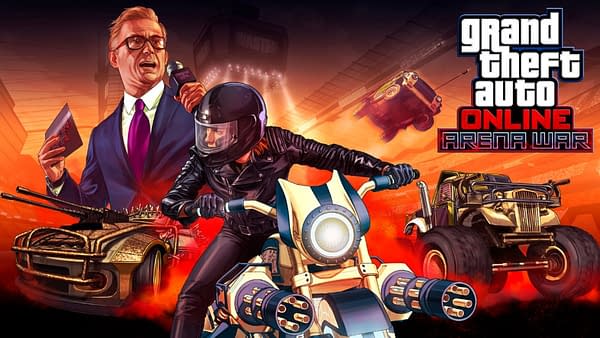 Enter Arena War, where ruthless gladiatorial combat meets the bleeding-edge of vehicular modification technology in one spectacular – and highly combustible – competition. Sign up and embark on an entirely new career under the stratospheric dome of the Maze Bank Arena, one that involves turning your opponent's brains into pulp on the steering wheel in the name of entertainment, courtesy of Alan Jerome Productions.

Compete in all new vehicle types custom built for the Arena across seven explosive new modes. As your Arena War career progresses, you'll earn Arena Points and use them to rank up and unlock even more toys to take into the Arena or out onto the streets.
Enjoyed this article? Share it!