This week, Blizzard revealed the next expansion for Hearthstone will be Rise Of Shadows and provided some details on the mechanics behind it. The primary story going on in this expansion is that you will join a mischievous league of miscreants called The League of E.V.I.L., and as such will be privy to and have to deal with some malevolent forces as your disposal. We have details below of what the new mechanics will entail, as we wait for the expansion to be released in May for $20/700 in-game gold.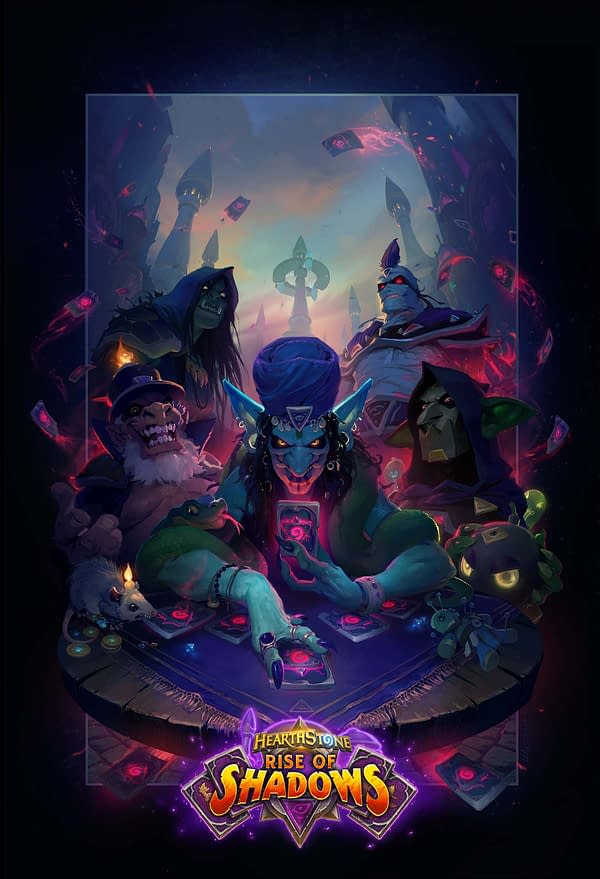 NEW MECHANICS:

EVERY HENCHMAN NEEDS A LACKEY – The League of E.V.I.L. needs all the help they can get!

Lackeys provide the muscle to get things done for the League of E.V.I.L.'s members.

Heistbaron Togwaggle's henchman is the Rogue minion EVIL Miscreant, which adds two random Lackeys to the player's hand when Comboed.

There are five Lackeys in Rise of Shadows, 1/1 minions with helpful Battlecries.

For example, Kobold Lackey's Battlecry deals 2 damage to a target.

PLAN FOR SUCCESS – Schemes are Spells that grow in power each turn they're held in hand.

Hagatha's Scheme deals 1 damage to all minions to start, but gains damage every turn it's held in hand. Wait until just the right moment to spring the trap!

CALLBACK CARDS – Our villains have been around for a long time, so some of their cards may feel a bit . . . familiar. The Priest Spell Forbidden Words, which spends all the player's mana to destroy a minion with that much attack or less, is a callback to Forbidden Shaping from Whispers of the Old Gods.
TWICE THE TRICKERY – Cause double trouble for your opponent by using Spells with the new Twinspell keyword! When cast, Spells with Twinspell add a copy of themselves to the caster's hand.

The Forest's Aid is a Druid Twinspell that summons five 2/2 Treants and adds a copy of the spell to the player's hand, ready to summon a new army of Treants to defend the magical city.
Enjoyed this article? Share it!