Infernax: Deux Or Die Comes To PC & Consoles This April
Infernax players will be happy to know that Deux Or Die, the free update to the main game, will be released this April.
---
Berzerk Studio and The Arcade Crew confirmed this week that Infernax: Deux Or Die will be released for both PC and consoles this April. In case you haven't seen this content yet, this will be an entirely free multiplayer update, designed to add a new playable character for you and a friend to choose between as you battle enemies in simultaneous co-op play. Not to mention having the ability for dual warrior-swapping, as well as additional content added to the main game for single players looking to challenge themselves. We got the latest trailer for you down at the bottom as the update will go live for PC, as well as all three major consoles, on April 5th, 2023.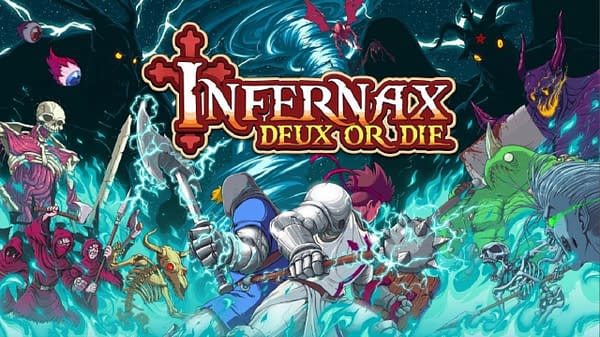 "Infernax: Deux or Die's first extended gameplay begins the blood-spilling of hellish beasts early, offering an uninterrupted look at how Infernax's entire experience has been rebalanced for two heroes (or villains) to tear through its hordes of demonic forces side by side. The update will bring a new playable character into the fray: Cervul the Squire, a well-rounded lad who sports deadly talents in both axe throwing and tool-assisted combat. Cervul the Squire's attacks and buffs grant advantages to either or both players – unless he's steered down the dark path that is, in which case players will unlock an entirely different side of Cervul. Sinister choices will inspire an emphasized focus on dealing damage with distinct tools and a more… explosive playstyle."
"Infernax: Deux or Die also incorporates co-op play in Infernax's fan-favorite gun mode, perfect for players keen on wielding maximum firepower against the game's monstrous beasts. This Contra-style homage is unlocked through the classic "Konami" code – and with the addition of a second action hero, will now feature a redesigned starting screen that old-school players will find instantly recognizable."