It looks like Iron Maiden's next gig will be in a California courtroom as the company has filed suit against 3D Realms over the game Ion Maiden. According to the 20-page document that was filed back on May 28th, Iron Maiden Holdings Limited is suing the company over a trademark dispute, claiming that the name comes too close to being a ripoff of their iconic band logo and that they are entitled to $2 million for trading off the band's identity. We'll let you judge for yourself as we have an image of both logos together.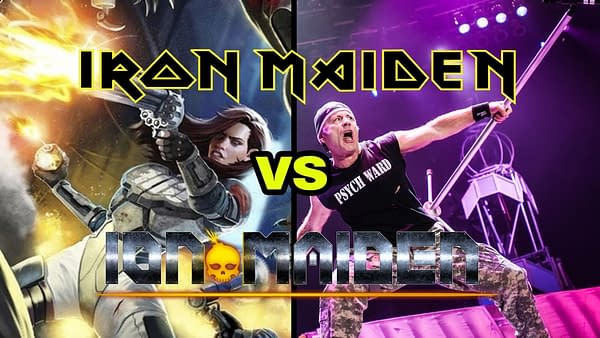 3D Realms didn't take the matter lightly and responded to the band online through a Twitter post in which they defend their game and basically called the lawsuit bogus, after pointing out how they feel the items in the lawsuit are unfounded.
(1/4) We've recently heard about a lawsuit filed in California by the band Iron Maiden, claiming our old-school first-person shooter Ion Maiden (@Bombshell_Game) is infringing on their trademark.

From what we've heard, the suit claims our main character…

— 3D Realms (@3DRealms) May 30, 2019
Regardless of how anyone feels, it will be up to a judge to decide at this point (shy of a settlement, which it appears 3D Realms won't be going for. We'll keep an eye on the situation to see how things develop, but if it does go to court, we probably won't hear much until late Fall, considering how backed up the California court system is at the moment.
Enjoyed this article? Share it!