Journey To The Savage Planet Receives The Hot Garbage DLC
This past week, Typhoon Studios and 505 Games released a new DLC pack for Journey To The Savage Planet as you delve into Hot Garbage. The DLC, in the shorthand, sends you to deal with the Kindred Aerospace retirement community to investigate and deal with the latest problem over there. Apparently, a rival company has been dumping toxic waste all over the place and it's up to you to clean it up, deal with the problems, and get it to stop happening. We have some of the details below for you from the devs, and you can read a little more about it here. But essentially, Journey To The Savage Planet has turned you into a glorified sanitation worker, because you're the most-trusted person for the job.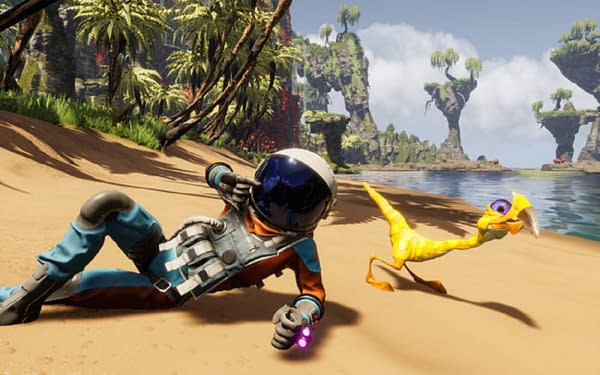 "Of course, it goes without saying that we're once again sending you without any additional equipment. The spirit of improvisation and triumph over budgetary adversity is the cornerstone of Kindred's values, after all! If I were you, I'd first figure out how to upgrade your suit to protect against the poisonous sludge oozing out of every corner of the planet… but that's just one man's opinion! Don't worry though. There will be plenty of opportunities for you to take a break from the back-breaking labor to explore and have a little fun. A selection of beautiful postcards have been scattered across the area for you to collect, and you'll even have a new method of traversal at your disposal: FLIGHT! Yes, real flight… to the extent that your very modest fuel tank will allow it. Just don't expect to soar among the clouds.
But wait, that's not all! To help you make the most of your time on DL-C1 we'll also be deploying some additional free upgrades (installation and service fees will be deducted from your final pay)! Firstly, we're adding a whole new set of Photo Mode options and functionality. With a brand new innovation in holographic technology, you'll be able to place and pose the various creatures you discover in your pictures! On top of that, we'll be stealthily dispatching a firmware update to your Nomad Pistol. Aim assist has been improved and enhanced to make dealing with fast, aggressive creatures a snap! Simply aim your gun at your target and scope in to lock on. The autonomous nano-clusters we injected into your body before your departure will (somewhat) painlessly keep your arm laser-focused on your foe. Very handy!"